Tropical Storm Ian expected to become a hurricane on Sunday; warnings issued for Grand Cayman, Cuba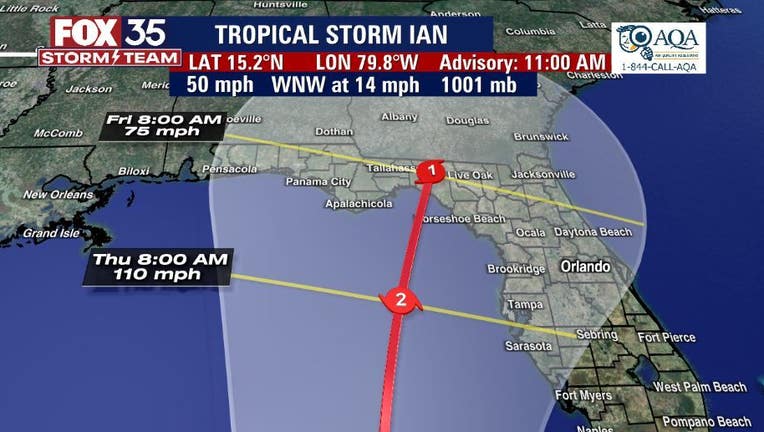 article
ORLANDO, Fla. - Floridians are keeping a close eye on Tropical Storm Ian as it is expected to rapidly intensify into a hurricane on Sunday as the system heads for Florida, according to the National Hurricane Center.
 The latest models show the system reaching category 4 hurricane status over the Gulf of Mexico, then weakening to a category 2, then weakening again to a category 1 hurricane before potentially making landfall in Florida, which could happen as early as Friday.
Ian is currently 300 miles southeast of Grand Cayman and 570 miles southwest from the western tip of Cuba.
In the latest update on Sunday, the center of the track moved slightly to the east and continues to move up through the Florida Panhandle.
"On the forecast track, the center of Ian is forecast to pass well southwest of Jamaica today, and pass near or west of the Cayman Islands early Monday. Ian will then move near or over western Cuba Monday night and early Tuesday and emerge over the southeastern Gulf of Mexico on Tuesday," the NHC said.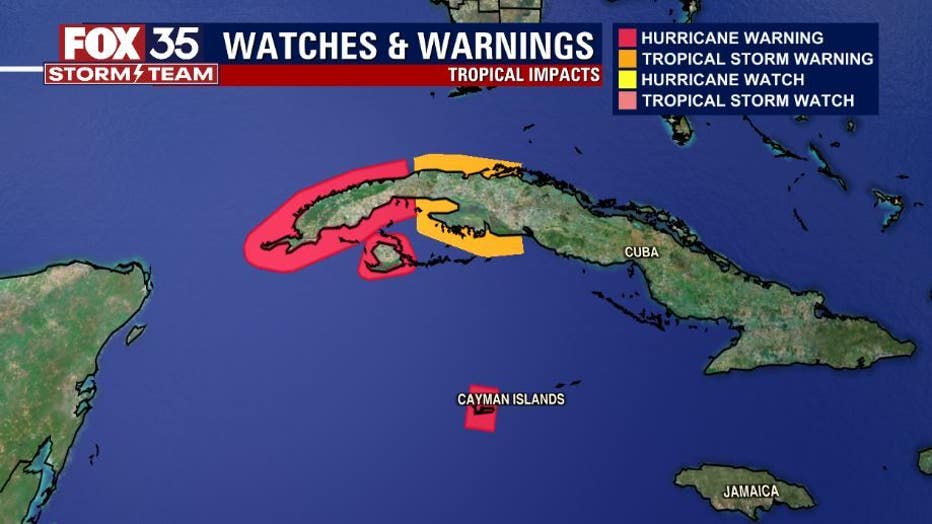 A Hurricane Warning is in effect for: 
Grand Cayman
Cuban provinces of Isla de Juventud, Pinar del Rio, and Artemisa
A Tropical Storm Warning is in effect for:
Cuban provinces of La Habana, Mayabeque, and Matanzas
What are the expected impacts of Tropical Storm Ian in the Caribbean?
Hurricane conditions are expected to reach Grand Cayman by early Monday, with tropical storm conditions expected by Sunday night. Tropical storm conditions are possible on Little Cayman and Cayman Brac by Sunday night or early Monday. Hurricane conditions are possible within the hurricane watch area in Cuba by Monday night or early Tuesday, with tropical storm conditions possible by late Monday. Tropical storm conditions are possible within the tropical storm watch area in Cuba Monday night and Tuesday.
Ian is expected to produce the following rainfall: Jamaica and the Cayman Islands: 3 to 6 inches, with local maxima up to 8 inches.Western Cuba: 4 to 8 inches, with local maxima up to 12 inches. Florida Keys to the southern and western Florida Peninsula: 2 to 4 inches, with local maxima up to 6 inches through Wednesday morning. Forecasters say the rain will produce flash flooding and mudslides in areas of higher terrain, particularly over Jamaica and Cuba.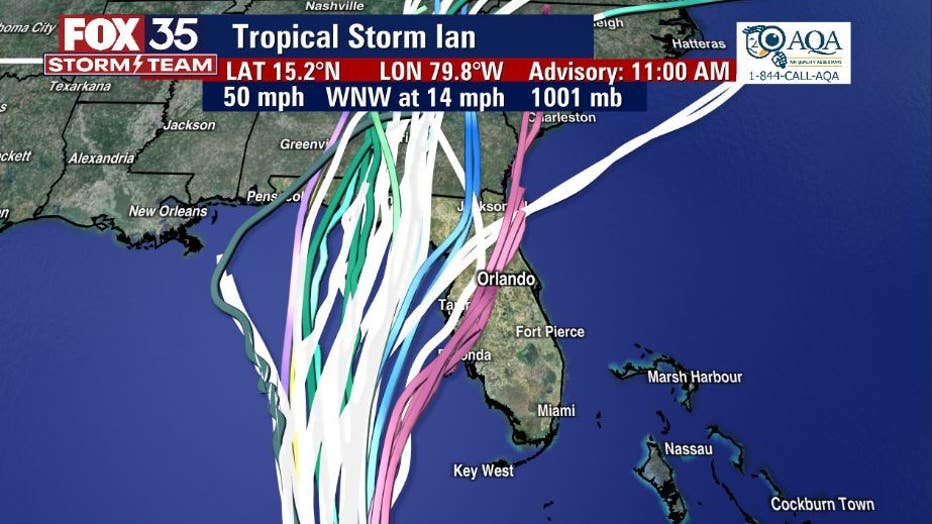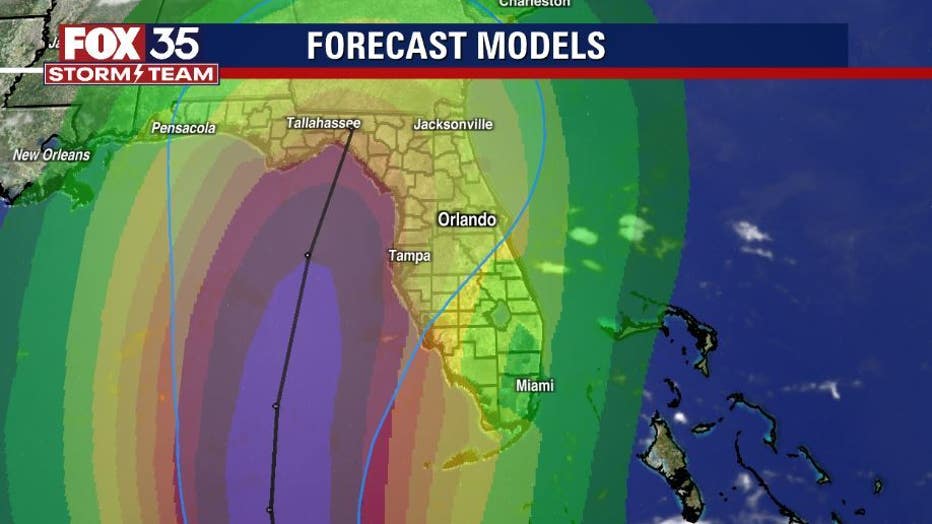 RELATED: Weather deteriorates in Canada as powerful Hurricane Fiona approaches
The FOX 35 Storm Team will be following this every step of the way to keep you updated.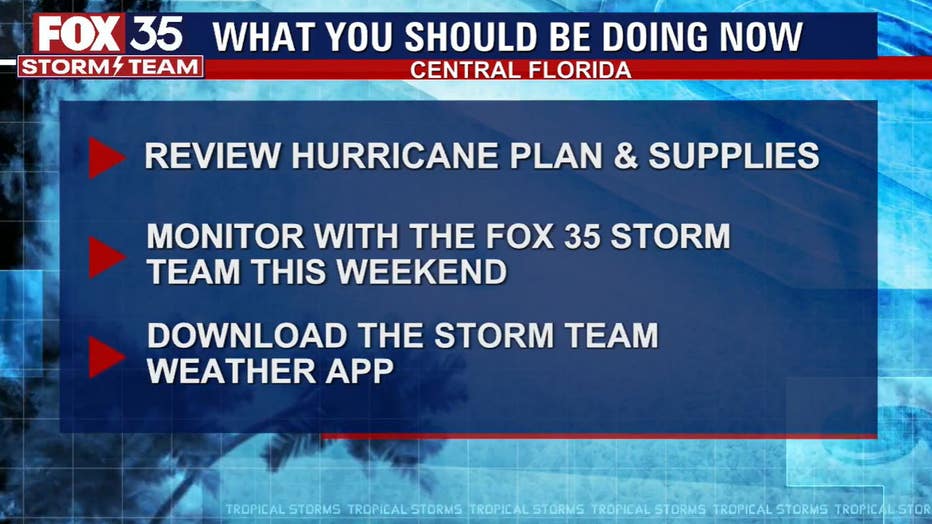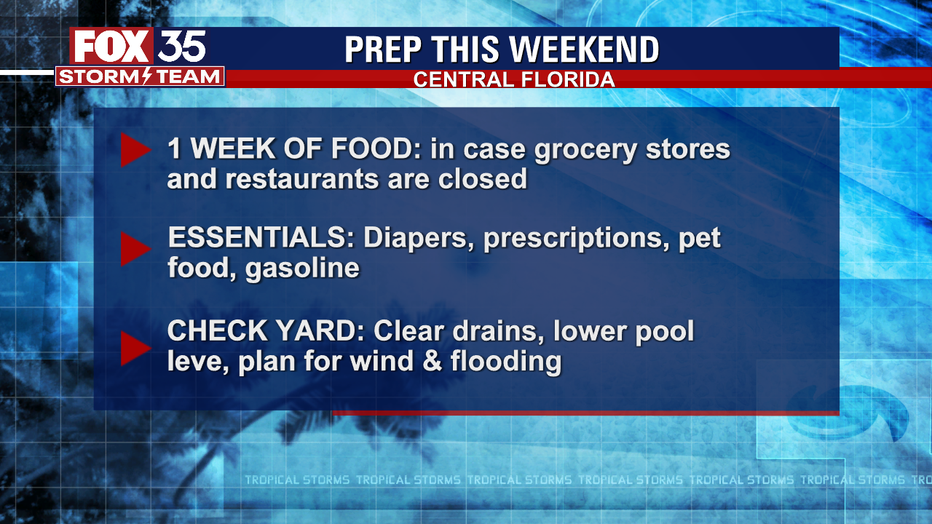 Meanwhile, the FOX 35 Storm Team is also tracking several other systems in the Atlantic. 
| FOX 35 Orlando Hurricane Center |
TROPICAL STORM GASTON
Gaston brought tropical storm conditions to the Central Azores and as of Sunday morning, it is moving west-northwestward away from the area. 
Gradual weakening is forecast over the next few days, and Gaston is expected to become a post-tropical cyclone tonight or on Monday.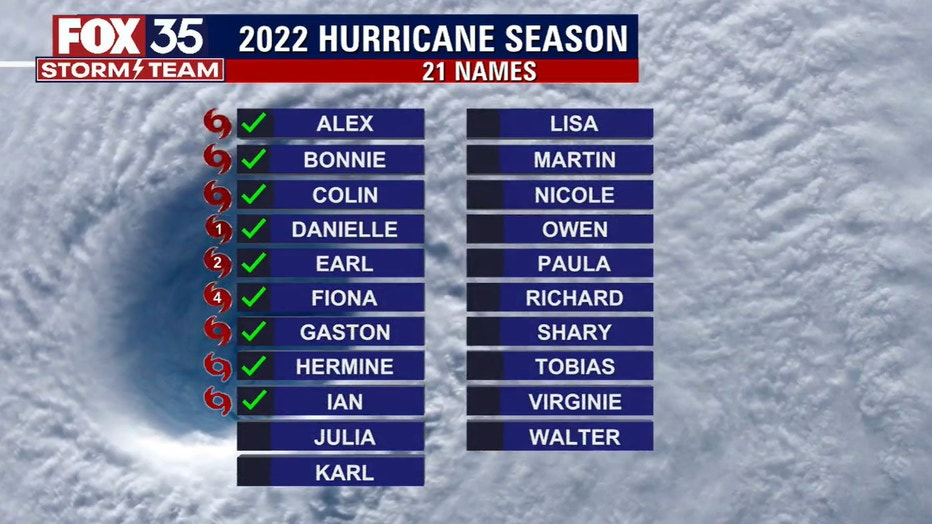 Post-tropical Hermine
Hermine became a post-tropical remnant low on Sunday morning.  
Heavy rain is expected to continue for the Canary Islands through Monday. 
"Maximum sustained winds have decreased to near 30 mph with higher gusts. Hermine is expected to dissipate in a couple of days," the NHC said. 
OTHER SYSTEM
Another area of low pressure is located several hundred miles west of the Cabo Verde Islands. Any development of the system should be slow to occur while it moves very little through the early portion of next week. As of Sunday morning, it had a 20% chance of formation over the next five days.