Tropical storm warnings issued for mid-Atlantic states as Elsa races north
ORLANDO, Fla. - Tropical Storm Elsa picked up speed late Wednesday evening, moving toward the north-northeast near 16 mph. A turn toward northeast is expected overnight, followed by a faster northeastward motion by late Thursday. 
On the forecast track, Elsawill move over Georgia overnight, over South Carolina early onThursday, over North Carolina later on Thursday, pass near the eastern mid-Atlantic states late Thursday and move near orover the northeastern United States on Friday.
Elsa was a weak tropical storm that was still packing a punch late Wednesday afternoon, according to the National Hurricane Center (NHC).  While its strength had diminished since its landfall in the Big Bend region of Florida Wednesday morning, many areas were experiencing torrential rain.
The FOX 35 Storm Team declared landfall just after 11 a.m. in an area west of Horseshoe Beach in Taylor County.  The storm maintained its tropical storm status and evening produced some severe weather in North Florida and Southern Georgia.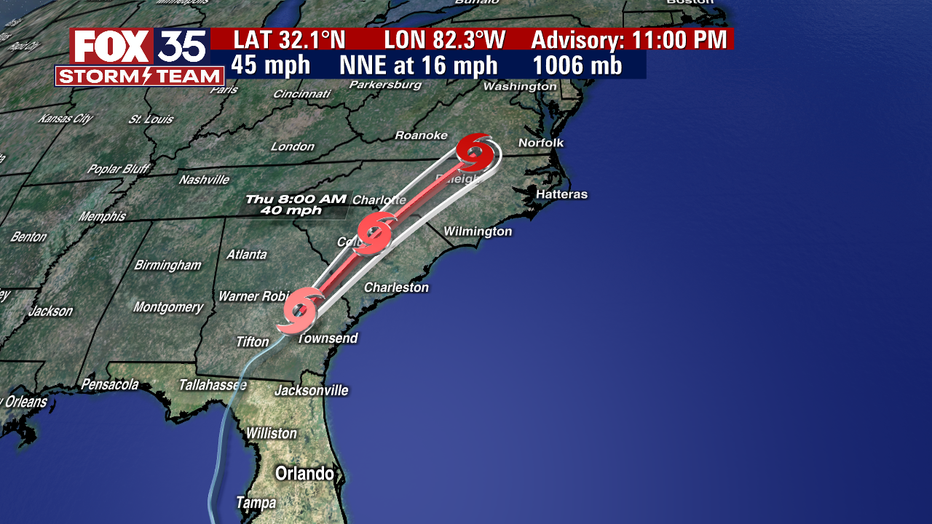 TRACK THE TROPICS: Visit the FOX 35 Storm Team Hurricane Center for the latest tropical weather outlook and more
The National Weather Service confirmed that a tornado touched down in the Arlington section of Jacksonville just before 5 p.m. Later, a suspected tornado touched down at Naval Submarine Base Kings Bay in Southeast Georgia, causing multiple injuries and damage, the naval base confirmed to FOX Television Stations.
Elsa maximum sustained winds were clocked 45 mph late Wednesday.  Elsa was expected to be downgraded to a tropical depression, but forecasters now believe it will remain a tropical storm and is predicted to regain strength once it crosses back over the Atlantic Ocean later this week.
WEATHER ALERTS: Download the FOX 35 Storm Team Weather app for live radar, severe weather alerts, and daily forecast reports on your phone
Elsa was the first hurricane of the Atlantic season until Saturday morning and caused widespread damage on several eastern Caribbean islands Friday. As a tropical storm, it resulted in the deaths of one person on St. Lucia and of a 15-year-old boy and a 75-year-old woman in separate events in the Dominican Republic. In Florida, the storm dumped rain across the Gulf Coast but spared residents of any significant damage and widespread power outages.
The FOX 35 STORM TEAM is committed to keeping you safe. Depend on us as we track the tropics this 2021 Atlantic Hurricane Season.