UCF football stadium's new Big 12-inspired menu lets you literally take a bite out of the competition
ORLANDO, Fla. - UCF is entering a new era on Thursday in its first game as a member of the Big 12 Conference – and the team behind the scenes is working hard to make sure fans get the full experience. 
That means food, of course. 
Along with a new football season comes a slew of improvements to FBC Mortgage Stadium, including new lights, upgraded cell service, new Grab and Go kiosks and even some new murals on the concourse. What fans should most be excited about, however, is a brand new menu inspired by whatever team UCF is playing at home in a given week. 
Introducing Big 12 Eats!
"We want to make our experience (off the field) equate to what is going to be on the field," UCF Associate Athletics Director of Brand Experience Alex Cesarano told FOX 35 News exclusively. "We're just trying to give our fans and the teams coming in a taste."
These Big 12 Country-inspired inspired foods aren't just limited to conference games, though. Even fans at UCF's non-conference home games this season will get a taste of life at Kent State and Villanova. 
Without further ado, here's the lineup:
Kent State (August 31): Doughnut Burger
Villanova (September 16): Philly Cheesesteak
Baylor (September 30): Mini Brisket Sliders
West Virginia (October 28): Pepperoni Rolls
Oklahoma State (November 11): Bacon Cheese Fries
Houston (November 25): Beef Brisket Tacos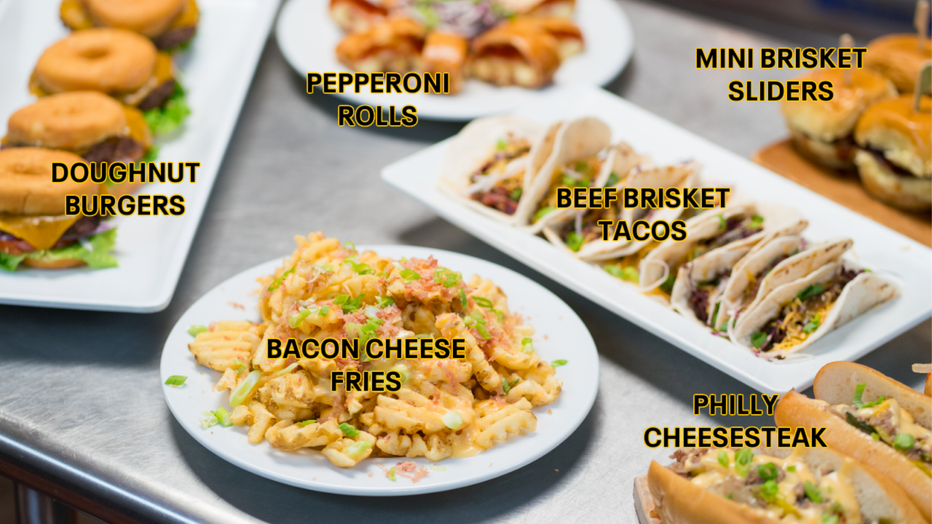 Here's a look at the Big 12 Eats lineup for the 2023 UCF football season. (Photo: UCF Athletics)
"I think when you think of sporting events, you come to see the game, of course, but all the things leading up to it … and just bringing some of these unique items to gameday I think will be kind of cool and we're going to give it a try," Cesarano said. 
Cesarano said UCF got the idea at last year's Big 12 Basketball Conference, where each team had a menu item that reminded them most of home. What the Knights did to implement the idea was research, research, research. 
"Just trying to find a little something that best represents each of these places," Cesarano said. "Like most fans, I think learning about each of these new schools coming in is important." 
And what better way to do that than with food?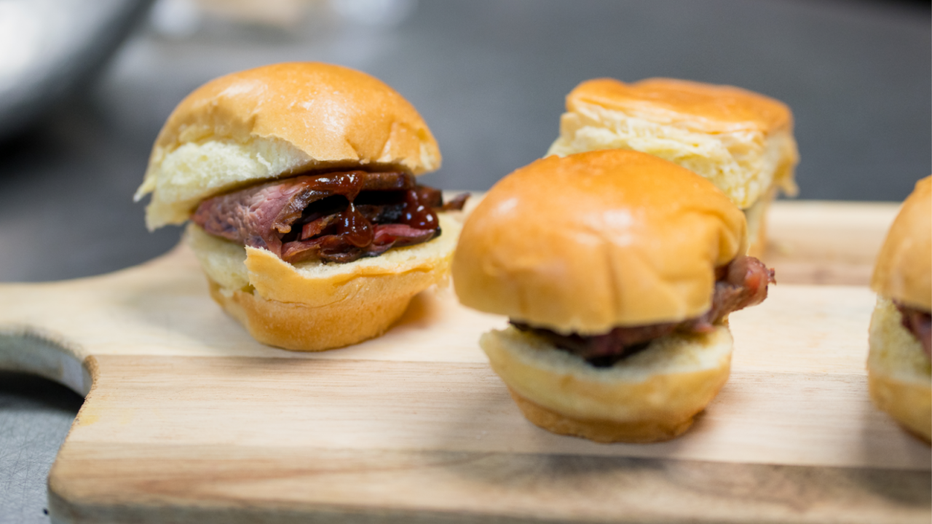 Fans can get their hands on Mini Brisket Sliders when UCF hosts Baylor on September 30. (Photo: UCF Athletics)
The exclusive Big 12 Eats menu item corresponding to that week's opponent will be available at all home games in the 2023 season – and even next year when UCF welcomes a new slate of teams. Fans can order the menu item of the week at Knight Nation Grill at Stand 113 and inside Stadium Club at Stand 100. 
MORE: UCF clinches top spot in national ranking – but it's not what you think
What else is new at the Bounce House?
Here's a look at some of the other new things fans can experience at UCF home games this season: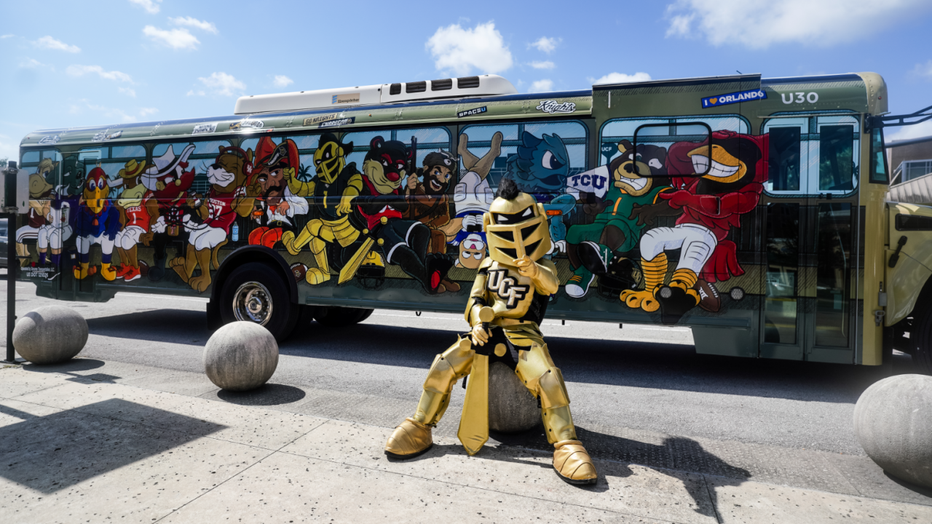 Find the Big 12 Bus around campus! (Photo: UCF Athletics)
The Big 12 Bus
Limited edition Big 12 matchup souvenir cups at concession stands
Big 12 photo wall/mural on the concourse
New Grab and Go stations throughout the stadium
New concessions and restaurants in general areas, including Huey Magoos (Stand 122), Kelly's Homemade Ice Cream (concourse), veggie wraps at Stadium Classics (Stand 108), Cheetos Popcorn and Cheetos Pretzels at Stadium Classics (Stand 108) and Churro Bites with chocolate sauce at Señor Knightro's (Stand 120)
New concessions in premium seating areas, including Flippers Pizzeria, Key Lime Pie and Orlando Orange Chicken
In-house DJ at all games
Upgraded LED-colored lightning
Advanced 5G technology throughout stadium
Don't forget that FBC Mortgage Stadium is totally cashless!
MORE: UCF football player, Hawaii native donates NIL money to Maui wildfires relief: 'Ohana is a real thing'
UCF football schedule for 2023
August 31 (Thursday): Kent State, 7 p.m. ET on FS1
September 9: at Boise State, 7 p.m. ET on FS1
September 16: Villanova, 6:30 p.m. ET on ESPN+
September 23: at Kansas State
September 30: Baylor (family weekend)
October 7: at Kansas
October 21: at Oklahoma
October 28: West Virginia (homecoming)
November 4: at Cincinnati
November 11: Oklahoma State
November 18: at Texas Tech
November 25: Houston
December 2: Big 12 Championship, noon ET