This Florida gem is the state's oldest restaurant -- and it takes up an entire city block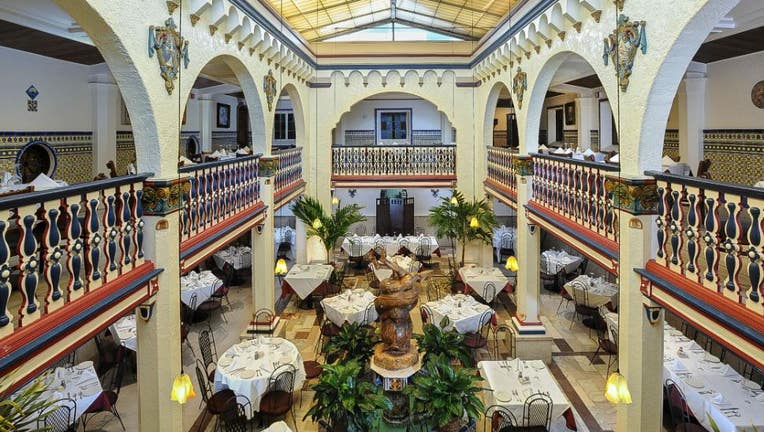 article
TAMPA, Fla. - The Columbia Restaurant in Ybor City has earned some major bragging rights: not only is it the oldest restaurant in Florida, but it is also the largest Spanish restaurant in the world!
Started in 1905 by Spanish-Cuban immigrant Casimiro Hernandez, Sr., the Columbia Restaurant remains family-owned through five generations. This Tampa staple has been serving up family recipes and tradition for 118 years – which is not an easy feat to accomplish. 
There are now five Columbia Restaurants and two Columbia Cafes in Florida – including one in Celebration near Walt Disney World. Of course, if you live in Orlando and you're up for a day trip to Tampa, there's nothing like eating at the OG.
HISTORY
Credit: Columbia Restaurant
Casimiro Hernandez, Sr. arrived in Tampa, Florida from Cuba with his four kids looking for a better life. 
"Inspired by the opportunities in Ybor City, Tampa's cigar-producing Latin Quarter, he saw a prosperous future in the Florida sunshine," the website reads. "No stranger to hard work, Casimiro Sr. spent years working at the Florida Brewery on Fifth Avenue, until he glimpsed a new opportunity to sell beer at an Ybor City spot called Saloon Columbia."
In 1903, he helped open the 60-seat corner cafe, which quickly became a local watering hole for cigar workers. Two years later, the cafe became the Columbia Restaurant. It was a favorite hang out spot among local cigar workers where they could rest and enjoy Spanish and Cuban recipes, or snag a Cuban Sandwich to eat on the job, according to the company.
YBOR CITY
Credit: Columbia Restaurant
In 1905, the original Columbia Restaurant opened on the corner of 22nd Street and 7th Avenue in Ybor City. It now seats 1,700 guests in 15 dining rooms across its 52,000 square feet of space.
The restaurant – located at 2117 E. 7th Ave. – encompasses an entire city block serving up a menu featuring a mix of Cuban and Spanish food.
OTHER LOCATIONS
The Columbia is part of the 1905 Family of Restaurants, which also include Ulele, Goody Goody, Casa Santo Stefano and Cafe Con Leche Ybor City in Tampa. It also owns Cha Cha Coconuts in Sarasota.
Credit: Columbia Restaurant/Celebration
In 1997, the Columbia Restaurant opened its Orlando-area location just minutes away from Walt Disney World and Universal Studios at 649 Front St. in Celebration.
MENU
Paella "Española"/ Credit: Columbia Restaurant
Some of the tasty, family recipe menu items include: 
The 1905 salad: Crisp iceberg lettuce with julienne of baked ham, natural Swiss cheese, tomato, olives, grated Romano cheese, Lea & Perrins Worcestershire sauce and their famous garlic dressing
Spanish Bean Soup: Garbanzo beans simmered with smoked ham, chorizo sausage and potatoes in a delicious broth of chicken and ham
The Original Cuban Sandwich: Named "Best Sandwich in Florida" by Food & Wine Magazine; you just have to try it
Paella: Shrimp, scallops, calamares, clams, mussels, chicken, pork, Spanish onions, ripe tomatoes, green peppers and fresh garlic, all baked in a paella pan with Spain's best Valencia rice
Empanadas de Picadillo: Spiced ground beef, garlic, tomato, onions, raisins and olives, wrapped in two pastry turnovers
White Chocolate Bread Pudding: White chocolate, La Segunda Central Bakery Cuban bread, Sunny Florida Dairy milk and Florida eggs, topped with a rich Bacardi rum sauce