Photos: Alligator seems to be having a good time eating another alligator at Orlando park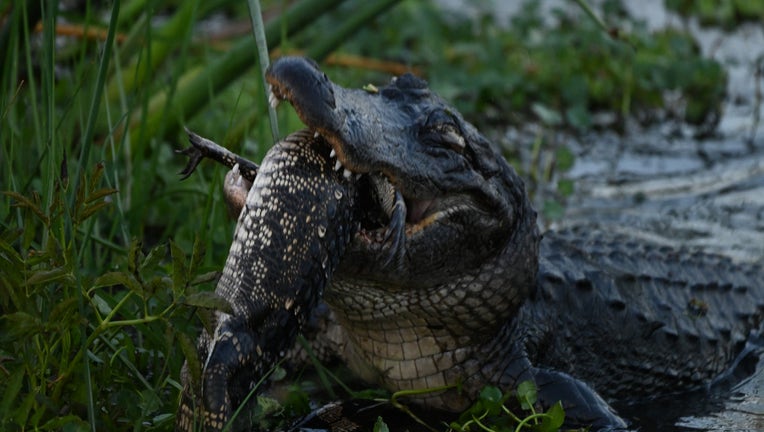 article
ORLANDO, Fla. - A visitor to Orlando Wetlands Park came across a pretty shocking sight recently: an alligator eating another alligator. 
Barbara D'Angelo says she was at the park on March 6 and as she was getting ready to leave, she spotted what appeared to be a large alligator chowing down on one of its own. 
"I hope this isn't too shocking for this site," she captioned the photos on the park's Facebook page. "I was leaving the wetlands as it was late, and I caught this interaction." 
MORE GATOR NEWS: Florida man appears to feed alligator a sandwich in viral video
The photos show the alligator – estimated to be about 8-feet long – standing in the shallow water with its meal hanging out of its mouth. 
Viewers started debating on whether it was actually an alligator that was being eaten or just a very large lizard. D'Angelo says some people thought it might have been a tegu lizard, which can reach about 5-feet in length. 
"I'm not sure. I'm looking at the feet and legs, it may not be a gator" – Kim Bolyard
"It's definitely another gator" – Eric Treefrog
"Nothing shocking at all, wild animals can't go to Publix. It's all about survival of the fittest" – Ellen Schainberg Hickey
"That's definitely a gator eating a gator(not a Tegu). Just life and death in the swamp" – John Votta
"Agree with the others that it's an alligator, a younger one that still has stripes. The feet are right for an alligator, different from tegu feet " – Meryl Green
MORE VIRAL NEWS: 7 hidden gems in Central Florida you should visit right now
According to Florida Fish and Wildlife, alligators are opportunistic feeders. Juvenile alligators eat primarily insects, amphibians, small fish, and other invertebrates, while adult alligators eat rough fish, snakes, turtles, small mammals, and birds. On occasion, an alligator will eat another alligator.