New boardwalk debuts at Orlando Wetlands Park
ORLANDO, Fla. - Nature lovers, rejoice! The Orlando Wetlands Park is the gem of the city, and it's recently seen a surge in popularity thanks to the completion of the new half-mile-long Cypress Boardwalk. This man-made wetland park spans 1650 acres and is open seven days a week from sunrise to sunset.
But it's not just pretty to look at - the park serves an important function as the world's first large-scale constructed wetland treatment system. It treats and removes nutrients from reclaimed water, protecting the St. John's River and providing a home for over 240 species of birds, 1700 alligators, otters, deer, bobcats, and more.
When asked who visits the park, Park Manager Mark Sees says, "A lot of wildlife photographers, a lot of bird watchers, native plant enthusiasts. Those who love nature." The park also offers electric trams on weekends for visitors to take advantage of, with onboard narration from volunteers with the Friends of the Orlando Wetlands Park.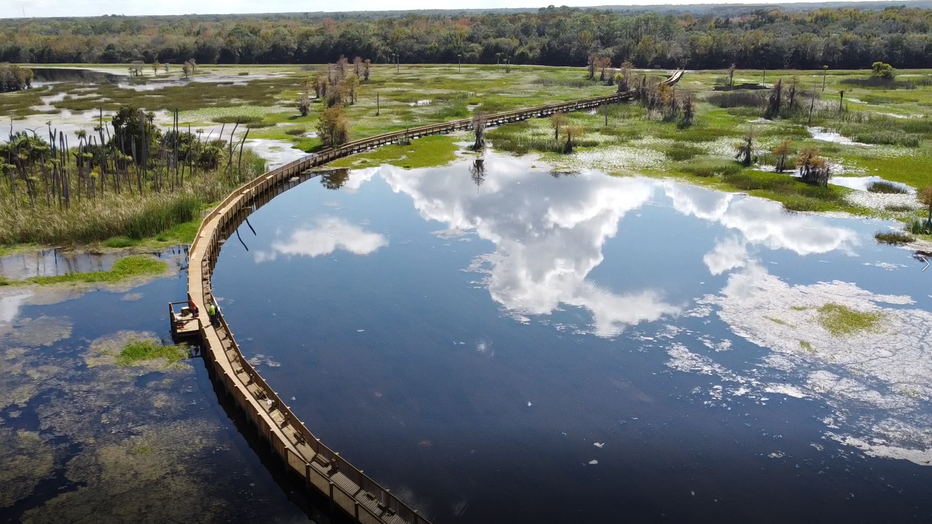 But the real event to mark on your calendar is the Orlando Wetlands Festival on February 18th. The festival includes guided bus tours, birdwatching hikes, native plant identification hikes, and wetland exploration hikes for kids. Plus, the weather is perfect this time of year to enjoy the park, as there's not a lot of shade. So pack a picnic and head out to the Orlando Wetlands Park for a serene and educational nature experience.
And talk about affordable family fun: entry to the park is always free!