Orlando City SC stadium goes viral for purple cheesesteak creation: 'We wanted to do something fun and unique'
ORLANDO, Fla. - Orlando City SC fans are no strangers to a good game, but now they're getting a taste of something entirely unexpected – a purple cheesesteak. 
Yes, purple!
Kappy's Subs unveiled a version of its original creation that's been a part of its menu since 1967, Adam Milsom, chef, general manager and partial owner, told FOX 35 News. Now, the "Kappy's Cheesesteak" has a new home at Exploria Stadium – with a purple twist. 
The made-to-order sandwich features ground beef and onions topped with American cheese, bell peppers, mushrooms and banana peppers. The bread, however, is made purple using a natural beet extract that doesn't affect the flavor. 
"It's a locally made, high quality sub roll that's the same as what we serve in our store," Milsom said. "Just purple."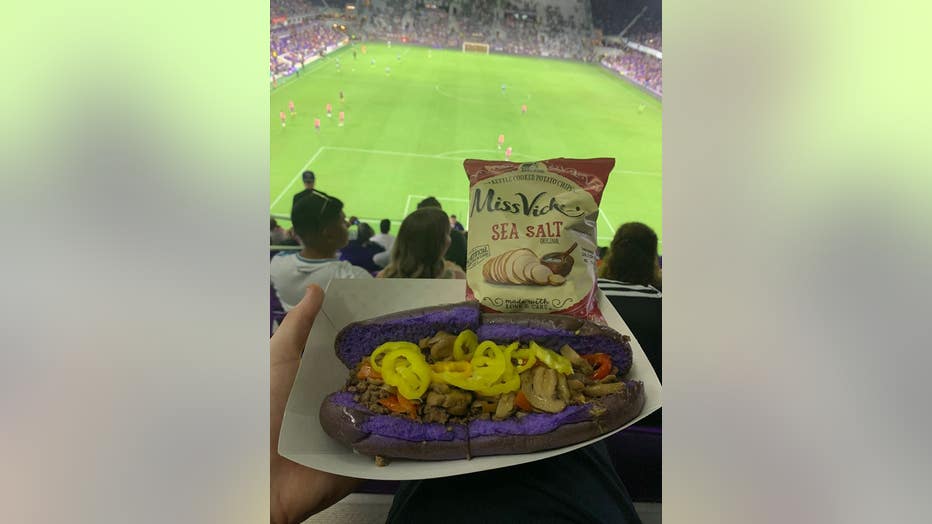 Photo: Adam Milsom/Kappy's Subs
Why purple?
"The idea behind the purple bread was the same reason we started working with Orlando City and wound up serving supporters in the stadium," Milsom said. "We wanted to do something fun and unique that celebrates Orlando's local culture."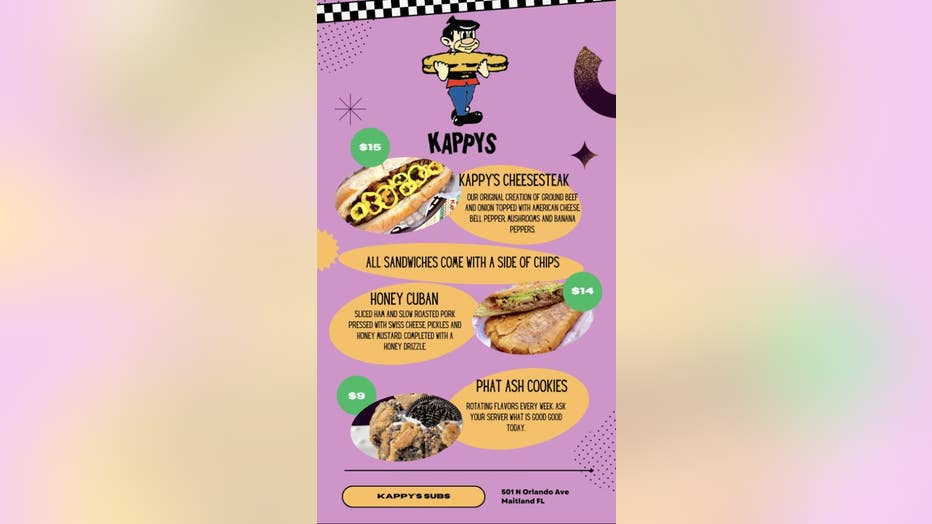 Photo: Adam Milsom/Kappy's Subs
Kappy's Subs first opened its Exploria Stadium location on August 26, but this wasn't the first time the purple cheesesteak was served.  
MORE FOOD NEWS:
Milsom said the Kappy's Subs food truck has made stops at Orlando City SC supporters' hot spots like Broken Strings Brewery, where they debuted the purple bread as a celebration of Orlando City SC's Open Cup run and victory last season. 
"It was our work there connecting with the supporters and consistently providing a quality experience that led to Orlando City reaching out about putting us in the stadium," Milsom said. 
FOX 35 News has reached out to Orlando City SC. 
Since the sandwich's debut, Milsom said he's been fielding opinions from internet trolls who are apparently startled by the purple bread. Other foodies, however, said it's a "delicious" sub, as seen on X, formerly known as Twitter. 
"We got this and the Cuban sandwich and OMG, DELICIOUS!" one user wrote. 
"Had one tonight … that was great!" said another. 
That being said, Milsom has a message for the critics. 
"I think it's very disappointing that a lot of people's initial instincts are to hate something that might look different from what they're used to," he said. "I would encourage people to have more of an open mind as it relates to food, but also generally in life. I also wish they would choose to be kind instead of putting down something that's different just because they don't understand it. 
"You never know how your words might affect those they're directed at, knowingly or not. Serving my food at Orlando City games was a dream of mine and to see the negative reactions to my efforts to provide a fun, creative, and quality stadium food experience really hurts, no matter how much I try and shake it off and only listen to the words of support."
You can try the Kappy's Cheesesteak at Exploria Stadium at the Kappy's Subs food cart near Section 24 behind "The Wall." It costs about $15. 
Kappy's Subs is located at 501 N. Orlando Ave. in Maitland.