Shark tracking: Use this tool to see where sharks are in Florida waters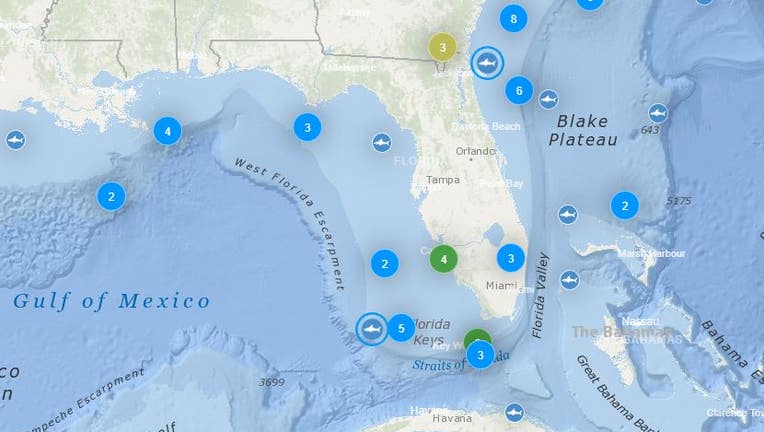 article
ORLANDO, Fla. - If you plan on visiting a beach in Florida anytime soon, it's no surprise that there are creatures lurking in the waters – including some pretty big sharks. After all, Florida IS the so-called shark bite capital of the world. 
According to the International Wildlife Museum, your chances of being attacked and killed by a shark are rare, 1 in 3.7 million. But if you want to stay 'shark aware' and know where they're at before diving in to the ocean, OCEARCH has a pretty cool tool that tracks the sharks near Florida. 
The Global Shark Tracker shows when and where tagged sharks last pinged off the Florida coast. The tracker breaks down research data including the name of the shark, its measurements, the date it was tagged and how far it has traveled since being tagged. 
According to the current map, several tagged sharks were detected in the past week, including Scot, a 12-foot, 1,600-pound great white. 
RELATED: 12-foot, 1,600-pound great white shark pings off Florida coast
Along with sharks, OCEARCH's tracker also detects where its tagged sea turtles are in Florida waters.
OCEARCH is a global non-profit organization conducting research on ocean animals. Their mission is to help scientists collect previously unattainable data in the ocean and provide better information on the animals that inhabit it. 
"With its innovative, inclusive and open-access philosophy for science, OCEARCH is breaking through old, bad habits or scientific territoriality and the plodding pace of academic research. The result is a revolution in our approach to contemporary science, providing urgently needed applications for conservation, resource management, education and public safety."
To date, OCEARCH has conducted 44 expeditions, and tagged 437 animals using one big boat.