Florida man wins $1 million on scratch-off ticket after being cut in line at Publix
DELRAY BEACH, Fla. - A Florida man who says he was cut in line at the lottery ticket machine ended up winning $1 million on a scratch-off ticket!
Stephen Munoz Espinoza, 43, of Delray Beach, claimed a $1 million prize from the 500X THE CASH Scratch-Off game.
He chose to receive his winnings as a one-time, lump-sum payment of $820,000.
Munoz Espinoza bought the winning ticket from Publix, located at 555 Northeast 5th Avenue in Delray Beach. The retailer will receive a $2,000 bonus commission for selling the ticket.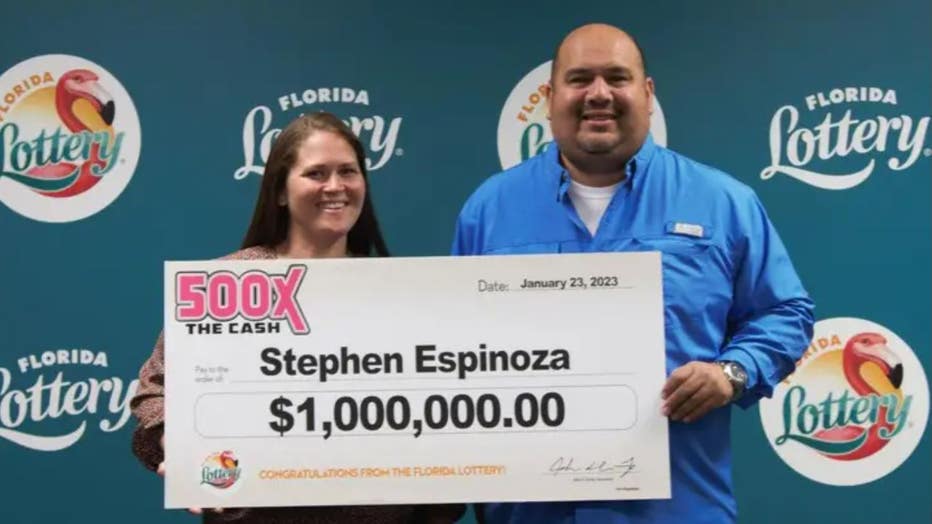 Stephen Espinoza wins $1 million on a $50 "500X The Cash" scratch-off ticket from a Publix supermarket. (Florida Lottery)
He told lottery officials that the big win was still hard to believe. 
---
TRENDING: 
Icon of the Seas: Your guide to pricing, itineraries, activities aboard the world's largest cruise ship
'World's Largest Bounce House' coming to Orlando in February
These baby names are reportedly 'at risk' of going 'extinct' in 2023
12-foot, 1,200-pound great white shark pings off coast of Florida
---
"It was the end of a long day, and I was tired. I stopped at Publix and was about to buy a ticket at the machine when a man cut right in front of me. Instead of saying something, I decided I'd just buy a ticket at the counter instead. I can't believe I won a million dollars!" 
Espinoza and his wife said they plan to buy a home for their family.