'World's Largest Bounce House' coming to Orlando in February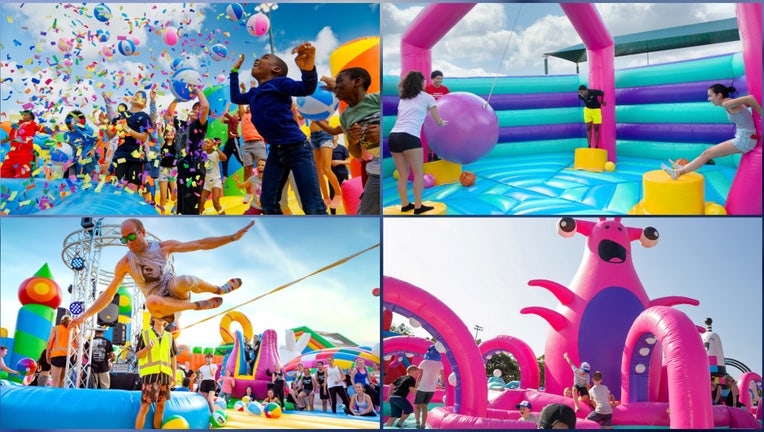 article
ORLANDO, Fla. - This inflatable event will surely bring out the inner child in you!
The Big Bounce America tour, which holds the Guinness world record for the largest bounce house, is making a stop in Orlando, bringing Central Florida residents two fun-packed weekends this February.
The event will take place at Dezerland Park Orlando located at 5250 International Drive on Saturday, Feb. 4 through Sunday, Feb. 5 and Friday, Feb. 10 through Sunday, Feb. 12.
It will feature four massive inflatable attractions:
The World's Largest Bounce House
This inflatable stands 32 feet tall at its highest point and covers more than 160,000 square feet. Inside, guests will find giant slides, ball pits, climbing towers, basketball hoops, and even a DJ keeping the party going on its center stage.
(Photo credit: The Big Bounce America)
Sports Slam
Here's a playground for athletes. It features a customized sports arena filled with goals, nets, hoops, balls and more. Organizers say there is also an area for climbing and a battle zone where families and friends can go head-to-head.
(Photo credit: The Big Bounce America)
The Giant
This attraction is more than 900 feet in length and features 50 obstacle courses as guests make their way from the start line to the finish, which is a monster slide!
(Photo credit: The Big Bounce America)
airSPACE
This area is described by event organizers as a space-themed wonderland. Here, guests will see aliens, spaceships, moon craters, a large 5-lane slide, a large 25-foot inflatable alien and three ball pits. 
From toddlers to adults, event organizers say there are fun sessions available for everyone!
Tickets begin at $22 and can be purchased here. 
The event is expected to sell out, so officials suggest purchasing tickets in advance.