2 women arrested for drunkenly tossing baby around 'like a toy' at Daytona Beach bar, police say
VOLUSIA COUNTY, Fla. - Two women were arrested for drunkenly tossing a baby back and forth "like a toy" at a bar in Daytona Beach, potentially breaking his arm, according to the Daytona Beach Police Department. 
Sierrah Newell, 20, and Brianna Lafoe, 19, were arrested and charged with child abuse, while the latter is facing an additional battery charge, according to an arrest affidavit. 
The incident happened shortly after midnight on Thursday at Coyote Ugly Saloon on Seabreeze Boulevard. Police responded to reports of two women throwing a baby in the air, flipping him upside down and throwing him back and forth from about 4 feet apart, the affidavit said. 
Newell was on crutches at the time of the incident and was allegedly threatening to hit bystanders, police said.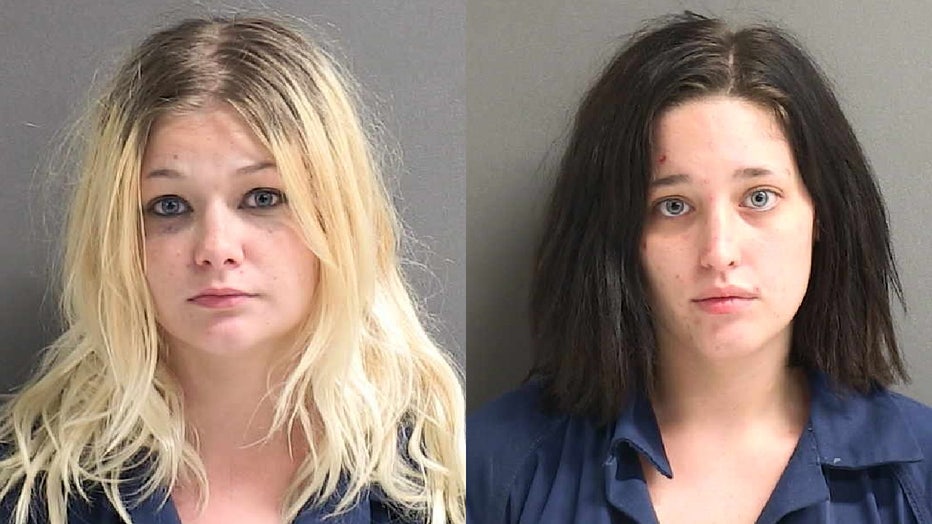 Brianna Lafoe (left) and Sierrah Newell (right) were arrested and charged with child abuse. (Photo: Volusia County Sheriffs Office)
A witness who was recording the incident was approached by Lafoe, who tried to hit her. That's when Lafoe allegedly flipped the baby upside down and grabbed him by his ankles. She also approached the witness with Newell's crutch and attempted to strike her a second time. 
When police watched the video recorded by the witness, they saw Newell sitting on the ground while Lafoe was standing up, aggressively swinging the baby up and down, the affidavit states. Lafoe allegedly held the baby upside down and shook him by his ankles over hard concrete. She also "actually and intentionally struck (the woman who was initially recording) on the right arm with an open hand," police said.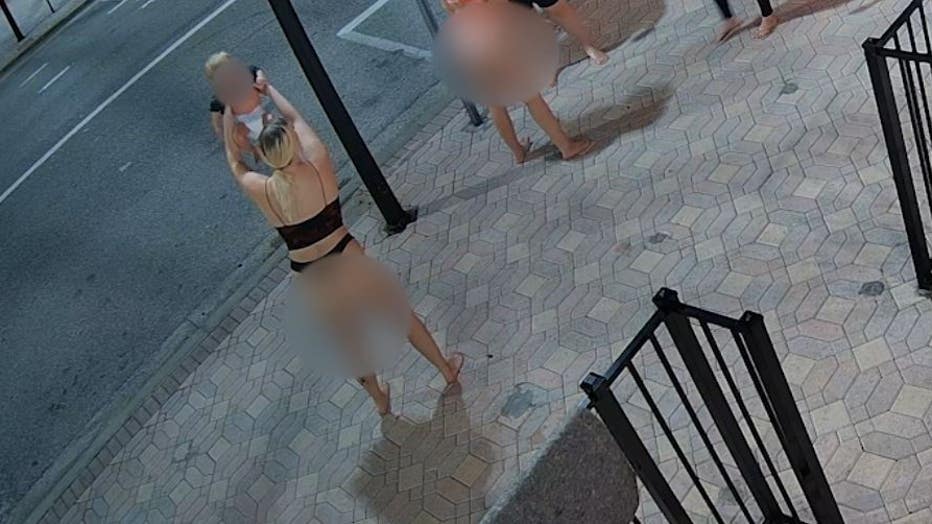 Shawn Knapp is a manager at Crazy John's Recreational Cannabis, a store next to where the incident happened. The store's security camera captured much of the incident. Knapp wasn't present at the time, but said he found the footage disturbing. 
"It really breaks your heart to see a little one go through something like that," he said.
He told FOX 35 he's glad the situation didn't turn out much worse. He believes it would have, had the bystanders not stepped in to help the child. "That's what we need in all communities, right?" he said. "We need people to watch out for each other no matter what age."
RELATED NEWS: 
Police added that both Newell and Lafoe are under 21, but were drunk at the bar. 
The woman who was threatened by Lafoe was uninjured. 
The baby was transferred to a local hospital for medical treatment and has since been released. He suffered red marks on his back and there was a mark on his X-ray that could indicate a broken arm. 
The redacted affidavit did not reveal who the baby belonged to, but Newell's mother was on the scene during the incident and the Department of Children and Families is conducting a background check to see if she can take custody of the child.