Tracking Elsa: Elsa back over water, heading toward Florida Keys
ORLANDO, Fla. - Tropical Storm Elsa was back over water late Monday evening continuing its northwestward track toward the lower Florida Keys at around 12 mph.  Maximum sustained winds are at 60 mph, according to the the National Hurricane Center (NHC).  
"It's now over open waters crossing the Florida Straits heading for the Keys later and still expected to make landfall here in Florida in the Big Bend, along the Nature Coast by Wednesday morning," explained FOX 35 Storm Team Meteorologist Brooks Garner. "Its 'cone of uncertainty' is west of Orlando, but there's no uncertainty about it that we are going to catch direct impacts from bands of heavy rain rolling in across the Orlando region."
A tropical storm warning has been issued along much of Florida's west coast as Elsa continues pushing towards the state.
"There are a couple of tropical storm watches once you get into the inland counties like Lake, Sumter, and Marion counties for the possibility of some tropical storm force gusts -- winds over 40 mph -- but there could be a time depending on the exact track of this that we see winds of 40 to 50 mph along the coastline with some higher gusts. In fact, the Hurricane Center is forecasting just that."
Over the next 2-3 days, the tropical cyclone should move between a subtropical ridge over the southwest North Atlantic and a mid-level low over the northern Gulf of Mexico. 
Forecasters say Elsa was still producing heavy rains over Cuba and is expected to pass near the lower Florida Keys and the Dry Tortugas on Tuesday morning.  Orlando is now outside of the projected path. 
"Even though Orlando is outside of the cone of uncertainty, we're going to catch the waves of heavy rain and even the slight chance for a tornado," Garner added.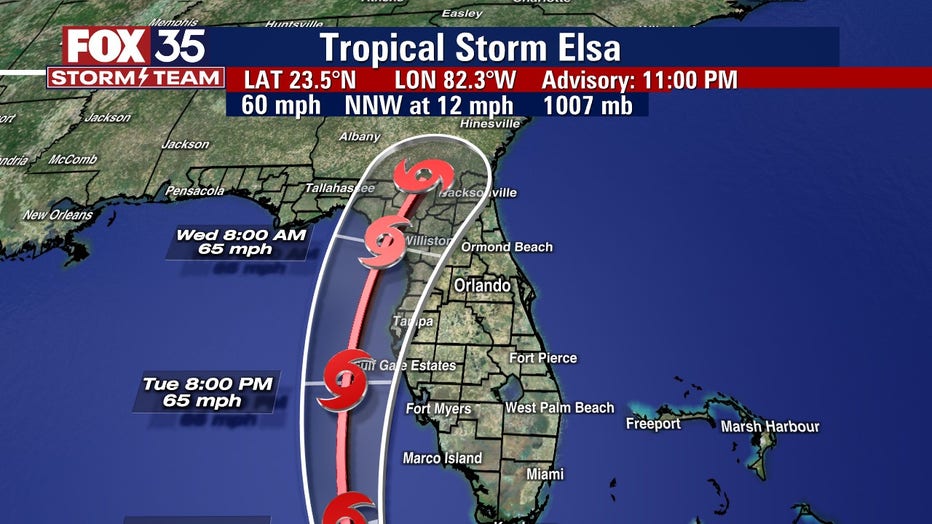 "Landfall could be as soon as Wednesday late morning across the Big Bend of Florida. We're talking Levy, Dixie counties, maybe down through Citrus County for the actual landfall. There will likely be a storm surge of some two to four feet for that zone," Garner said.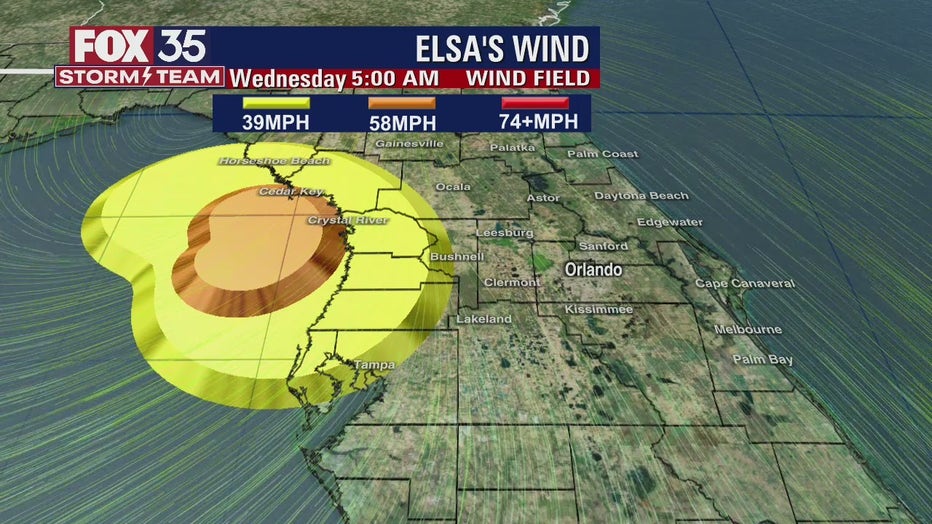 TRACK THE TROPICS: Visit the FOX 35 Storm Team Hurricane Center for the latest tropical weather outlook and more
The FOX 35 Storm Team has declared Tuesday and Wednesday as FOX 35 Storm Alert Days as the impact of Tropical Storm Elsa could be felt in Central Florida. Residents and visitors to Central Florida should know that heavy rainfall, gusty winds, and a few isolated tornadoes are all possible during this time.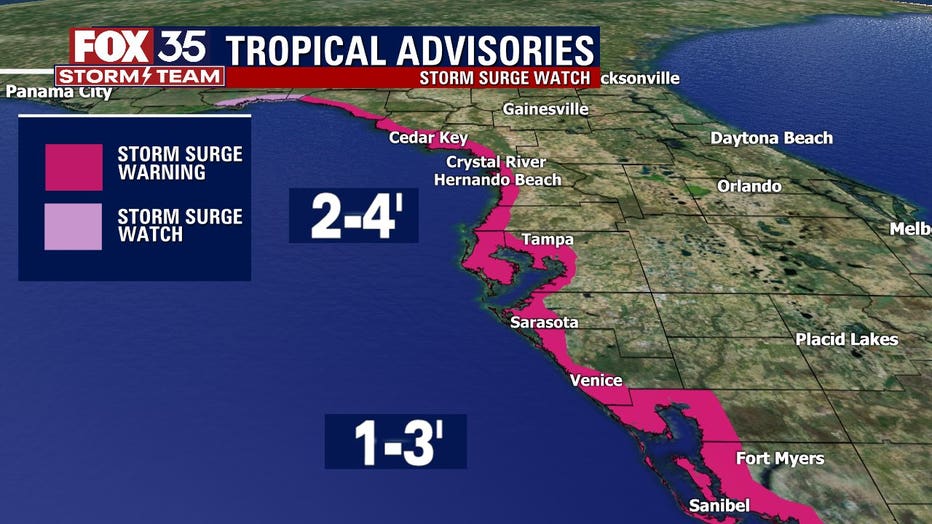 Effects across the Peninsula will vary greatly though. For example, eastern areas like Brevard County and coastal Volusia County could not see much impact at all. However, counties like coastal Dixie, Levy, and coastal Citrus are now under a tropical storm warning. This means that winds of 39 mph or higher are possible within the next 36 hours or less in this area. In addition, Lake, Marion, and Sumter remain under a tropical storm watch.
As far as tornado risk, rotating rain bands are always a concern but the risk looks to rise locally late Tuesday into early Wednesday as rain bands shed off Elsa's east side.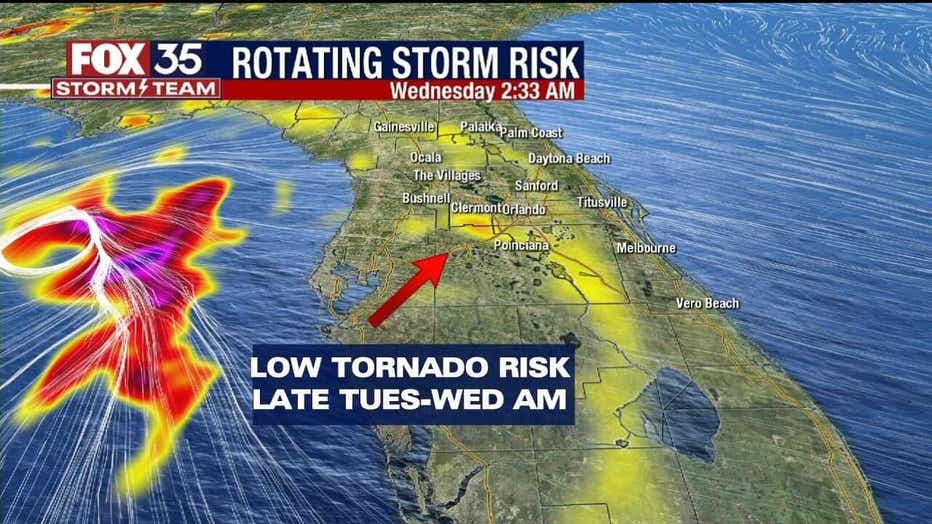 The current forecast from the NHC shows a possible Elsa landfall in the Big Bend region of the state. It could stay offshore, approaching Tampa by Tuesday night and then landfall near Cedar Key by Wednesday morning. Weather conditions will improve Wednesday night after landfall from south to north as Elsa clears out and moves out of Florida and into coastal Georgia and the Carolinas. 
WEATHER ALERTS: Download the FOX 35 Storm Team Weather app for live radar, severe weather alerts, and daily forecast reports on your phone
The current rainfall forecast for the coming week reflects Elsa's passage over the west side of Florida. Amounts will vary from one inch or more over the far east to over four or five inches south of the Florida Panhandle and along the I-75 corridor. As a result, there could be some low-lying flood issues. However, this can change in a big way if Elsa's track goes more east or more west.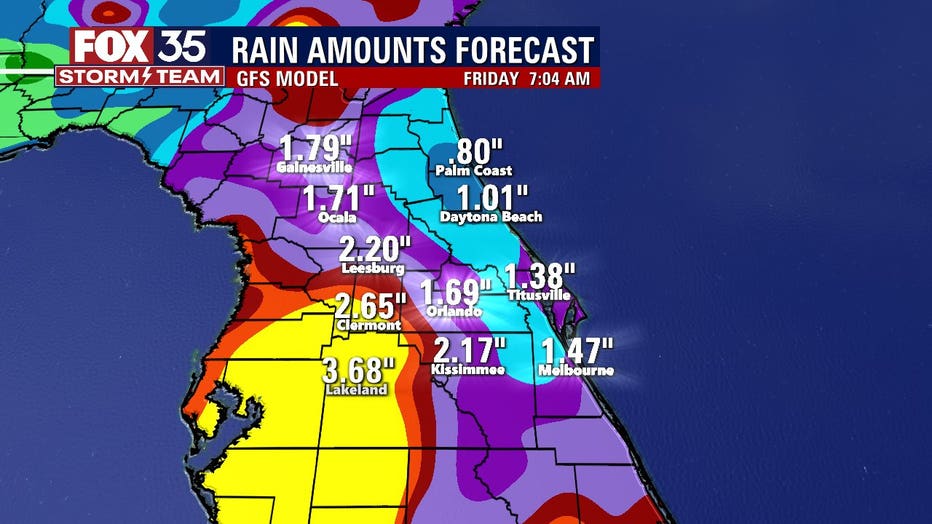 ACTIVE WATCHES AND WARNINGS
Storm Surge Warning:
West coast of Florida from Bonita Beach to the Aucilla River including Tampa Bay
Tropical Storm Warning:
The Cuban provinces of Matanzas, Mayabeque, Havana, and Artemisa

The Florida Keys from Craig Key westward to the Dry Tortugas

West coast of Florida from Flamingo northward to Ochlockonee River
Storm Surge Watch: 
West of the Aucilla River to the Ochlockonee River
Tropical Storm Watch:
West of the Ochlockonee River to Indian Pass, Florida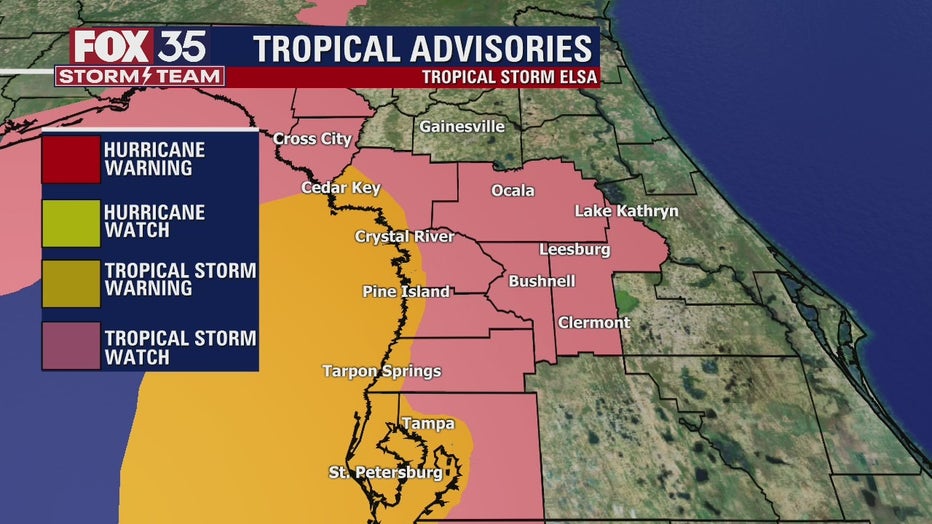 President Joe Biden on Monday approved an emergency declaration for Florida, granting federal emergency aid for Elsa response efforts. This allows FEMA to "coordinate all disaster relief efforts which have the purpose of alleviating the hardship and suffering caused by the emergency on the local population, and to provide appropriate assistance for required emergency measures, authorized under the Robert T. Stafford Disaster Relief and Emergency Assistance Act, to save lives, to protect property, public health and safety, and to lessen or avert the threat of a catastrophe."
BE PREPARED: Here's what you need to stay prepared for hurricane season
Tropical Storm Elsa swept along Cuba's southern coast early Monday. Cuban officials had evacuated 180,000 people as a precaution against the possibility of heavy flooding from a storm that already battered several Caribbean islands, killing at least three people. Most of those evacuated stayed at relatives' homes, others went to government shelters, and hundreds living in mountainous areas took refuge in caves prepared for emergencies.
The storm killed one person in St. Lucia, according to the Caribbean Disaster Emergency Management Agency. A 15-year-old boy and a 75-year-old woman died Saturday in separate events in the Dominican Republic after walls collapsed on them, according to a statement from the Emergency Operations Center.
Elsa was a Category 1 hurricane until Saturday morning, causing widespread damage on several eastern Caribbean islands Friday as the first hurricane of the Atlantic season. Among the hardest hit was Barbados, where more than 1,100 people reported damaged houses, including 62 homes that collapsed.
Downed trees also were reported in Haiti, which is especially vulnerable to floods and landslides because of widespread erosion and deforestation. Haiti's Civil Protection Agency said Sunday that three people had been injured by downed trees.
Elsa is the fifth named storm of the 2021 Atlantic hurricane season. The next name on the list is Fred. The National Oceanic and Atmospheric Administration (NOAA) announced that the U.S. is likely to be hit with another "above-normal" year, with 13 to 20 total named storms. 
The FOX 35 STORM TEAM is committed to keeping you safe. Depend on us as we track the tropics this 2021 Atlantic Hurricane Season.