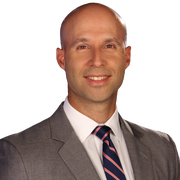 From business to beaches, and from policy to pets, Matt loves the hustle and variety of news in central Florida. 
A New York native, Matt comes to FOX 35 after reporting and anchoring news broadcasts in Wyoming, northwest Ohio, and several years based overseas, covering international news in Europe and Asia. He also staffed several political campaigns, prior to launching his news career.
He holds a BA in international studies from Johns Hopkins and an MS in journalism from Columbia. While in college, Matt held internships at CBS News, CSPAN, Bloomberg News, and the United States Congress.
Outside of work, Matt enjoys spending time with family, keeping fit, writing, and traveling. 
The latest from Matt Trezza
Activists on Thursday said they were fighting against Florida's new immigration law. 
This is unusual for Downtown Orlando: an acre of land in the heart of the city that could be yours, if the offer is right. The church across the street has owned the parcel for more than a hundred years, and they said now was the right time to sell. 
The waves were high in Daytona Beach over the weekend as Volusia County Beach Patrol flew the red flag, warning about rough surf. 
The Citrus Tower is a Clermont icon. This past September, a Colorado-based religious group bought the tower and started renovating it. They cut the ribbon Sunday morning, opening it back up to visitors.
Payton Easley is looking to buy a home in Lake County. The problem is, she's not sure if she can afford it.
It was a small gathering, Sunday morning, in the basement of the Historic New Bethel AME Church, in Ormond Beach. The building didn't have any lights or air conditioning, since firefighters had to cut the power.