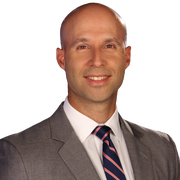 Matt Trezza was born and raised in New York.
Matt attended Johns Hopkins University, where he majored in International Studies with a concentration in American Politics and then received a master's degree in Journalism from Columbia University.
After graduation, Matt landed his first on-air job at KTWO in Casper, Wyoming, where he was a reporter and fill-in anchor, covering topics from local politics to dinosaur digs. During his free time there, he honed his skills in skiing, horseback riding, and mountain climbing. Later, he reported for WNWO in Toledo, Ohio, where he covered breaking news on politics, crime, and the economy. He also extensively covered the 2008 Presidential Campaign visits of Barack Obama, John McCain and Hillary Clinton, as well as the effects of the global financial crisis on America's industrial centers.
For the last six years, Matt worked abroad, anchoring and reporting for a 24-hour news network in Moscow, Russia, where he met his beautiful wife. While overseas, he traveled extensively throughout Europe, Asia and parts of the Middle East, learning about different cultures and societies.
In his free time, Matt enjoys travel, working-out, and writing. He recently finished his first novel, an international action thriller.
Matt is delighted to be back home in the USA, where he is enjoying covering life in Central Florida.
The latest from Matt Trezza
Agents say Anthony Todt billed thousands of dollars' worth of fake physical therapy sessions to Medicaid and private insurers to fund a lifestyle beyond his means.
The church is donating the money from Sunday's collection plate to Puerto Rican earthquake relief.
For the games, chefs came up with four unique hot dogs, each one representing the teams' hometowns.
45 Meals on Wheels volunteers delivering the food and gifts to 252 seniors in Seminole county
They estimate the total value of the trailer and the items inside at nearly $40,000.
A DeLand woman is trying to reunite this photo with its owners, after finding it at a local Winn-Dixie.
When deputies coaxed 47-year-old Jennifer Hall out of hiding in the woods behind her parents' Deltona home, she denied deputies' assertions that she stole her father's oxycodone tablets and replaced them with Tylenol.