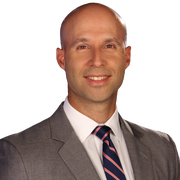 Matt Trezza was born and raised in New York.
Matt attended Johns Hopkins University, where he majored in International Studies with a concentration in American Politics and then received a master's degree in Journalism from Columbia University.
After graduation, Matt landed his first on-air job at KTWO in Casper, Wyoming, where he was a reporter and fill-in anchor, covering topics from local politics to dinosaur digs. During his free time there, he honed his skills in skiing, horseback riding, and mountain climbing. Later, he reported for WNWO in Toledo, Ohio, where he covered breaking news on politics, crime, and the economy. He also extensively covered the 2008 Presidential Campaign visits of Barack Obama, John McCain and Hillary Clinton, as well as the effects of the global financial crisis on America's industrial centers.
For the last six years, Matt worked abroad, anchoring and reporting for a 24-hour news network in Moscow, Russia, where he met his beautiful wife. While overseas, he traveled extensively throughout Europe, Asia and parts of the Middle East, learning about different cultures and societies.
In his free time, Matt enjoys travel, working-out, and writing. He recently finished his first novel, an international action thriller.
Matt is delighted to be back home in the USA, where he is enjoying covering life in Central Florida.
The latest from Matt Trezza
People started lining up hours before the event started.
A group of researchers at the University of Central Florida have been modeling how COVID-19 spreads. The takeaway from their research is that if you're a COVID-positive younger man, whose only symptom is a stuffy nose, then you check all the boxes for being a super-spreader.
Florida Governor Ron DeSantis said millions of doses of a vaccine to combat the COVID-19 pandemic are ready to be shipped to the Sunshine State.
Even though we've been living with COVID-19 for many months, Orange County officials said it is not the time to let our guard down, with infections rising around the state and the country.
Members of the Marion County School Board voted with heavy hearts on Tuesday for keeping students from marching in parades, citing concerns over rising COVID-19 cases.
A luxury McLaren car dealership could be set up at the site of the former Orchard Supply company in Winter Park, near the intersection of Orlando and Orange avenues, but local residents and city staff say they're not happy with the idea.
The popular market features fresh seasonal fruits and vegetables from local growers, baked goods, prepared foods, cheeses, and desserts.
Tuesday's vote has left Florida's Democrats doing a lot of soul-searching, after a disappointing showing at the polls. At least one Democrat state representative is now calling for changes at the top.
Despite passing with 60 percent of the vote, some businesses are not happy about the amendment to raise the minimum wage to $15 an hour.