Woman discovers dead shark washed ashore at Central Florida beach
MELBOURNE BEACH, Fla. - A dead shark has washed ashore on Melbourne Beach.
Betty Gonzalez was walking along the beach said she found the shark on Monday.
The shark was described by her as six-feet long and was surrounded by vultures when the woman found it around 6:30 a.m.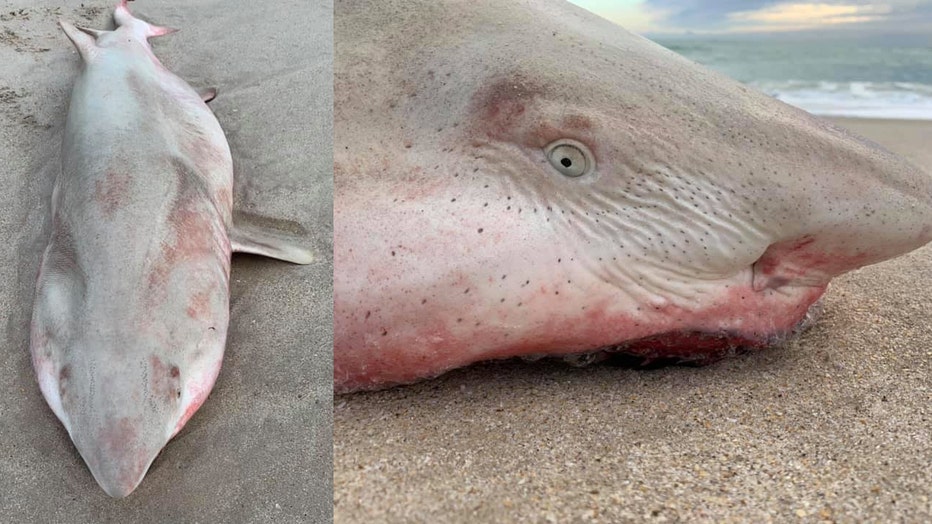 Shark washes ashore Melbourne Beach (Photo by Betty Gardner Gonzalez)
Gonzalez told FOX 35 that she is a local, avid surfer, and walks on the beach every morning. She's curious about why the shark died and even opened up its mouth to see its teeth. In her 25 years living in Florida, she's never seen anything like this.
She also said that she believes it is a sand tiger shark.
"It's just sad, especially because I don't know what killed it," Gonzalez told FOX 35. "I flipped the shark over, I just kind of looked to see if there were any kind of markings and I can't tell how it was killed."
MORE NEWS: Schumer urges Pence to invoke 25th Amendment to remove Trump from office
She said she will call FWC. However, the shark is no longer on the shore.
WARNING: Graphic images below.
MORE SHARK STORIES:
Tune in to FOX 35 Orlando for more Central Florida news.