Videos show multiple sharks in shallow water along the New Smyrna Beach shore
NEW SMRYNA BEACH, Fla. - It seems like shark spottings are occurring frequently in Central Florida.
A video taken in New Smyrna Beach last week shows multiple sharks spotted along the shore and in shallow water.
MORE NEWS: Giant great white shark captured on video swimming off of the Florida coast
Another video was taken on Sunday showing another shark along the shore at New Smyrna Beach. 
Cory Hames said he was out at the beach with his wife when he spotted two sharks close to the shore.
"Like about ankle-deep water so it was right off the shore. The shark was I'd say less than 10 feet away," he said.
Tyler Bowling studies sharks for a living. He said Central Florida is seeing the annual Black Tip shark migration.
"These sharks have been spending their summer in the Carolinas and over winter they're gonna be in South Florida in the Keys. So right now, we're seeing these large groups that can reach tens of thousands," he said.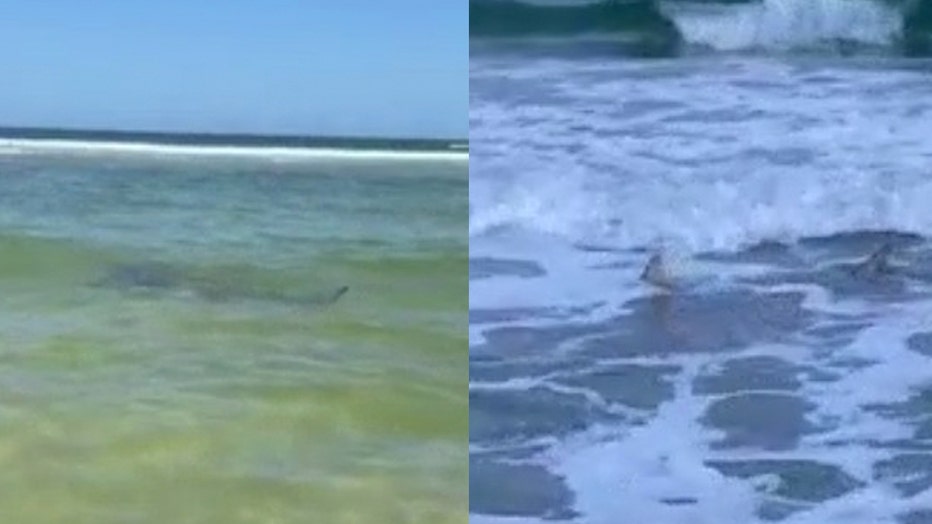 He said seeing them close to the shore is typical and happens for two reasons.
"They'll hunt close to the shore cause they'll follow these baitfish in and, as well, it helps them avoid predators," he said.
The sighting was enough to keep Hames and his wife out of the water.
"We were kind of planning on it, but that kind of changed our mind. But, it's all good," he said.
But Bowling says Black Tip sharks are not looking for trouble.
"These animals aren't out to get you. These bites are accidental and the animal is gonna be just as freaked out as you," he said.
Other recent shark spottings at New Smyrna Beach include:
Researchers say that while unprovoked shark attacks around the world decreased last year, they are actually up in the United States.
They explained that there were 64 confirmed unprovoked shark attacks worldwide last year, compared to the recent five-year-average of 82 unprovoked attacks. America had almost two-thirds of the attacks, 41 cases, an increase from 32 incidents in 2018.
Tune in to FOX 35 Orlando for the latest Central Florida news.