Universal Orlando's Minion Land unveils thrilling new details about upcoming, first-of-its-kind attraction
ORLANDO, Fla. - Universal Orlando announced back in December that an all-new Minion Land would take over the theme park. Now, they've revealed more details about the "first-of-its-kind" attraction and what fans can expect when they step into Villian-Con. 
Illumination's Villian-Con Minion Blast invites Minion-lovers of all ages to see if they have what it takes to become the newest member of The Vicious 6, a notorious group of super villains from the hit film, Minions: The Rise of Gru. Guests will make their way through the convention and see the trade show floor that's stocked with the latest gadgets, vehicles and fashion. 
That's when they'll pick up an "E-Liminator X" blaster to compete against their friends and family aboard a moving pathway to prove how bad they really are.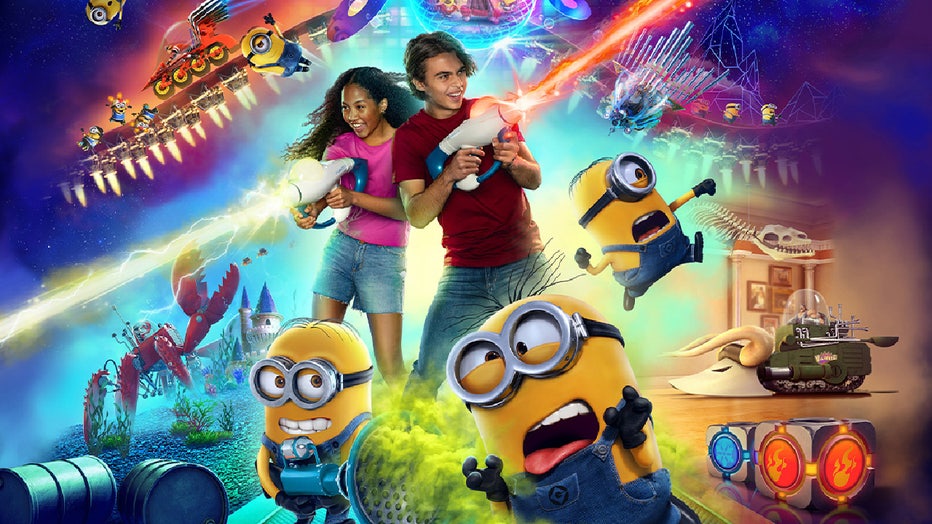 Photo: Universal Studios/handout
The blaster is equipped with Freeze Rays, Banana Bombs, Explosive Nunchucks and other tools to "cause as much mayhem and destruction as possible" to earn more points than their fellow villains. Guests will also encounter The Vicious 6, voiced by the original cast of the film including Taraji P. Henson as Belle Bottom, Lucy Lawless as Nun-Chuck, Danny Trejo as Stronghold, Jean-Claude Van Damme as Jean Clawed and Dolph Lundgren as Svengeance. 
This attraction is also the first at Universal to be connected via the Universal Orlando Resort App. Blasters will be able to sync to the app to track their scores, go on special missions and unlock perks and more blasts to get more points. 
"The more guests play and the higher they score, the more perks and bragging rights they'll earn," Universal Orlando said in a news release. 
MORE: Universal Orlando Halloween Horror Nights: Stranger Things is back
Villain-Con Minion Blast opening date
An official opening date for Villain-Con Minion Blast hasn't been released yet, but it's expected to come to life in summer 2023, according to Universal's website. 
Minion Land awaits
Villain-Con Minion Blast will be located in Minion Land, a brand new complex at Universal Orlando Resort. Inside Minion Land, guests can experience a unique dining location, several eateries, shopping and entertainment, and of course, a couple of attractions. 
Bake My Day will serve Minion-themed sweet treats, such as cupcakes, macarons, and s'mores.
Here's what's new: 
Illumination's Minion Cafe: An immersive dining experience with three themed dining areas, including The Kitchen, The Breakroom and The Dining Room
Bake My Day: The large pink cupcake shop will feature Minion-themed treats and merch
Pop-A-Nana: A kiosk featuring banana-flavored popcorn
Freeze Ray Pops: A walk-up window offering colorful popsicles inspired by Despicable Me characters
Illumination Theater: Meet some of your favorite characters and snap photos