This Florida gem is the state's oldest bar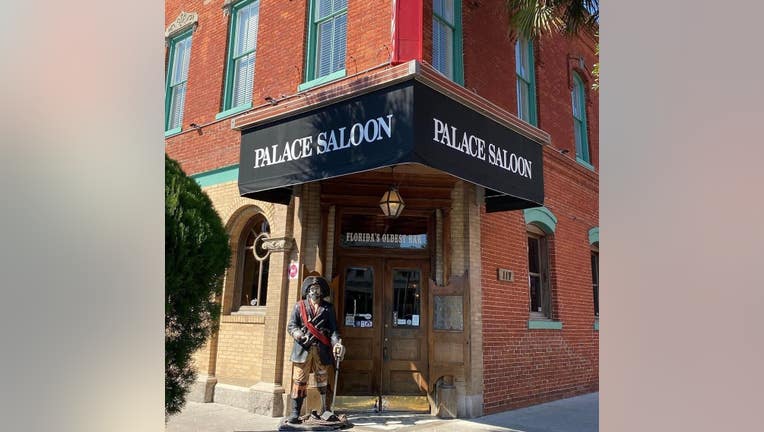 article
FERNANDINA BEACH, Fla. - If you're planning a road trip this summer and looking for a great place to grab a drink, there's no other bar in Florida like Amelia Island's Palace Saloon, which is believed to be the oldest bar in the state.
Originally started as a haberdashery in the late 1800s before opening as a watering hole in 1903, the Palace Saloon, according to local lore, was also the last bar to close in Florida on the eve of Prohibition. 
"The saloon still has the elegant features that made it famous for over a century: inlaid mosaic floors, embossed tin ceilings, hand-carved mahogany caryatids (undraped female fixtures). a 40-foot bar lit with gas lamps, and walls painted with six commissioned murals," the website says.
HISTORY
In 1878, Louis G. Hirth bought the Prescott building in 1903 and replaced shoes with booze and named it the Palace Saloon, according to the website. The founder of Anheuser-Busch reportedly helped design the bar before its opening to the public.
RELATED: This is the state's oldest restaurant -- and it takes up an entire city block
"A true 'gentleman's establishment,' the bar even included complimentary towels hanging from the bar to wipe the foam from patron's mustaches and 14-pound solid brass cuspidors (spittoons) for those who enjoyed a good chew with their drink." 
Around 1905, the saloon became the first hard liquor bar to begin serving Coca-Cola. 
During the Prohibition era, it is said that the Palace Saloon was the last bar in Florida to close with people from neighboring states waiting in long lines to get a last drink – and the bar went out with a bang. Hirth reportedly held one last hurrah for customers, selling booze until midnight and grossing $60,000 in one night. 
RELATED: Florida's oldest diner is still serving up nostalgia almost 100 years later
To survive during the Prohibition years, the saloon began selling Texaco gasoline, ice cream, special wines, 3 percent near-beer, and cigars. A fire in 1999 nearly destroyed the long-standing establishment, but the saloon was restored and still has the nostalgic charm locals have known for over 100 years. 
THE PALACE SALOON TODAY
Still at its original location on Centre Street in Fernandina Beach, the Palace Saloon is still a go-to hot spot for locals and tourists. Not only does the bar serve a variety of cocktails – like the world famous Pirate's Punch – it's a place friends can gather for live music on most nights and billiards in an iconic, welcoming atmosphere. You may even be greeted by Petey the Pirate at the door!
According to its Facebook page, the bar celebrated its 120th anniversary last month and is planning a big party in April to mark the incredible milestone.