SpaceX launches rocket to resupply the ISS, completing 100th successful Falcon 9 liftoff
ORLANDO, Fla. - SpaceX successfully launched its Falcon 9 rocket on Sunday morning with an updated Dragon capsule on top.
The launch is part of a joint effort with NASA to resupply the International Space Station (ISS) with supplies. 
The launch was originally planned for Saturday, but due to weather, was pushed to late Sunday morning. The rocket successfully lifted off at 11:17 a.m. from Launch Complex 39A at Kennedy Space Center.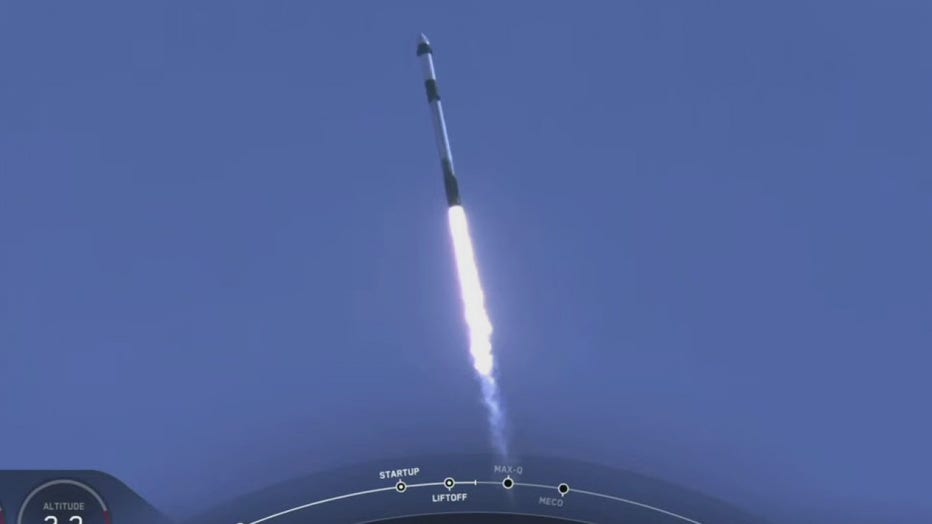 MORE NEWS: Vice President Pence to visit Cape Canaveral on Wednesday
This mission hits several milestones for both SpaceX and NASA, including:
NASA says this will be the 21st Commercial Resupply Mission to the ISS.
It is also said to SpaceX's 24th rocket launch this year.
SpaceX says that "this is the first flight of the updated cargo version of Dragon, which is capable of carrying about 20 percent more volume than the previous version of Dragon and has double the amount of powered locker cargo capability." 
This will reportedly be the first time that two SpaceX capsules are docked at the ISS. There will reportedly be at least one Dragon docked at the ISS for the entirety of 2021. 
It is also the 100th successful mission of the Falcon 9 rocket, SpaceX said.
It is also said to be the 68th successful booster lander and 58th successful time landing on SpaceX's droneship, OfCourseIStillLoveYou.
Dragon is reportedly on the way to the ISS and will autonomously dock there on Monday. It will remain at the space station for 30 days before going back with more supplies.
MORE NEWS: Florida Amber Alert issued for 2-year-old possibly abducted by woman
The 6,400-pound shipment includes billions of microbes and crushed asteroid samples for a biomining study, a new medical device to provide rapid blood test results for astronauts in space, and a privately owned and operated chamber to move experiments as big as refrigerators outside the orbiting lab. Forty mice also are flying for bone and eye studies, two areas of weaknesses for astronauts during long space stays.
It also reportedly includes Christmas treats and presents. For example, there is roasted turkey, cornbread dressing, cranberry sauce, shortbread cookies, and tubes of icing.
Another SpaceX launch is said to be planned for Thursday as well. They will bring a Sirius XM satellite into orbit.
Watch the launch when it happens on FOX 35 Orlando.