SeaWorld Orlando announces first-ever VIP experience for Shark Week
ORLANDO, Fla. - SeaWorld Orlando is celebrating Shark Week by announcing its first-ever "Ultimate Shark Experience" for VIPs.
Relish in a one-of-a-kind shark experience at SeaWorld that lets you learn more about sharks, as well as touch, feed and get up close with them. Shark lovers can also enjoy themed food and beverages, and take home a shark souvenir. 
This new feature is only available for one week from July 21 to 28. 
"SeaWorld is the only place in the world where you can touch a shark, move like a shark, feed a shark, dine like a shark, learn from the sharks and importantly, help our ocean's sharks at the same time," said Marisa Thalberg, Chief Marketing and Communications Officer of SeaWorld Parks and Entertainment, in a press release. "Sharks are actually our ocean's VIP – Very Important Predators – for a reason – and we would love to share this curated, immersive experience with guests young and old who want to celebrate shark week in this really unique way."
Read below to learn more about this ticket and what it comes with.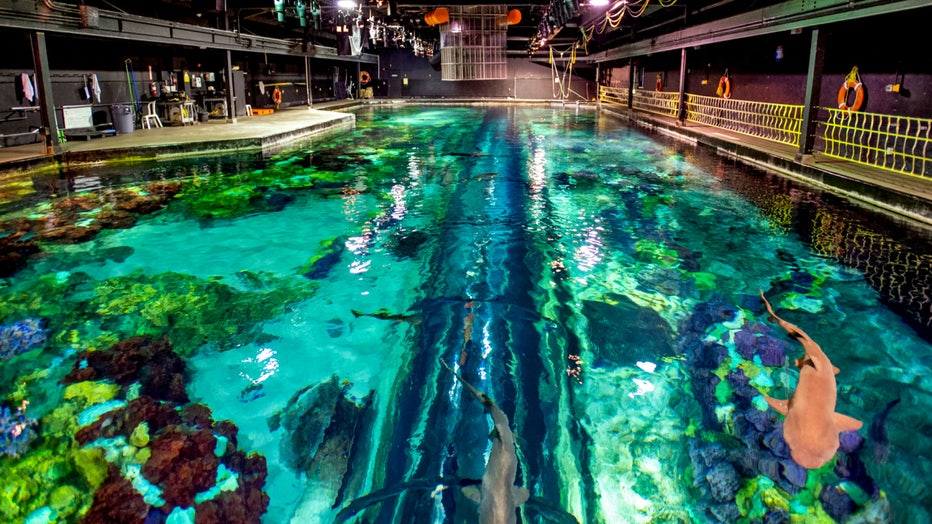 SeaWorld Orlando announces their first "ultimate shark experience for VIP access" for shark week. (Courtesy of SeaWorld Orlando)
What's included with an Ultimate Shark Experience ticket?
A ticket costs $199 per person with $25 from every purchase going to shark conservation programs outside the parks. The ticket includes park admission, one meal, one cocktail or mocktail and a one-time Quick Queue at Mako. 
SeaWorld Orlando Pass Members can get a discounted ticket at $99. 
This ticket offers plenty to do and see that any shark enthusiast would love:
Behind-the-scenes tour
Up-close shark encounter
Tasty bites & beverages
Feed sharks
One-time Quick Queue at Mako 
Shark souvenir
SeaWorld Orlando announces their first "ultimate shark experience for VIP access" for shark week. (Courtesy of SeaWorld Orlando)
RELATED STORIES:
When and where can I use my Ultimate Shark Experience ticket?
You can use this ticket during Shark Week from July 21-28. 
This ticket can only be used at SeaWorld Orlando. 
Where can I purchase a ticket, and how do I redeem it?
You can purchase tickets online on the SeaWorld website. 
Tickets can be redeemed by going to the self-service kiosk at the park, before entering, to redeem tickets for entry to the park, shark merchandise, shark feed tray and the behind-the-scenes tour. 
The original E-ticket will be used for meal and beverage, cocktail and one-time Quick Queue.
What is Shark Week?
Shark Week was originally made for conservation efforts and to disbar the misconceptions about sharks.
Over time, it grew in popularity with a week of shows on Discovery Channel. The series has been on since 2010 and is considered the longest running cable television programming event in history.