Orlando bar owners pitch 5% surcharge on tabs to offset costs of added security required by city
ORLANDO, Fla. - The City of Orlando said it needs extra security downtown to keep people safe on weekend nights and is shifting much of the cost to cover that added protection to bar owners.
The city is considering an ordinance that would force bars and nightclubs in the entertainment district established by the Community Redevelopment Agency (detailed PDF map here) to close at midnight and require owners to apply for a permit to extend the last call to 2 a.m.  Owners would have to demonstrate they have adequate protections for patrons including more security and metal detectors.  It comes in the wake of a pair of shootings that happened near the entertainment district last year including the deadly shooting of an Army veteran in May and a mass shooting that injured seven in July. 
Bar owners believe the potential cost for them to cover added security measures is simply too high. They are proposing a different solution that would add an extra cost to your bar tab in the form of a 5% surcharge on sales.
"You would see your sales tax and then a very small surcharge," explained Dominique Greco with the Orlando Hospitality Alliance. "We're talking pennies, a surcharge that would go into a fund dedicated for public services."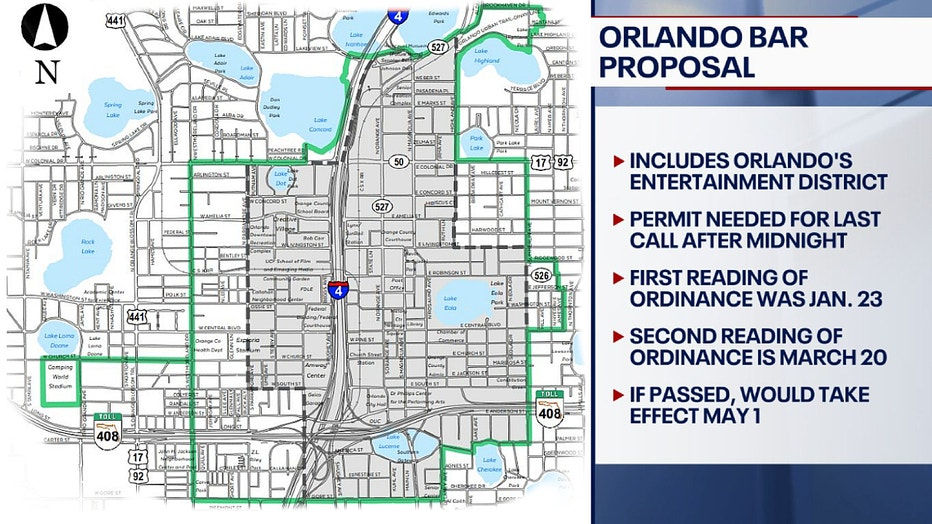 The Orlando Hospitality Alliance said revenue from this surcharge would bring in an estimated $3 million for public safety – including the additional security and Orlando police officers.
People who were downtown on Saturday had mixed reactions.
MORE HEADLINES:
"If you come out to the club, most people are buying sections – at $300 to $500 – so I'm not sure what the cost would be with an amount that large with that extra tax," said Khamall Dunigan, "so I don't think it's smart."
"I think since we're the ones going out staying longer," said Isabel Nieves. "To ensure our safety, I wouldn't mind paying extra money."
The alliance came up with this idea hoping it could replace the proposed ordinance from the city. Some bar owners estimate it could cost them an extra $330,000 in operating expenses each year and possibly put them out of business.
"Liquor businesses tend to get a big target on their back because you do see people doing mischievous things at night," Greco said.
Greco said the alliance wants all business owners and residents to be part of the solution. "But pointing fingers is counterproductive," she added.
The next city council meeting to discuss all of this will be on March 20, when there will be a second reading of the proposed bar security ordinance. You can read a detailed graphical presentation of the surcharge proposed by the Orlando Hospitality Alliance here.