Orlando bar owners push back on proposed ordinance calling for added security
ORLANDO, Fla. - At an Orlando City Council meeting on Monday, there was the first reading of a heavily debated ordinance that is intended to improve the safety and security of downtown bars and nightclubs. Some owners of these establishments said that if it is approved it could put them out of business. 
If passed, the ordinance would require downtown bars to close at midnight. If a bar owner wanted to keep their business open until 2 a.m., they would need a special permit and would have to pay for additional police officers, a private security guard, metal detectors, and ID scanners.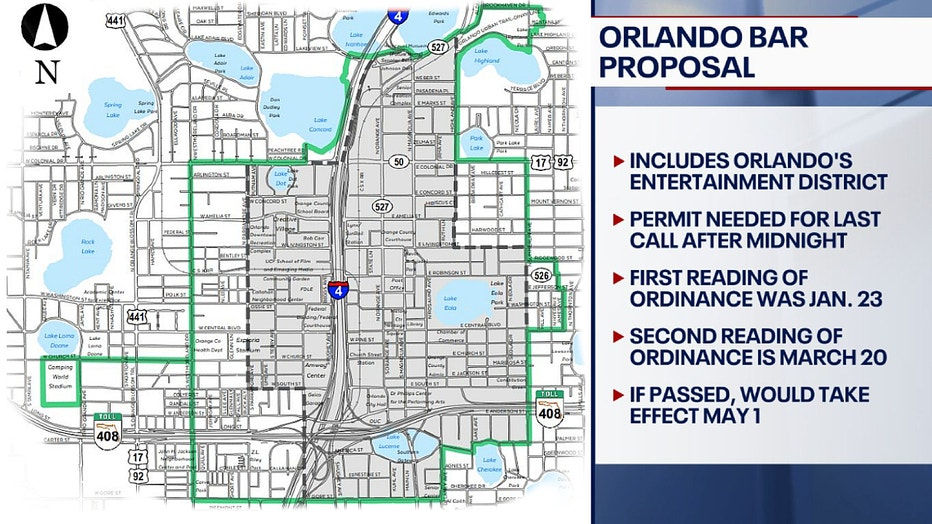 Business owners said the costs are too high. They estimate the cost for additional police officers alone could be up to $337,000 a year for a single business.
MORE HEADLINES:
Orlando bars would require permits, added security in order to serve until 2 a.m. under proposal
Orlando leaders vote on ordinance differentiating bars, restaurants, clubs
Orlando wants to limit operational hours for downtown bars: What it means for bars outside downtown
"These are issues that need further consideration before throwing the cost on businesses that do the majority of their revenue on the last few hours of the evening," said one bar owner at the meeting. "Some businesses will close because of this which I'm sure is the ultimate goal. Some will just cut staff, raise prices to compensate for the expense."
A second reading is scheduled for March. If approved, the midnight last-call ordinance would go into effect in May. There is also an ordinance that would not allow a new bar to open downtown for six months. If passed, that moratorium would go into effect immediately.