'Near-normal' 2023 Atlantic Hurricane Season with 17 named storms, NOAA predicts
The National Oceanic and Atmospheric Administration (NOAA) said Thursday it was anticipating a "near-normal" season for the 2023 Atlantic Hurricane Season, which runs June 1 - November 30, 2023.
NOAA's outlook predicts 12 to 17 named storms (39 mph winds or greater), of which 5 to 9 could become hurricanes (74 mph winds or greater). Of those, one to four could become a major hurricane (111 mph winds or greater). NOAA said it had a 70% confidence in its prediction.
NOAA also said there was a 40% chance of a "near normal" season, and a 30% chance for both an "above normal" or "below normal" season, according to a news release.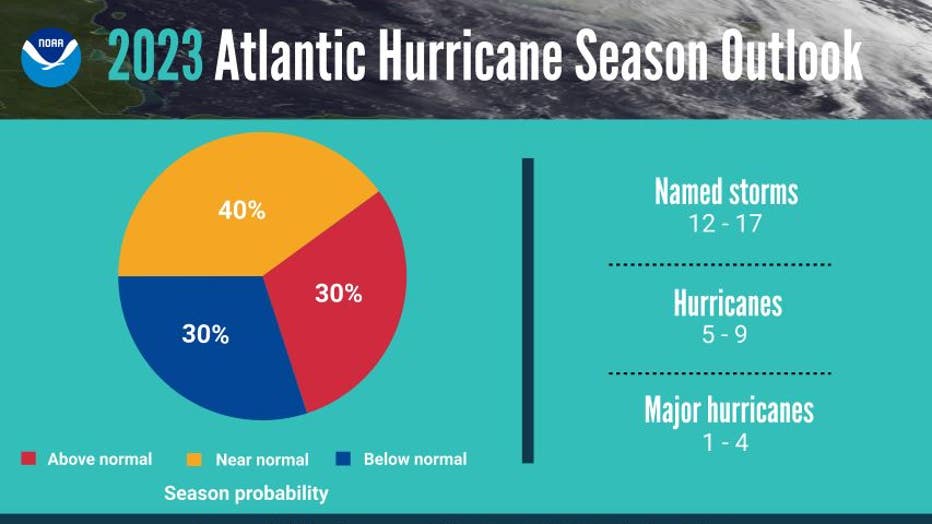 "The upcoming Atlantic hurricane season is expected to be less active than recent years, due to competing factors — some that suppress storm development and some that fuel it — driving this year's overall forecast for a near-normal season," including El Nino, an above-normal west African monsoon, and warmer seas in the tropical Atlantic Ocean and Caribbean Sea.
"El Nino's potential influence on storm development could be offset by favorable conditions local to the tropical Atlantic Basin. Those conditions include the potential for an above-normal west African monsoon, which produces African easterly waves and seeds some of the stronger and longer-lived Atlantic storms, and warmer-than-normal sea surface temperatures in the tropical Atlantic Ocean and Caribbean Sea which creates more energy to fuel storm development," NOAA explained.
MORE NEWS
The numbers are generally in line with Colorado State University's predictions for the 2023 Atlantic Hurricane Season, which included 13 named storms, six hurricanes, and two major hurricanes. CSU also predicted a slightly below-average hurricane season.
Despite the season not starting until June 1, the National Hurricane Center said the first tropical storm of the season – a subtropical storm – formed in the Atlantic basin in January 2023. NHC made that announcement in May after reviewing data from January.
While that system will be marked as the first cyclone of the 2023 season, it will not take the first name in this year's storm list. That means that if/when the next system becomes a tropical storm, it will take the name Arlene, the first name in this year's lineup.
Here are the 2023 Atlantic hurricane season storm names
Arlene
Bret
Cindy
Don
Emily
Franklin
Gert
Harold
Idalia
Jose
Katia
Lee
Margot
Nigel
Ophelia
Philippe
Rina
Sean
Tammy
Vince
Whitney
Preparing for hurricane season
While experts predict a below average season, it only takes one storm to cause significant damage should one make landfall or near-landfall in Florida. So, it is best to prepare yourself, your family, and your home.
 Here are a few ways to prepare for hurricane season:
Make an emergency plan: How will you receive emergency alerts and warnings? Do you have an emergency kit? Do you have all of your important documents? Where will you go if you have to evacuate? Do you have a meeting spot?
Know your evacuation zone: Visit Floridadiaster.org to find your evacuation zone, route, and to see a map.
Have an emergency disaster kit: Have food and water for each person for 7 days, all medicines, flashlights and batteries, cash, and copies of any important documents needed. Do not forget your pet, its food, toys, and any mediciations.
Prepare your home early: Clear out drains and gutters, trim trees, and bring in outdoor furniture.
Visit Ready.gov for more information on preparing for a disaster.