Below-average Atlantic Hurricane Season? Here's what that could mean for Florida
Colorado State University's hurricane experts released their yearly predictions for the upcoming 2023 Atlantic Hurricane Season, forecasting a slightly below-average hurricane season due to the likely development of El Niño.
The Atlantic Hurricane Season runs June 1 through November 30, 2023. FOX 35 Chief Meteorologist Jayme King brings down what this could mean for Florida in the video above.
"When waters in the eastern and central tropical and subtropical Atlantic are warmer than normal, this tends to force a weaker subtropical high and associated weaker winds blowing across the tropical Atlantic. These conditions lead to warmer waters in the tropical Atlantic for the peak of the Atlantic hurricane season," CSU said in its report.
"The anomalously warm eastern and central tropical and subtropical Atlantic favor an above-normal season."
However, CSU said there is more uncertainty than normal because of the potential for El Niño and a warm tropical and subtropical Atlantic.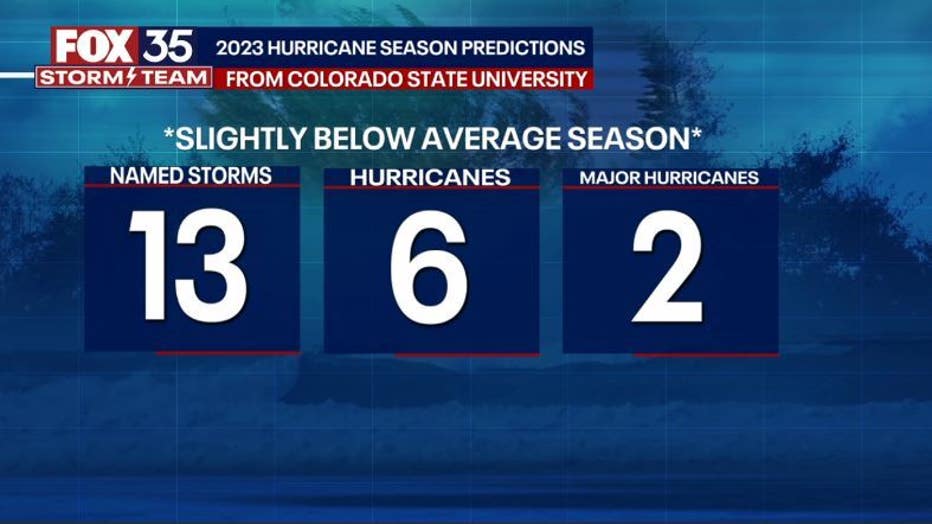 Here are the highlights from CSU's report:
Slightly below-average hurricane season
13 named storms
Of which, 6 would become hurricanes
Of which, two would become major hurricanes (Category 3, 4, or 5)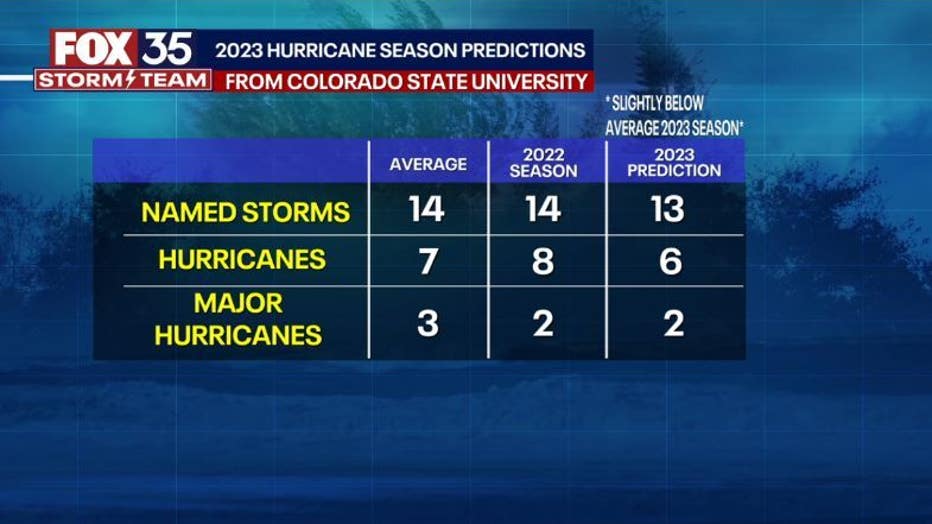 CSU also included the probability of a major hurricane making landfall in the U.S. and Florida during the 2023 Atlantic Hurricane season:
44% for the entire U.S. Coastline
22% for the U.S. East Coast, including the Florida peninsula
28% for the Gulf Coast, from Florida Pandandle to Brownsville
49% for the Caribbean
"The team predicts that 2023 hurricane activity will be about 80% of the average season from 1991–2020. By comparison, 2022's hurricane activity was about 75% of the average season," CSU said.
Colorado State University will issue additional reports on June 1, July 6, and August 3, followed by a recap at the end of the season in November.