Florida man sets fire to car belonging to ex-girlfriend who also happens to be his cousin, police say
Stream FOX 35 News:
MIAMI, Fla. - A man from South Florida was arrested for allegedly setting fire to a car that belonged to his ex-girlfriend, who also happens to be his cousin, according to the Miami-Dade Police Department. 
Melvin Cintron was charged with second-degree arson and third-degree grand theft on Wednesday for the incident that happened back in April, police said. 
Here's a timeline of what happened: 
April 29: Man pours gasoline on car before setting it on fire, police say
Shortly before midnight on April 29, a home's Ring doorbell camera captured an unknown man pouring what appeared to be gasoline on a car before igniting it, according to a police report.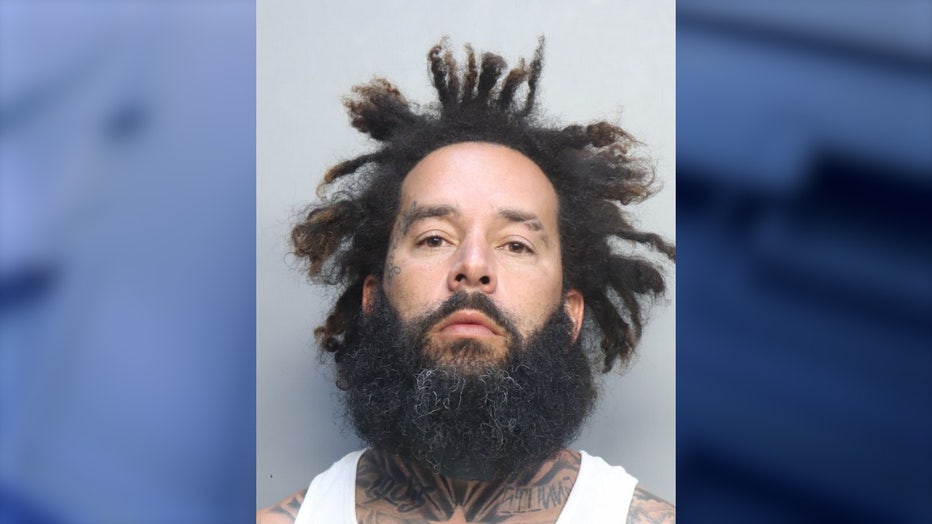 Photo: Miami-Dade Police Department
April 30: Police, fire officials determine fire was intentional amid investigation
Officials were called to the 500 block of NW 120th Street in Miami and the fire was extinguished. 
Police found a white, four-door Jaguar heavily damaged by fire upon arrival. The inside of the car sustained heavy damage and the roof was completely burned off, police said. The trunk was also detached from the car and there was a strong odor of what police believed was gasoline. 
The Ring camera video shows a man, who was unidentifiable at the time, parking the Jaguar, pouring something inside it and on top of it and igniting it on fire, police said. The car was immediately consumed by fire and rapidly became fully engulfed in flames. The man then ran southbound on NW 5th Avenue toward NW 119th Street. 
Fire officials determined the fire was intentional. 
Police informed the Vehicle Research Unit of the partial VIN number grabbed from the burned car's engine. 
May 1: Police find owner of burned car
Police determined that the Jaguar was not reported stolen and is registered to the victim. The registered owner of the car had an emergency contact listed for Cintron, who lives a block away from where the car was set on fire, police said. 
Police also determined Cintron is a relative of the victim. 
Cintron's driver's license photo matched the description of the man in the Ring camera video, police said. 
September 11: Victim identifies suspect as her ex-boyfriend/cousin
Police made contact with the victim on September 11 after months of trying, the arrest report said. She said didn't have an opportunity to report the incident or contact police because she had been living in fear of Cintron, the report said. 
The victim said Cintron is her familial cousin and the two were in a dating relationship and lived together up until September 8, the arrest report states. 
She then told police about what happened on April 28:
She and Cintron got into an argument and he left their house
She went to sleep thinking Cintron left in his own car, but then realized he'd taken her Jaguar
Cintron arrived at home and told her that he burned her car near his other residence
She said she provided a false statement to investigators at the time, saying her car caught on fire while she was driving home because Cintron "was with her and made her put her phone on speaker anytime she spoke to" investigators
She added that Cintron "regularly carries an unknown make/model fully automatic firearm with a double drum high-capacity magazine," the police report said. 
The victim positively confirmed the man in the video setting fire to her car was her ex-boyfriend and cousin Cintron. 
An arrest warrant was issued for Cintron. 
MORE CRIME NEWS:
September 13: Cintron found, arrested
On September 13, Cintron and his car was found in the 3600 block of NW 74th Street and was detained and taken into custody without incident. 
He was transported to Turner Guilford Knight Correctional Center, where he remains on $5,000 bond. 
He is scheduled to appear in court on October 13.