Daytona 500 tickets are now up for grabs for 2024
DAYTONA BEACH, Fla. - Tickets for the 2024 Daytona 500 are on sale now, the Daytona International Speedway announced Friday. 
The Daytona 500 is scheduled for February 18, 2024. Fans can choose from a slew of different ticket packages, plus add on options. 
Here's a look at ticket options so you can get ramped up with the crowd for the 66th annual Daytona 500:
Here's a look at those ticket options and what comes included: 
Reserved Tickets 
Reserved tickets give fans the chance to view the race from the "grandstands" – the top row to the bottom near the racetrack.
These tickets range from $105 to $489.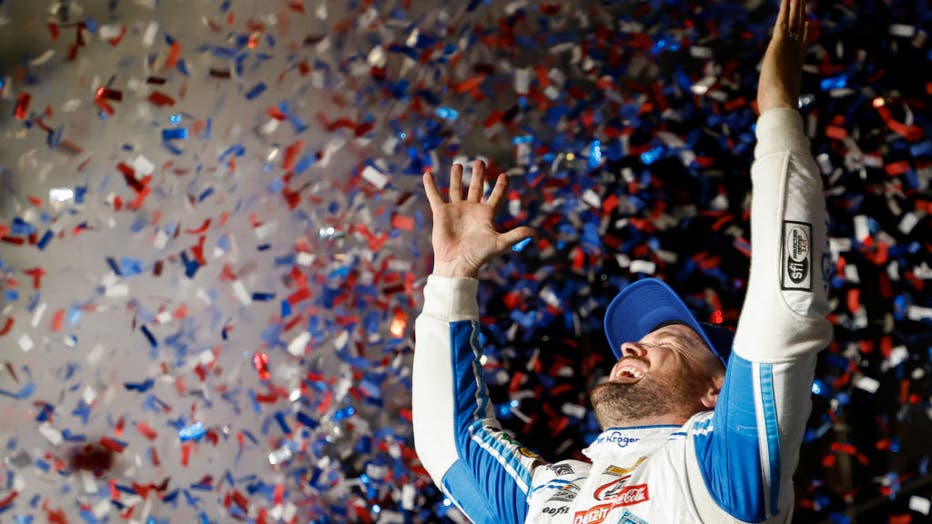 DAYTONA BEACH, FLORIDA - FEBRUARY 19: Ricky Stenhouse Jr., driver of the #47 Kroger/Cottonelle Chevrolet, celebrates in victory lane after winning the NASCAR Cup Series 65th Annual Daytona 500 at Daytona International Speedway on February 19, 2023 in
Reserved Tickets + Infield Access
These seats give you an up close look at the race, plus you can beat the crowd since it also comes with early admission.
These tickets range from $105 to $489. 
RELATED STORIES:
Multi-Day Packages 
Fans can choose from a two-day or four-day package with this plan. 
The two-day package includes reserved seats for the DAYTONA 500, and the NASCAR Xfinity Series and ARCA Menards Series Doubleheader. Tickets range from $245 to $405. 
The four-day package includes access to the DAYTONA 500, NASCAR Xfinity Series and ARCA Menards Series Doubleheader, NASCAR Craftsman Truck Series, and the Bluegreen Vacations Duel reserved seat. Tickets range from $380 to $580. 
Fan Hospitality
The fan hospitality package includes exclusive seating, bar and food, plus much more depending on which package you choose. 
Click here for more details about these packages. 
Travel Package
For fans traveling from far, this package is perfect for you.
They offer two packages that include roundtrip deluxe transportation to the race, tickets to the 2024 Daytona 500 race, hotel costs, Sunday fanzine access and more.
The difference between the two packages is that one hotel is the Marriott Orlando Airport Lakeside, and the other is the Hilton Altamonte Springs. 
Don't walk, race over to their website to get your tickets to the Daytona 500!