UCF's Frost promises to bring exciting brand of offense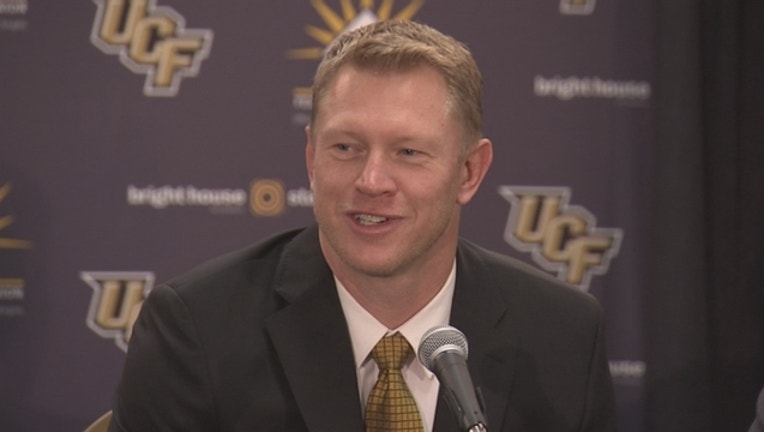 article
ORLANDO, Fla. (AP) - Central Florida had its sights set on finding a new brand offense when it went searching for its new football coach.  New hire Scott Frost promises to bring that and more to his first head coaching job.
"I had a great job. I think this is a better job, or I wouldn't have left," Frost said at his introductory news conference Wednesday. "I could have stayed as offensive coordinator at Oregon for a long time if they'd have me, but I felt it was time for me to go and try to run a program. I recognize things in this program that can appeal to me.
"I know I can bring the offense that I was familiar with (at Oregon) and there's players right around here that are gonna fit into it and be able to make it thrive."
Frost said he will start immediately, though it's yet to be determined whether he will return to coach the Ducks in the postseason. He said he still needs to have a conversation with Oregon coach Mark Helfrich regarding that.
But he said that UCF is his chief priority as of Wednesday.
According to a signed offer sheet, Frost's agreement is for five years at $1.7 million annually. UCF also holds an option of a two-year extension. He will have a pool of $2.3 million to hire his staff.
His buyout for accepting another college for professional head coaching job is $850,000.
UCF athletic director Danny White said school officials looked at both current head coaches and coordinators during the interview process, but that the 40-year-old Frost immediately stood out.
"We're hiring more than Oregon's offense," White said. "We're hiring the person we think is the right one to lead out football program."
White said he met with about eight members of the current Knights' football team for input before deciding on Frost.
Frost said he was offered an opportunity last season to leave Oregon, but that it would have required him to depart a week before the Ducks' first playoff game.
"I cared too much about the players that I coached to do something like that to them," Frost said. "This year shook out a little bit different. When this opportunity arose, this is the best opportunity that I've been given regarding a head coaching opportunity.
"I think the sky's the limit for this place."
It is language similar to that used by former coach George O'Leary, who called UCF's program "a sleeping giant" when he was hired in 2004. Frost said he planned to reach out to O'Leary soon to get his advice. O'Leary is still under contract with UCF as a consultant through 2020.
Frost said he didn't want to leave Oregon unless he felt he could get the same type of players they recruited there.
Though he primarily recruited in the west, he said he believes the players he will seek to run his offense at UCF exist in-state.
"We're fast. We play fast. We have fast guys. Those guys are right here to be had," Frost said. "If I were a fast kid in the state of Florida and I knew we were going to play that type of offense here, this place would look really good to me."
___
AP college football website: collegefootball.ap.org