NFL Draft: Buccaneers seek more help for QB Winston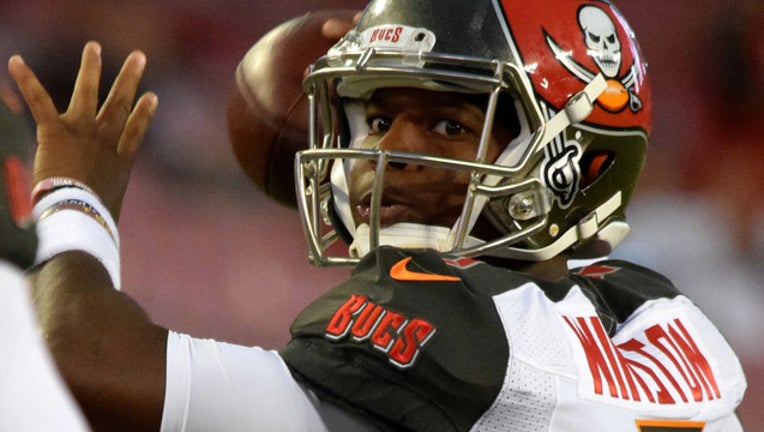 article
TAMPA (AP) - Jason Licht says one valuable lesson he's learned in four years of running Tampa Bay's draft is to trust his instinct.
It worked well for the general manager when he selected Mike Evans No. 7 overall in 2014. And, he's confident the Buccaneers will land another impact player if the team stays put and picks seventh again this week.
"If there's a player that you really like and you feel very, very confident in, you shouldn't hesitate to take the player. Sometimes getting cute, moving back, can cost," Licht said.
"It goes back to how are you going to feel in bed at night after the first day, the second day? Are you going to feel good or are you going to feel bad that you passed an opportunity to take a guy that you really liked? ... Sometimes you can fall in love with a player too much, too, and mortgage your future and give up picks. We haven't done that, but I've restrained from doing that."
The Bucs addressed pressing needs to improve an anemic pass rush and bolster depth on the defensive line by trading for Jason Pierre-Paul and signing Beau Allen and Vinny Curry in free agency.
Nevertheless, Licht still has some holes to fill if Jameis Winston is going to lead the Bucs to their first playoff berth in more than a decade.
Minkah Fitzpatrick and Derwin James are highly regarded prospects Tampa Bay could consider for the seventh pick.
Marcus Davenport and tackle Vitea Vea might be possibilities, too, especially if Licht accepts an offer to trade down.
If there's one thing that stood out to Licht in studying film of the Super Bowl champion Eagles in evaluating Allen and Curry for free agency is that a team can never have too many pass rushers and run-stoppers.
Former Ravens center Ryan Jensen has been the biggest addition on offense this offseason. Running back, guard and tackle are positions Licht and coach Dirk Koetter may try to upgrade in later rounds.
Not that Licht is providing much insight into his plans.
With as many as three or, possibly, four quarterbacks under consideration to be selected early, this year's top 10 is difficult to project.
"I don't like picking at seven just because it means it's a repercussion of your season, the disappointment of the season before," Licht said.
"But, with Mike Evans it worked out. So hopefully it's a lucky number seven," the GM added. "There are enough players there, if no quarterback went above us, that we would be very excited about if we stayed put."
WHERE'S THE RUSH?
The Bucs were last in the NFL with 23 sacks last season. They haven't had a double-digit sack leader since Simeon Rice in 2005, which is one of the reasons they're so excited to have Pierre-Paul.
The hope is the presence of the former Giants star will help six-time Pro Bowl tackle Gerald McCoy raise his game to an even higher level. Third-year pro Noah Spence has shown flashes as a pass rusher, but has been injured most of his career.
HELP FOR JAMEIS?
While finding a running back capable of easing the burden on Winston to carry the offense is a priority, it's generally felt the Bucs would like to find more help on defense before eyeing a replacement for Doug Martin, who was released.
With Brent Grimes turning 35 this summer and Vernon Hargreaves III, a first-round pick two years ago, losing his starting job last season, it's important to strengthen the secondary.
Licht says he likes Fitzpatrick and James, though it remains to be seen how much. Both figure to be available if Tampa Bay picks seventh.
"The thing about Minkah is that he's played a lot of slot this year. He's played outside corner and in that slot position, (and) you can see some of the things that he would do at safety," Licht said. "He's a really smart guy and versatility is a great asset of his. ... We have a plan if he were the pick, what we'd do with it, what we'd do with him. We like the fact that he can do a lot of those things."
As for James: "He's also a versatile guy, but he's more of a strong safety," the GM said. "But he can also drop down in your sub packages and play linebacker. He's another good player."
HITS, MISSES AND BARGAINS
The Bucs haven't made the playoffs since 2007 and haven't won a postseason game since the franchise's 2002 run to a Super Bowl title.
A spotty draft record is one of the reasons. Winston was the No. 1 overall pick three years ago and had a pair of 4,000-yard seasons passing before taking a step back, largely because injuries, in 2017.
Evans has topped 1,000 yards receiving four consecutive seasons and recently became one of the highest-paid receivers in the league. There have been notable misses over the past five years - none bigger than kicker Roberto Aguayo, selected in the second round in 2016.
He struggled as a rookie and was cut early in training camp the following year.
Licht hasn't had much success finding gems in later rounds, however middle linebacker Kwon Alexander has exceeded expectations, going from a fourth-round pick in 2015 to the Pro Bowl in his third season.