Jonathan Isaac assigned to Lakeland Magic of the NBA G league
article
ORLANDO, Fla. - Jonathan Isaac is about to play basketball again, with the Orlando Magic saying Tuesday that he is set to play in a game with their G League affiliate.
It'll be only the third game for Isaac in just over three years, primarily because of ongoing left knee problems. Isaac is scheduled to play for the Lakeland Magic on Wednesday in their home game against the Westchester Knicks.
Isaac originally hurt his left knee on Jan. 1, 2020 in a game at Washington. He returned and played two games in the bubble seven months later, blew out his left ACL in the second of those appearances, had other setbacks along the way in recovery — including a right hamstring injury that required surgery last year — and hasn't played since.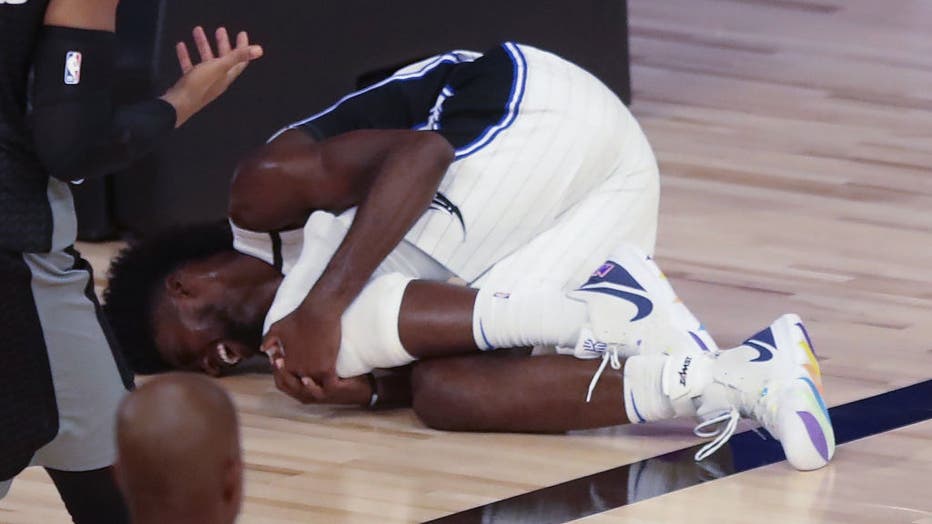 Orlando Magic forward Jonathan Isaac lays on the court holding his left knee after falling during a play in the fourth quarter against the Sacramento Kings on Sunday, Aug. 2, 2020 at Disney's Wide World of Sports' HP Field House in Lake Buena Vista,
Orlando's game at Portland on Tuesday night will mark the 238th time in the NBA team's last 240 games that Isaac has not been able to play. But the G League game is a big step, and presumably one of the final steps, before he can return to the NBA.
"I know I'm supposed to play basketball for a reason," Isaac told The Associated Press in October. "At each step, I can see the light at the end of the tunnel getting bigger and bigger. I know I'm going to play this season. It's just a matter of when."
Isaac was the No. 6 overall pick by the Magic in 2017 after one college season at Florida State. In 136 career games, all but 30 of them starts, Isaac has averaged 9.3 points and 5.4 rebounds for the Magic.
 Bally Sports, the network home of the Orlando Magic, announced that it will broadcast the Lakeland Magic game on Wednesday, Jan. 11. Lakeland's game against the Westchester Knicks will air on Bally Sports Sun at 7 p.m. from the RP Funding Center.