Adventhealth 400 at Kansas Speedway: NASCAR host gives FOX Bet Super 6 picks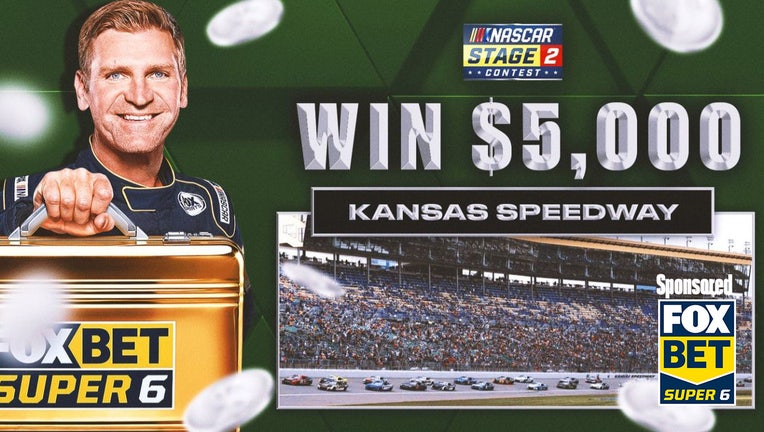 article
This NASCAR season is racing by faster than you can yell, "Drivers, on your marks!" We know, we know — saying that the last couple of months have sped by is probably the most punny characterization imaginable.
But it's true. 
And what's also true is that the stakes are high this week at the Adventhealth 400 at Kansas Speedway on FS1 as the underdogs try to emerge as formidable opponents.
"This season, we're seeing the big powerhouse teams rise to the occasion," FOX Sports NASCAR studio host Kaitlyn Vincie explained. "A year ago, we were seeing a variety of winners, and that was because the new car rolled out last season. So there was more unpredictability. 
"This year, Hendrick Motorsports has won multiple races. Then you have Joe Gibbs Racing which is always strong. But I'm hopeful that the underdog stories will start to come to the forefront."
Co-host of NASCAR Race Hub and NASCAR Raceday, Kaitlyn has been at the forefront of all things NASCAR on FOX Sports since 2012, when she joined the team as a social media reporter. Since then, it's been her seamless rapport with guests and her quick wit as an anchor that has cemented her as a mainstay on television screens across America.
"It's hot and loud when you're reporting from the trenches on pit row — which I enjoyed. But being an anchor in studio has its own challenges," the veteran broadcaster revealed. "You feel a lot of responsibility for the show's success on your shoulders."
When it comes to her favorite track to cover as a broadcaster, Vincie gushed that Bristol Motor Speedway tops the list because the "venue is breathtaking" and because "the Bristol staff goes above and beyond to create a great experience." But when she's watching as a spectator, Sonoma Raceway is where Kaitlyn wants to park her car.
"There's nothing quite like it, and it's a beautiful part of the country. And you see things in road-course racing at Sonoma that you won't see in a traditional track."
From driver penalties to other rifts, the sport has seen its share of dust-ups this season. And according to Kaitlyn, the controversies have added an element of intrigue. 
"I know drivers get frustrated with competitors who they don't feel race respectfully. But I'm not in the cockpit, so from my vantage point in the media, it gives us more to talk about and makes things more interesting."
And things could get interesting for you this weekend, too, if you're lucky enough to cash in the FOX Bet Super 6 Stage 2 NASCAR Contest featuring Kansas Speedway.
FOX Bet Super 6 is a free-to-play contest where you can pick six different outcomes in the NASCAR Stage 2 Contest featuring the Adventhealth 400 at Kansas Speedway to win Clint Bowyer's $5,000. Just download the FOX Bet Super 6 app on your phone or mobile device, make your picks and submit your selections before the race gets underway this Sunday.
Playing FOX Bet Super 6 is always free, it's easy and it's fun. And people really do win!
Kaitlyn gave us her expert insight for the Adventhealth 400. So check out her thoughts on Sunday's race and read her picks below before making your own.
Which of these drivers will have the better finish at the end of the race?
Denny Hamlin, Joey Logano, Chase Elliott, Martin Truex Jr., Kyle Larson, Kevin Harvick
"I'm gonna go with Denny Hamlin. He has a great past at Kansas; he won there back-to-back in 2019 and 2020. I think Denny's due for a victory, honestly, and he's one of the drivers who I've identified as being one that could get it done this weekend."
Prediction: Denny Hamlin 
Which manufacturer — Chevrolet or Ford — will have the most cars on the lead lap at the end of Stage 2 and how many will they have?
1-3, 4-5, 6, 7, 8, 9, 10, 11, 12, 13
"Oh boy. I'm going to go with Chevy here because I have to consider how Hendrick Motorsports has been performing lately. Those cars just seem to be super competitive all throughout the stages."
Prediction: Chevy, 5
Which of these drivers — Kyle Larson or Kyle Busch — will have the fastest lap by the end of Stage 2 and how many yellow laps will there be?
0-9, 10-11, 12-13, 14-15, 16-17, 18-19, 20-21, 22-23, 24-25, 26+
"I'm going with Kyle Larson to have the fastest lap because he's had an incredible season so far. Every week — unless there's been a bad-luck incident — Larson has been at the forefront. 
"He's got two wins, finished in the top five four times and he's led a bunch of laps."
Prediction: Kyle Larson, 0-9
Which team — Joe Gibbs Racing or Hendrick Motorsports — will have the most laps led by the end of Stage 2 and how many laps will they lead?
1-13, 14-20, 21-26, 27-33, 34-40, 41-47, 48-54, 55-61, 62-66, 67+
"I'll go with Joe Gibbs Racing on this one. They are just coming off a win last weekend with Martin Truex Jr.'s victory, so momentum is on their side. As I mentioned, a few of their drivers have been strong at Kansas. Martin Truex has multiple wins there, and so does Denny Hamlin."
Prediction: Joe Gibbs Racing, 41-47
Which driver — Christopher Bell or Denny Hamlin — will have the better finish at the end of stage 2 and by how many positions?
1, 2, 3, 4, 5, 6, 7, 8-10, 11-14, 15+
"I'm going to go, Denny, again. And not that I don't believe in Christopher Bell, but I think Denny Hamlin will be the better of the two."
Prediction: Denny Hamlin, 4
Which driver — Ross Chastain or Martin Truex Jr. — will have the better finish at the end of the race and by how many positions?
1, 2, 3, 4, 5, 6, 7, 8-10, 11-14, 15+
"Ross Chastain has been a name that's come up with some of the feuds and dust-ups that we've seen this season, but I believe that Truex will be the guy who'll be ahead here. 
"Again, Truex won both races here in 2017, and he's always strong at the mile-and-a-half, and he's fresh off a win."
Prediction: Martin Truex Jr., 5
In addition to giving her picks for Kansas, Kaitlyn gave us her pick for the driver she'd want to switch places with.
"Chase Elliott. That's who I'd swap places with for a season if I could," Vincie laughed. "The fan base he has as NASCAR's most popular driver is just incredible. He always walks out to the most thunderous applause because he's so well liked. And he's talented, to boot."
And Elliott is also her bold prediction to win a big one later this month.
"Chase will win the All-Star Race, which would be great because he's had a tumultuous year so far with his injury. If he wins there at North Wilkesboro, that will be a huge feather in his cap."
It's your turn to make some bold picks and play for a chance at winning Clint Bowyer's $5K!
Download the FOX Bet Super 6 app and submit your selections for the NASCAR Stage 2 Contest now. Then be sure to share your picks with us by tagging @FOXSuper6 and @EricaReneeD and using the #EricaSuper6 hashtag across all social media platforms.
Good luck!
No purchase necessary. Open to legal residents of the US, excluding WA. 18 and older. See terms and conditions at foxsuper6.com. Sponsored by TSG Interactive US Services Limited.