Who is Shay Johnson? Woman claims she is Tyre Sampson's cousin; family says they don't know her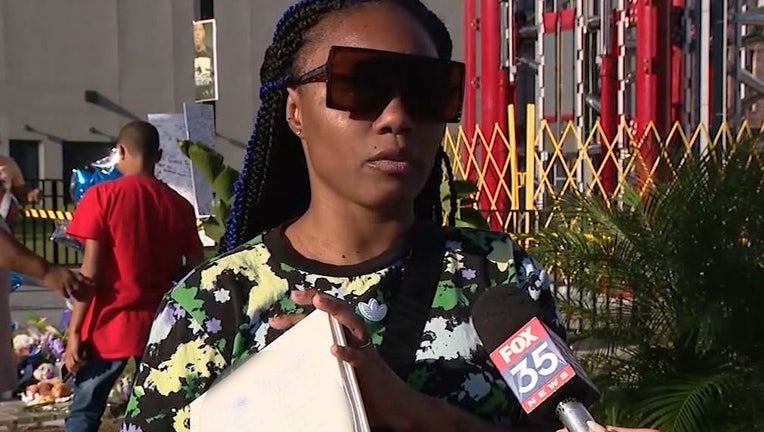 article
ORLANDO, Fla. - Who is "Shay Johnson?"
Following the death of Tyre Sampson, a 14-year-old who fell to his death last week while on the Orlando FreeFall ride in Orlando, Florida, Johnson claimed to be Sampson's cousin, attended memorials in his honor, and spoke to various news outlets, including FOX 35, about Sampson and how she wanted the ride to be shut down.
However, members of Sampson's family have told the Orange County Sheriff's Office that they do not know who Shay Johnson is and that she is not a cousin of the family.
"Our detectives have looked into this and spoken with Tyre Sampson's mother. His mother told them she does not know who Shay Johnson is," a spokesperson for the Orange County Sheriff's Office said in an email late Thursday.
FOX 35 attempted to reach Johnson after questions about whether she was legitimately connected to the family were raised. Her number appeared to be disconnected late Thursday.
Attorney Ben Crump's office also told FOX 35 that the family does not know anyone named "Shay Johnson."
CONTINUING COVERAGE: Teenager dies after falling from ride at ICON Park
"I would like this ride to be taken down," Johnson told FOX 35 on March 27, after starting a petition and collecting signatures demanding that the Orlando FreeFall ride be shut down.
"My cousin lost his life over this ride. I don't feel it's safe, and feel it should be shut down before someone else's family have to go through what we are going through," she said in an interview at the time with FOX 35.
 Days later, Johnson was at a balloon release in honor of Sampson where she spoke with reporters about missing Sampson.
"Me calling him 'fat boy' and him calling me 'mini me' because I was always shorter than him and I think that's what I'll miss the most," she said.
"I feel good to see all these people come. I know my cousin he's happy to see all these people come," she said of the community that showed up to the memorial.
The Orange County Sheriff's Office said as of now, there is no evidence of a crime.
Sampson was visiting Florida with another family from St. Louis, Missouri. He went with friends to ICON Park, which is home to various attractions and rides, and went on the Orlando FreeFall, a drop tower-style ride that opened in December.
The ride is billed as the "world's tallest drop tower" and lifts riders some 400 feet into the air before briefly tilting them forward and dropping them at speeds up to 75 mph. 
As the ride was coming down and began to stop, Sampson fell off the ride and onto the ground. He died at the hospital.
Since then, both rides – Orlando FreeFall and Orlando Slingshot, which are owned by The Slingshot Group – have suspended its operations, while investigations are conducted.
The Slingshot Group: Company behind Orlando FreeFall owns other rides in and around Florida
The Florida Department of Agriculture and Consumer Services, which inspects various attractions and rides for smaller amusements parks throughout Florida, has launched an investigation and hired a forensics firm to aid in that investigation.
Editor's note: Questions have been raised about the true identity of "Shay Johnson," who claimed to be Tyre Sampson's cousin and was collecting signatures for a petition. Sampson's family has told officials that they do not know Johnson and that she is not a member of the family. Johnson spoke to several media outlets, including FOX 35, and attended events and memories in honor of Sampson, claiming to be his cousin. No charges have been filed, according to the Orange County Sheriff's Office.
Orlando Weather: Storm alerts, live interactive radar, forecast, and more
Click here for the latest Central Florida news, Florida stories, and local headlines.