Sheriff: Boy found loaded handgun in nightstand before accidentally shooting self in Volusia County
DELAND, Fla. - A three-year-old boy who died after he mistakenly shot himself inside a home in DeLand on Wednesday found the gun inside a nightstand in the bedroom, Volusia County Sheriff Michael Chitwood said Thursday.
Deputies responded to a home on Nectarine Road on Wednesday afternoon after receiving a 911 call reporting that a child had shot himself. Law enforcement immediately began performing CPR on the child, who was taken to the hospital where he died.
Sheriff Chitwood said the child was struck once at point-blank range.
"This should have never happened. This should not have happened. We should not be standing here having this conversation," said Sheriff Chitwood. "For some reason, and I don't know the reason. I don't know if we'll ever know that reason. The three-year-old wandered into the bedroom and got into the end table. He pulled the gun out, pointed towards himself and shot himself point blank range."
Deputies said the boy was home with his two older siblings – a 16-year-old girl and 8-year-old boy – while his parents went to the grocery store. At some point, the toddler wandered into a bedroom and found a gun in a nightstand next to the bed, Chitwood said.
Sheriff Chitwood did not release the boy's name, but said his father works as a state correctional officer.
"I cannot imagine that there's anything in the law books that can punish that family more than what happened last night," said Sheriff Chitwood.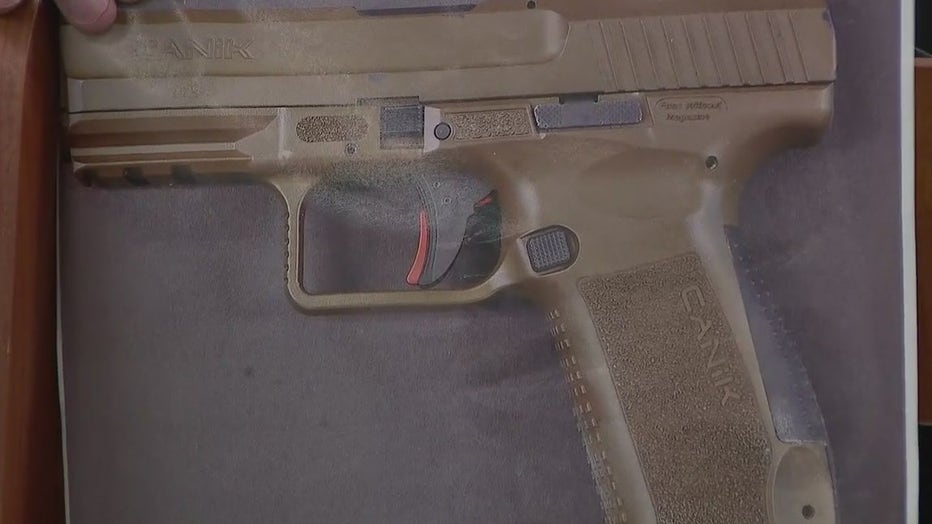 Volusia Sheriff Michael Chitwood shared a photo of the handgun a 3-year-old boy used to accidentally shoot and kill himself at a home in DeLand. 
Through its investigation, deputies said there was a broken safe in the bedroom and a second firearm was found on top of a refrigerator.
No charges have been filed, and no arrests have been made, officials said. However, the case will be submitted to the State Attorney's Office who will then decide whether to file formal criminal charges.