The heat is on: Triple digit temperatures across Central Florida on Wednesday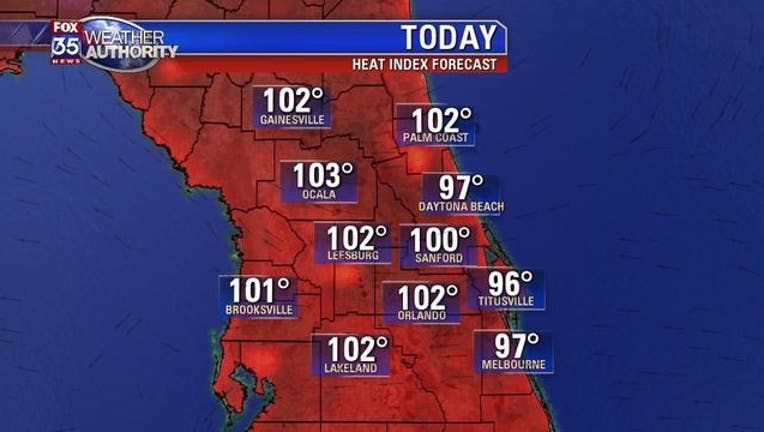 article
ORLANDO, Fla. (FOX 35 ORLANDO) - After a week of somewhat cooler summer temperatures, Central Florida will get a big warm up on Wednesday when triple digit temperatures return.
Highs are expected to be around 94 degrees, but the 'feels like temps' are at 103.
"Typical for this time of year so it's not 'breaking news' but it'll be pretty toasty today," said Fox 35 meteorologist Jayme King. 
To stay safe in the heat, be sure to wear light, loose-fit clothing and drink plenty of water, especially if you are working outdoors.
RELATED: Warning: Leaving bottled water in your car could start a fire
Meanwhile, there are two tropical systems that forecasters are keeping their eyes on out in the Atlantic. A tropical wave near Puerto Rico could potentially bring heavy rain to Florida later in the week.
The National Hurricane Center is also watching a tropical wave over the eastern Atlantic that they said could become a tropical depression over the weekend. The system is located several hundred miles east of the Lesser Antilles. 
Be sure to download the Fox 35 Weather & Traffic App to get up-to-the-minute weather updates so you are the first to know the heat conditions for your area.