Teen killed in Orlando shooting was committed to play football for University of Louisville, report says
ORLANDO, Fla. - Orlando police said that 18-year-old Dexter Rentz, a high school senior from Ocoee who was committed to playing football for the University of Louisville, was killed in an overnight shooting.
Police said the shooting happened just before midnight on Saturday on Elese Street. Reportedly, someone rolled up in a car and fired at people in front of a house.
Police believe that dozens of shots were fired from a high-capacity weapon.
Investigators confirmed that at least four people were shot and one of the victims was killed.
That person was identified as Dexter Rentz, 18.
The other victims went to the hospital and at least one of them was seriously injured, according to officials.
MORE NEWS: CDC adds 6 new symptoms of coronavirus to list
Rentz was a senior at Ocoee High School and was committed to playing football for the University of Louisville.
"I can't hang out no more. I can't tell him I love him no more. I can't talk about football no more," said Keymarion Turner, a friend of Rentz. 
Turner remembered coming home late that night, just after the deadly shooting.
"I just seen the ambulance," he said. "When I seen the ambulance, I kinda had a feeling that it was one of us."
He added, "at the same time, because I heard there was a shooting at Carver Shores and then I saw the ambulance. I was like, 'Aw man'. The tears started running down my face because I was like, 'Dang, not my brother, not my brother. Not another one. We just had a funeral.'"
MORE NEWS: Coronavirus cases climb pass 31,500 in Florida, death toll rises to 1,074, Florida Department of Health says
Tributes have since poured in from family, friends and admirers of the promising student-athlete.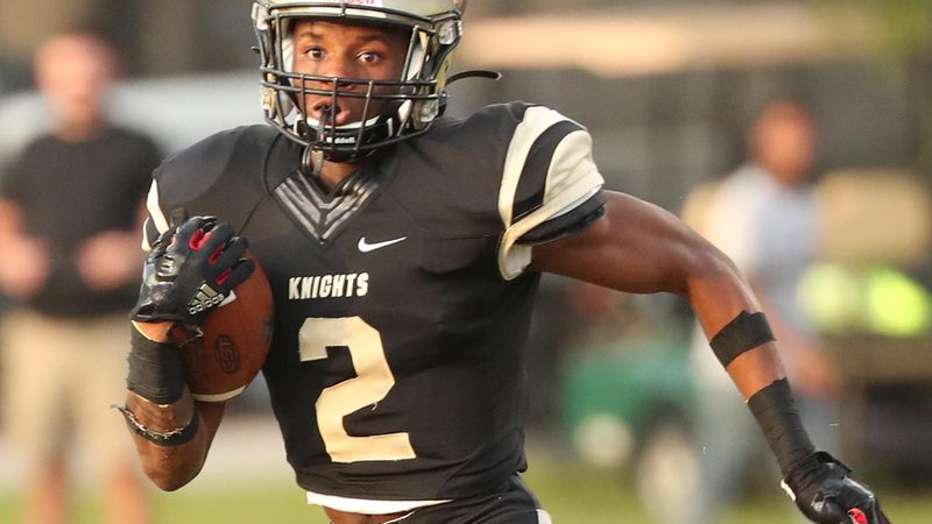 Ocoee High senior Dexter Rentz Jr., pictured running the ball against Apopka on Sept. 13, 2019. (Stephen M. Dowell/Orlando Sentinel)
Head Coach Scott Satterfield, from the University of Louisville, tweeted that Rentz "was a great young man who had a contagious personality and was able to light up a room with his smile. He was a great kid to be around and he will be missed."
Turner agreed, telling FOX 35 News, "Dexter, he was a cool person. He'd give the clothes off his back to anybody. He'd make sure you got something. If you got nothing in your pocket, he'd make sure you got a dollar in your pocket so you can get something to eat."
He added that Rentz had a tough childhood, but football turned him around.
"Football was his way out," Turner said. That's what I'm trying to say. He got all that taken away from him this morning."
Photo by the Orlando Sentinel
On Monday, Ocoee High School Principal Laura Beusse sent a message to families of students who go to the school. It stated that "we were made aware of one our student's last night. Our thoughts and prayers are with the family as they go through this extremely difficult time. Your child may speak with you and share this sad news. Students will have varied reactions to the lost of a peer. Any reaction is normal in the grief process and I encourage you to openly discuss their feelings and reactions. Any students who would like to talk to someone about this loss may call the OCPS Mental Health Services hotline at 407-317-3694 on Monday through Friday between 9 a.m. to 2 p.m."
A verified fan page for the University of Louisville athletics also tweeted about Rentz's passing, saying that it is "absolutely devastating news to hear the death of Louisville signee Dexter Rentz. Our deepest condolences go out to the family and loved ones of Dexter as well as to the Louisville football program during this horrible tragedy."
Tune in to FOX 35 News for the latest Central Florida news.
MOBILE USERS: Click here to tune in to FOX 35 News