Shootout between triple-homicide suspect, Orlando police sends bullets flying into nearby home
ORLANDO, Fla. - A shootout between a triple-homicide suspect and Orlando police officers sent bullets flying into a nearby home early Sunday morning, forcing a family to find another place to stay. 
Marjorie Sylvaince says it's a blessing she and her two kids are alive after the tragedy that unfolded next door and outside her home.
"That night I thought it was my last night," Marjorie Sylvaince said Monday. "[I'm] still alive, but I'm a victim because I could have died. My children could be, you know, [dead]."
It was early Sunday morning when police exchanged gunfire with a man accused of killing his 7-year-old son, his girlfriend's 13-year-old daughter, and his girlfriend's mother. The shootings happened inside a home near Grand Street and Parramore Avenue.
"The older lady, she introduced herself to me. She's very sweet. She was a very nice lady," Sylvaince said. "I don't know the children. I never saw them. But it's so unfortunate."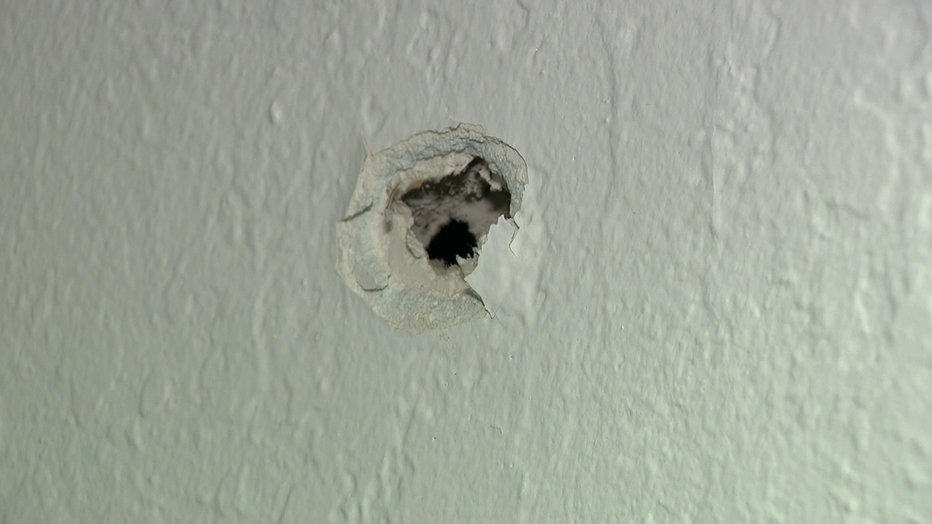 The suspect, identified by Orlando police as 28-year-old Lacorvis Tamar Daley, would later die at a hospital following the shootout outside his home.
"I'm still in shock. I'm still in shock," Sylvaince said.
She walked FOX 35 through her home next door to the crime scene where bullet holes mark several of her walls, from the entryway to the kitchen and even her bedroom. This was more than a close call for her, and she plans to move out. 
"I'm terrified to [come] here. Every time I come here, I have to, you know, quick, quick, quick and go, because it's not like anything's going to happen, but I always feel … the same feeling I had that night," Sylvaince said.
Sylvaince says Orlando police has yet to reach out to her regarding the bullets that she suspects came from their officers' weapons, based on how they entered her home. FOX 35 has reached out to the department to confirm whether officers have had contact with her and if there's anything they can do for her in the meantime.