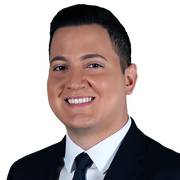 Pattrik Perez joined FOX 35 as a reporter in February 2023.
He previously worked as a reporter and fill-in anchor at KMGH-TV, the ABC station in Denver, Colorado. Before that, he was a weekend evening anchor, reporter and digital producer at KVUE-TV, the ABC station in Austin, Texas. He started his career as a weekend morning anchor and reporter at KXXV-TV, the ABC station in Waco, Texas.
Pattrik was born in Caracas, Venezuela, to a Mexican father and the first-generation American daughter of Cuban refugees. He lived there for six years before moving to his mother's hometown of Miami, Florida. At that young age, Pattrik fell in love with television news, even while only speaking Spanish.
In high school, his interest in journalism grew as a member of its television production program and newspaper. While attending Florida International University, where he graduated with a Bachelor of Science in communications, Pattrik interned at the Miami NPR member station, the local ABC station, an independent TV station in northeast Florida, and managed his journalism school's digital presence.
Although Pattrik's work takes up a lot of his time, when he's not working, he likes watching horror movies, catching up on the latest "Real Housewives" drama, playing World of Warcraft, exploring new places to eat with his partner, and cuddling with his Yorkie named Bacon.
The latest from Pattrik Perez