Sanders: Mexico, Boy Scout compliments happened in person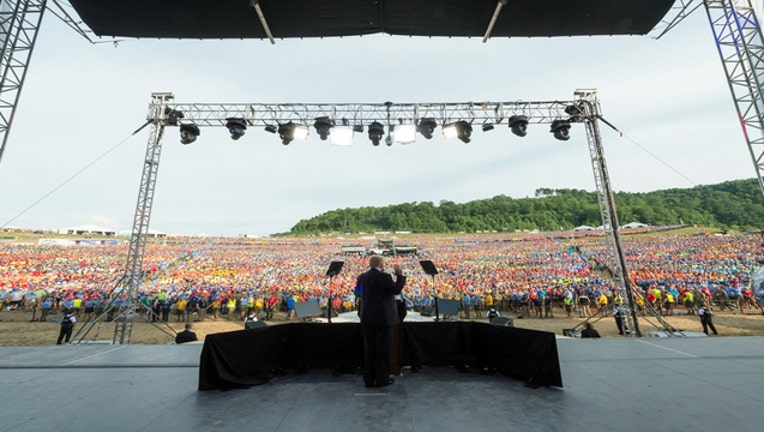 article
WASHINGTON (AP) - The White House said Wednesday that compliments President Donald Trump described receiving from the Mexican president and the Boy Scouts of America happened - just not on the phone, as Trump had claimed.
"I wouldn't say it was a lie. That's a pretty bold accusation," White House spokeswoman Sarah Huckabee Sanders told reporters. "The conversations took place, they just simply didn't take place over a phone call. ... He had them in person."
It was the latest episode in Trump's rocky relationship with facts, raising questions about his credibility six tumultuous months into his presidency. A Quinnipiac University National Poll conducted July 27-Aug. 1 found that 34 percent of Americans say Trump is "honest," an all-time low for him.
Sanders was responding to questions about a statement from the Mexican government denying what Trump described as a recent phone call with Mexican President Enrique Pena Nieto. Trump said earlier this week that Pena Nieto had called him to praise his immigration policies.
"As you know, the border was a tremendous problem and they're close to 80 percent stoppage. Even the president of Mexico called me. They said their southern border, very few people are coming because they know they're not going to get through our border, which is the ultimate compliment," Trump said Monday.
Sanders said Trump had been "referencing a conversation that they had had at the G-20 summit where they specifically talked about the issues that he referenced."
Meanwhile, the Boy Scouts denied Wednesday that the head of the youth organization called Trump to shower praise on his politically aggressive speech to its national jamboree in West Virginia. President Randall Stephenson and Chief Scout Executive Mike Surbaugh later apologized to members of the scouting community who were offended by Trump's political rhetoric.
Trump told The Wall Street Journal in an interview last week, "I got a call from the head of the Boy Scouts saying it was the greatest speech that was ever made to them, and they were very thankful." Politico published the transcript of the interview Tuesday.
Sanders said the president was making reference to "multiple members of the Boy Scout leadership" who "congratulated him, praised him and offered quite powerful compliments following his speech."
But she acknowledged no member of the leadership called the president.
Huckabee's statements come as Foxconn Technology Group refused to confirm Trump's statement Tuesday that it plans to invest $30 billion in the United States. Trump announced to a group of small business leaders at the White House that CEO Terry Gou told him "off the record" that the Taiwanese electronics manufacturer could invest as much as $30 billion in the U.S.
The company signed a deal with Wisconsin last week to build a $10 billion display panel manufacturing plant, and Trump did not specify where the additional spending would be. Trump said Wednesday during an immigration event that "I think the $10 billion is going to end up being $30 billion."
___
Follow Kellman and Colvin at http://www.twitter.com/APLaurieKellman and http://www.twitter.com/colvinj