Rick Scott takes rare lead in last-minute Florida Senate poll, as toss-ups dominate the map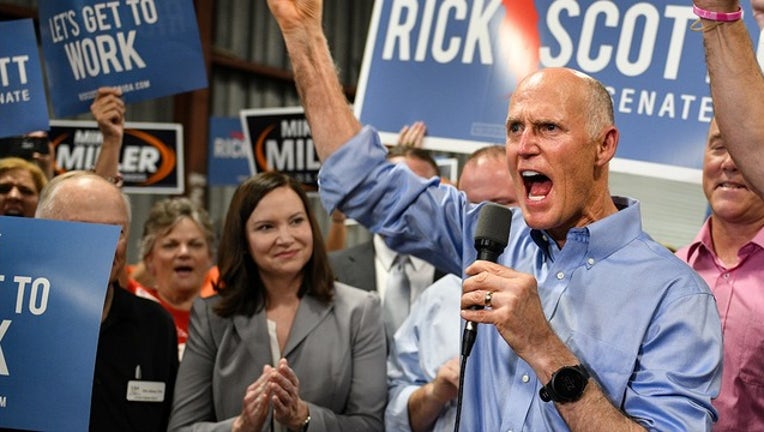 article
FOX NEWS - Florida Republican Senate candidate Rick Scott, who currently serves as the state's governor, has narrowly pulled ahead of Democratic incumbent Sen. Bill Nelson in a new poll released Saturday -- the first major survey in two weeks to show Scott leading, and a positive sign for Republicans as they seek to retain control of the Senate.
The results, from St. Pete Polls, give Scott a lead of 49.1 percent to 47.5 percent, within the margin of error, with 3.4 percent undecided. Conversely, the same group of likely voters surveyed by St. Pete Polls preferred Democrat Andrew Gillum to Republican Ron DeSantis in the state's gubernatorial contest to replace the term-limited Scott, 48.4 percent to 43.6 percent, with 3.7 percent undecided. Every other major recent poll tracked by RealClearPolitics (RCP) also shows DeSantis trailing by small margins.
The split figures encapsulated the problem facing the GOP in the House and several governor's mansions across the country with just two days until the Nov. 6 elections: Given that so many races in Republican-leaning areas are effectively toss-ups, an unusually high number would have to break right at the last minute for the GOP to have a good day on Tuesday.
The most recent Fox News Power Rankings show 5 toss-up Senate races, 29 toss-up House races, and 8 toss-up gubernatorial races. Two of the 5 tied-up Senate contests are for seats currently held by Republicans, while a whopping 25 of the 29 close House races are currently in GOP hands. Seven of the 8 governor's races are for spots held by the GOP.