Retrials underway in penalty phase for 2 men convicted in 'Xbox murders'
DAYTONA BEACH, Fla. - The judge presiding over a penalty phase retrial for two defendants in one of Central Florida's grisliest massacres said he will not use a new state law that sets forth jury requirements in recommending the death penalty. Instead, that judge is sticking to an older version of the law.
The proceedings are to determine if 46-year-old Troy Victorino and 36-year-old Jerone Hunter will receive the death penalty. The pair joined two other men to kill six roommates in 2004. They had a previous death penalty overturned due to a ruling by the Florida Supreme Court.
Gov. Ron DeSantis recently approved a new law lowering the requirements to put someone to death. The changes dictate only eight of 12 juror votes are needed to issue capital punishment. Despite that change, the presiding judge elected to use rules requiring a unanimous vote by a jury to be in place. 
Assistant State Attorney Andy Urbanak led the day with an opening statement on behalf of the prosecution. 
"The evidence that will be presented in this case will focus on the aggravating circumstances or factors," Urbanak said. "These factors will greatly outweigh the mitigation we believe will be presented. And these aggravating factors will justify only one sentence and that is the sentence of death."
Prosecutors detailed the killings and the events which happened before and after them. The defense elected to delay their opening statement until they began to present their case later in the session. 
Urbanak clarified both Hunter and Victorino are being resentenced for the crimes committed against four of the six victims and the pair have different combinations of victims. Volusia County Medical Examiner Dr. James Fulcher was called as a witness. He confirmed the findings in the initial autopsies, detailing the gruesome injuries suffered before and during the deaths.
The trial is set to continue on Tuesday.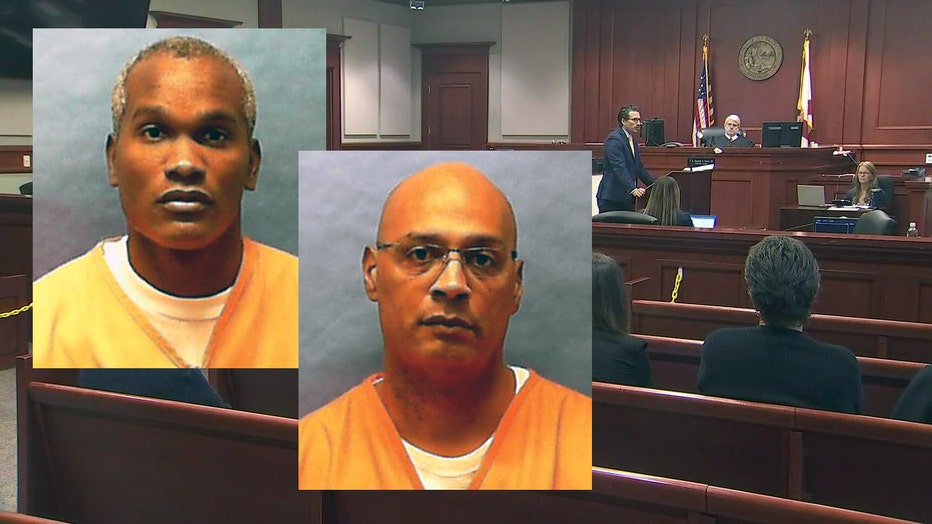 Four men, including Troy Victorino and Jerone Hunter (pictured), were convicted of the grisly 2004 killings in Deltona, Florida, known as the "Xbox murders."
Why is there a penalty phase retrial in the Xbox murders?
New trials were ordered for Troy Victorino and Jerone Hunter nearly two decades after six people and a dog were killed inside a Deltona, Florida home.
Four men, Troy Victorino, Jerone Hunter, Michael Salas, and Robert Cannon, were all convicted in what has been dubbed "the Xbox murders," because prosecutors argued that the motive behind the home invasion and brutal murders was to retrieve an Xbox claimed to have been stolen.
Salas and Cannon were sentenced to life in prison. Victorino, the ringleader, and Hunter were sentenced to death for the 2004 slayings but the juries' decisions at the time were not unanimous.  A later change to state law decided that Florida's death penalty had to be unanimous – and anyone sentenced after a 2002 ruling could be eligible for a new sentence – so their sentences were overturned and switched to life in prison.
Florida Gov. Ron DeSantis signed a bill into law ending a unanimous jury requirement in death penalty sentencing. The new law, which went into effect as soon as the governor signed it, allows capital punishment in Florida with a jury recommendation of at least 8 to 4 in favor of execution. 
For decades, Florida had not required unanimity in capital punishment, allowing a judge to impose capital punishment as long as a majority of jurors were in favor of the penalty. But in 2016 the U.S. Supreme Court threw out state law, saying it allowed judges too much discretion.
The state Legislature then passed a bill requiring a 10 to 2 jury recommendation, but the state Supreme Court said such recommendations should be unanimous, prompting lawmakers in 2017 to require a unanimous jury.
Three years later, the state Supreme Court, with new conservative jurists appointed by DeSantis, rescinded its earlier decision and ruled that a death recommendation does not need to be unanimous. Florida's unanimity standard had remained untouched until the passage of the 2023 law, which was a response to a verdict that spared the life of the Parkland school shooter who killed 17 people.
Who were the victims of the Xbox murders?
On August 6, 2004, deputies with the Volusia Couty Sheriff's Office said four men broke into a home in Deltona, where they used bats and knives to brutally kill the six roommates who shared the house – all because one of them allegedly took things from Victorino, including an Xbox game console.
Albert Yonfa, a partner at Orlando law firm Nejame Law, said the crime was shocking. "The heinousness of this crime is just horrific what these individuals were convicted of."
Prosecutors said Victorino orchestrated the murders.  Killed were Erin Belanger, 22; Jonathan Gleason, 17;  Roberto Gonzalez, 28; Francisco Roman, 30; Michelle Nathan, 19;  and Anthony Vega, 34. A dog was also killed.
The year was 2004, and the crime came to be known as the "Xbox murders." Four men, Troy Victorino, Jerone Hunter, Michael Salas, and Robert Cannon were all convicted of the grisly killings. Deputies say they used bats and knives to kill the six roommates who shared the house, including Jonathan Gleason. 
Two other men were sentenced to mandatory life in prison.