Reaction to evangelist Billy Graham's death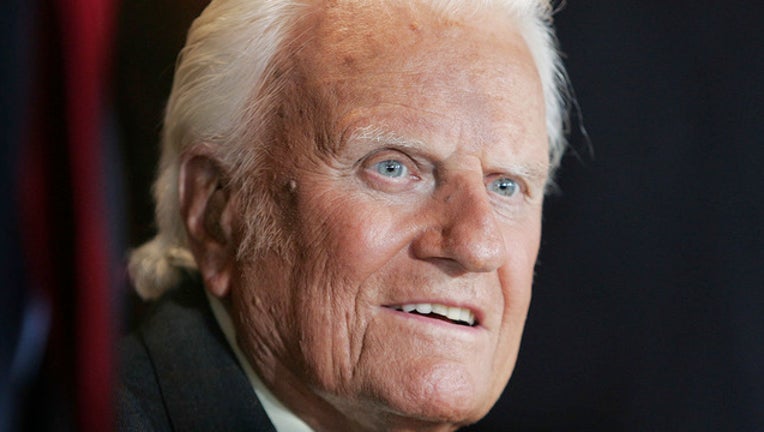 article
CHARLOTTE, NC (FOX 46 WJZY) - Rev. Billy Graham , the Christian evangelist whose worldwide crusades and role as adviser to decades of U.S. presidents made him one of the best known religious figures of his time, died Wednesday at age 99 at his home in Montreat, North Carolina. App users click here.
Graham, who had been in ill health for a number of years, was regularly listed in polls as one of the "Ten Most Admired Men in the World."
Graham reportedly died from "natural causes." 
Related: Billy Graham has died at age 99
Thousands took to social media Wednesday, reacting to the reverend's death. 
United States President Donald Trump tweeted, "The GREAT Billy Graham is dead. There was nobody like him! He will be missed by Christians and all religions. A very special man." 
Vice President Mike Pence tweeted, "Karen and I were saddened to learn of the passing of one of the greatest Americans of the century, Reverend Billy Graham. We send our deepest condolences to the Graham family. Billy Graham's ministry for the gospel of Jesus Christ and his matchless voice changes the lives of millions. We mourn his passing but I know with absolute certainty that today he heard those words, "Well done good and faithful servant." Thank you Billy Graham. God bless you." 
Former NC Gov. Pat McCrory tweeted, "Rev. Billy Graham was a role model, not just for presidents, kings and governors, but for the common man and woman throughout our community, state and world. His actions reflected the words that he preached." 
NC Gov. Roy Cooper tweeted, "Billy Graham was a strong, humble, positive and passionate North Carolina man of faith who made a difference in the lives of so many. Rest with God, Reverend Graham." 
Elevation Church in Charlotte tweeted, "'God has given us two hands, one to receive with and the other to give with.' Thank you, Dr. Graham, for the life you lived, the legacy you left, and the millions you inspired." 
Elevation Church's Pastor Steven Furtick tweeted, "You showed us how to leave the 99 for the 1. Thank you Dr. Graham. Rest In Peace." 
Will Marotti tweeted, "Few influenced the 20th century as faithfully as Billy Graham. I'm sure he's heard 'Well done good and faithful servant'" 
Lori Hendry tweeted, "Billy Graham joins his wife once again. Godspeed." 
Darrell B. Harrison tweeted, "Thinking back on the life and legacy of Billy Graham, who lived to be almost 100 years old, and that many people today pass out at the sight of a gray hair or facial wrinkle, who want to live long but not get old. Long life is a blessing, not a curse." 
Taylor Scott tweeted, "We will miss you Billy Graham. Thank you for sharing the good news with so many."