Polk residents worry about plan to bury South Florida sludge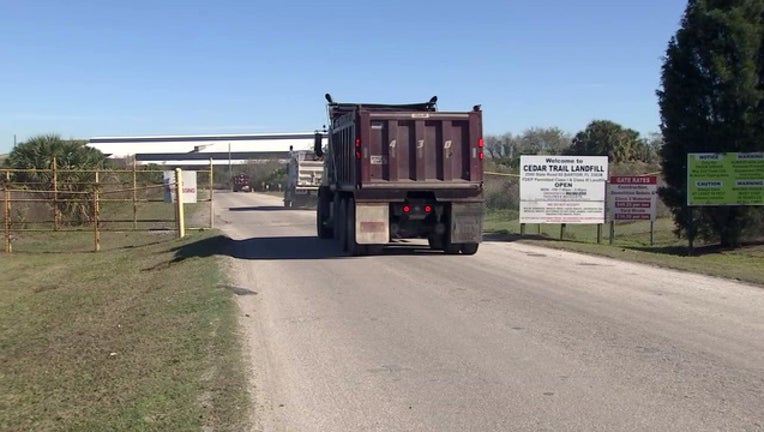 article
MULBERRY, Fla. (FOX 13) - Thirty thousand tons of sludge may soon be on its way to Polk County. 
The sludge – really limestone with arsenic in it – is coming from Fort Myers. It is a byproduct of purifying the city's drinking water. 
The limestone is used as a filter. When the limestone is eventually spent, it is buried, and absorbs naturally occurring arsenic from the ground.
The plan is for it to be trucked to Clark Environmental in Mulberry where it will be processed, then sent to Cedar Trails Landfill just down State Road 60 in Bartow, where it will be buried.
"We are quite concerned," said Nada Harrison, who lives in Fuller Heights, right next to Clark.
Fuller Heights has had more than its share of problems with arsenic. Years ago, high levels of arsenic were detected in the area's wells. As a stopgap measure, residents had to buy bottled water. Eventually, they were forced to hook up to city water.  No one ever figured out the source of the problem.
Despite the concerns of nearby residents, the county and the Florida Department of Environmental Protection, say as long as proper procedures are followed, there should be no problems.
"It certainly requires an extra level of handling, but it is not toxic material," said Polk County Commission Chairman George Lindsay.
The head of Clark Environmental, Beth Clark, agreed. "This project is being blown way out of proportion…The material is non-hazardous and it is not toxic. We have been doing what we do since 1991."
For the project to move forward, it needs a nod from Florida's DEP. There will be a meeting of all parties involved, including FDEP, Clark Environmental, and county officials on January 8 at 9 a.m. in the Polk County Administration Building in Bartow to discuss the issue.