Photos: TRON Lightcycle / Run canopy officially powers on at Disney World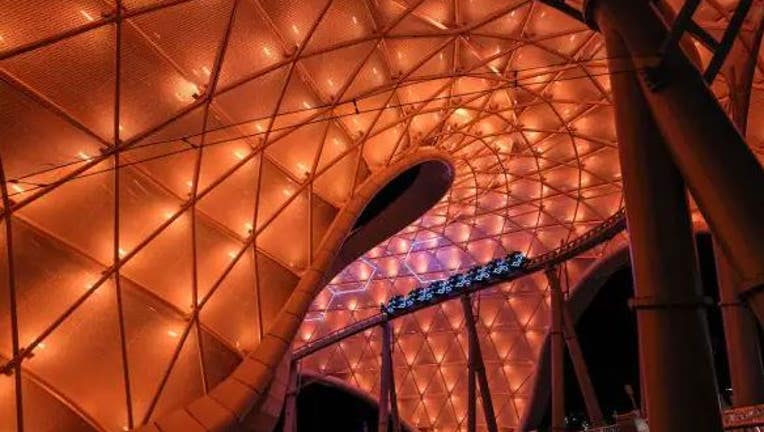 article
ORLANDO, Fla. - As we count down to the opening of the TRON Lightcycle / Run coaster at Walt Disney World, new stunning images have been released showing the canopy over the ride tracks officially powered on for the first time.
As riders on their Lightcycles whiz by, the curved canopy – called the Upload Conduit – lights up in orange and blue, leaving a trail of glowing hexagons. As Disney puts it, the Upload Conduit serves as the digital bridge into The Grid.
Disney Parks Blog posted a TikTok video of the ride fully lit up and the roller coaster in action.
"This is when Team Orange is coming after Team Blue and they've got to outrun them into The Grid." 
To enhance the experience, the soundtrack from "TRON: Legacy" will be playing, truly immersing Team Blue recruits into this digitized world. 
The story of TRON Lightcycle / Run picks up after 'TRON: Legacy' where Kevin's son, Sam Flynn, has opened a second gateway into a digital realm known as the Grid.
Credit: Disney Parks Blog
According to Disney Parks Blog, "The first of these portals he created is found at Shanghai Disneyland with the original TRON Lightcycle Power Run."
Once guests enter the queue line, Disney says they'll feel as if they're digitized and transported to the Grid for a special Lightcycle race. 
The attraction will be one of the fastest coasters at any Disney theme park in the world.
The theme park giant recently revealed that the ride will use a virtual queue (no standby) and lockers will be available for guests to store large bags. 
TRON Lightcycle / Run opens on April 4 at Magic Kingdom Park.