Mosaic spill leads governor to make rule change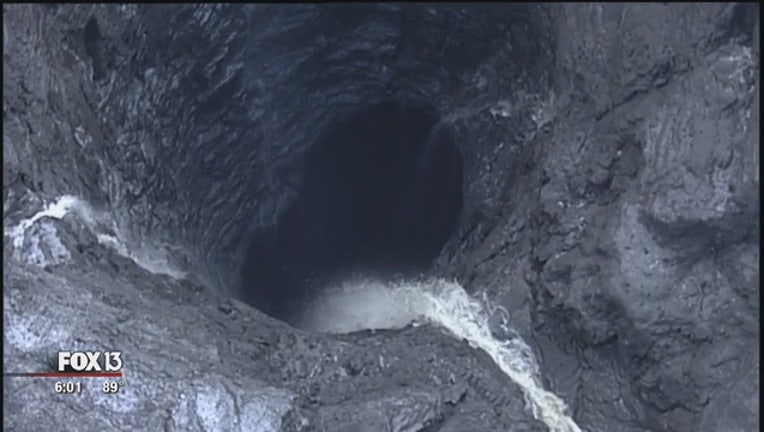 article
MULBERRY (FOX 13) - Ahead of a visit to the Mosaic sinkhole site, Gov. Rick Scott is ordering the Dept. of Environmental Protection and any private polluters to report within 24 hours any possible pollution.
Scott will tour the site that, for three weeks, hemorrhaged contaminated drinking water into the Florida aquifer several hundred feet below the earth's surface.
Although the DEP had been told immediately, the public was not -- because of a state law that was interpreted to mean that pollution had to be reported to the public if it went beyond the polluter's boundary.
The public was only told after media found out.
"This is a mining town and most of our grandparents and parents worked at the mine," said Byron Willis of Mulberry. "You do have loyalty to them, so you would hope they have loyalty to you."
Mosaic and the DEP admitted they only communicated with one another about the sinkhole. For three weeks, neighbors had no idea hundreds of millions of gallons of pollution spilled, potentially in their drinking water, because state law said they only had to inform the public if pollution was found outside the company's property line.
"I am very concerned," continued Willis.
Gov. Rick Scott will tour the site Tuesday, and said, "It does not make sense that the public is not immediately notified... I am directing DEP to immediately issue an emergency rule implementing strict requirements for notification within 24 hours. That is common sense and our residents deserve that."
Polk County resident Jessica Broadbent organized a protest over the original spill.
"I definitely think it's a step in the right direction," she said of the governor's order.
The key, she says, is the legislature following through on Scott's order.  It currently applies for 90 days.
The legislature will have to make it permanent.
"As long as things are upheld and as long as things are followed through with, it's a great form of accountability," she said.
The rule change is also a response to wastewater being released into Tampa Bay during this summer's rainstorms that overwhelmed sewer systems.
"It looks like there's a little transparency now," said Willis, who is still concerned about his drinking water, and plans to have it tested soon.
The independent testing firm that Mosaic has hired to test neighbors' water wells says 65 homes have been found to have safe drinking water.