Man who fell overboard cruise ship off Florida coast was celebrating fiancé's birthday: 'his first cruise'
A 35-year-old man aboard a Carnival Cruise ship fell overboard Monday off the Florida coast, according to U.S. Coast Guard officials.
The Coast Guard said in a tweet that crews were searching for a passenger who went overboard off the Carnival Magic vessel around 186 miles east of Jacksonville, Florida.
As of Tuesday afternoon, the Coast Guard said it had searched 4,044 square miles over 19 hours, adding that it will continue the search with air assets.
A spokesperson for Carnival Cruise Lines told Fox News Digital that security video shows the man leaning over the railing of his balcony and falling into the water at 4:10 a.m. on Monday. On late Monday afternoon, his companion reported him missing, according to the spokesperson.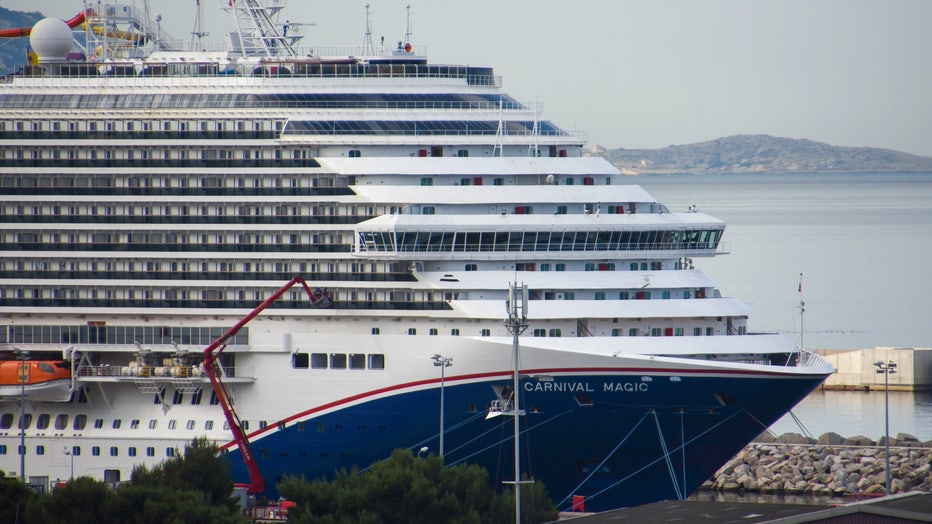 MARSEILLE, FRANCE - 2021/06/01: A close-up of the Carnival Magic cruise ship docked in Marseille. Carnival Cruise Lines ships in Marseille. (Photo by Gerard Bottino/SOPA Images/LightRocket via Getty Images)
"The U.S. Coast Guard has released the ship from any search and rescue efforts and advised the ship's captain to continue on its way to Norfolk where it arrived as planned on Tuesday," the spokesperson added.
According to a GoFundMe created by Jennilyn Blosser, the 35-year-old man is Ronnie Lee Peale Jr., her partner, and said it was his "first cruise."
"We went on a cruise to celebrate my birthday and sadly he went overboard and still has not been recovered. Please keep our family in your prayers and thanks for your support. This was Ronnie's first cruise and thankfully he had a great time and made plenty of friends. He is our social butterfly that was always on the move and loved to make friends with everyone," Blosser wrote.
Blosser told WTKR that Peale Jr. is her longtime fiance.
"He was the life of the party. It just hurts too much to even type, let alone talk about it," Blosser said. "He loved the cruise life being able to drink, gamble, and socialize put him in his happy place. This was his first cruise and I'm sure he would have been willing to do one monthly."