Florida horse trainers prepare animals for Idalia: 'Little bit nerve-racking'
OCALA, Fla. - At the World Equestrian Center in Ocala, Florida, there's room for 3,000 horses and other animals to evacuate during a hurricane, free of charge. Over at a smaller equestrian center, the owner said she is preparing as well.
"It is a little bit nerve-racking," said Madison Wallraf, a horse trainer at Olive Acres Equestrian Center. "They definitely know the pressure in the air is different." 
With Idalia heading our way, Wallraf plans to put her horses in a hurricane-proof barn. 
"They are block-style barns, they have protective doors and really help with any high winds," she explained. "I've always had fears of tree limbs, puncturing and horses getting lost. We have show jumpers, so they will jump out of the pastures if they're scared."
IMPORTANT LINKS
She believes she can protect them better this way.
"If they had a choice of going in or out of the barn, they stay out." 
Over in Citrus County, Jenifer Robinson said she lets her horses run free on their property, but makes sure they have identification on them.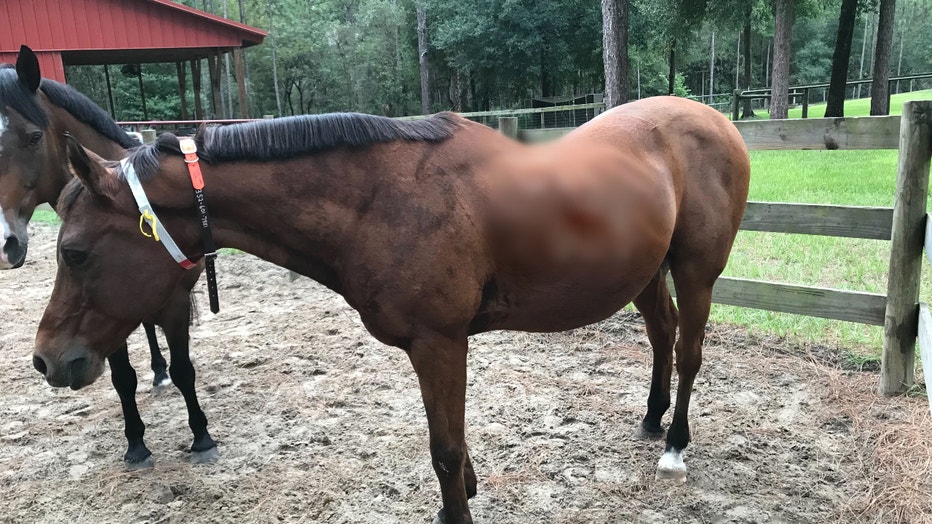 "I felt shaving the phone number in their coat was the best foolproof way that if they did get out, someone would be able to at least read the phone number. " 
Besides keeping her horses in this stable, Wallraf said she's also stocking up on hay, water, and medication. 
"Making sure we have all our medications in the event of the weather pressures that go on with the hurricane can really affect horses." 
Wallraf is ready to evacuate with her furry friends, at any time.
"If there is an event of an emergency, we have our trailers hooked up if we have to evacuate," she added.
Wallraf said she plans to ride out the hurricane in the stable, with the horses, to make sure they're ok.