Here are the 2023 Atlantic hurricane season names
ORLANDO, Fla. - June 1 kicks off the official start of the 2023 Atlantic Hurricane Season, which runs through November 30.
This year, experts with Colorado State University and National Oceanic and Atmospheric Administration are predicting below-average or near-average hurricane seasons, but anyone who's lived through one of these powerful storms knows that just one can bring catastrophic damage.
Whether it's your first hurricane season in Florida or you've experienced a few, preparation is key – and the FOX 35 Storm Team is here to help you before, during, and after a storm. Check out our FOX 35 special, Tracking The Tropics: 2023 Season Preview, for how to prepare.  
2023 Atlantic hurricane storm names
Here are the 2023 hurricane names. Twenty-one storm names make up this year's list: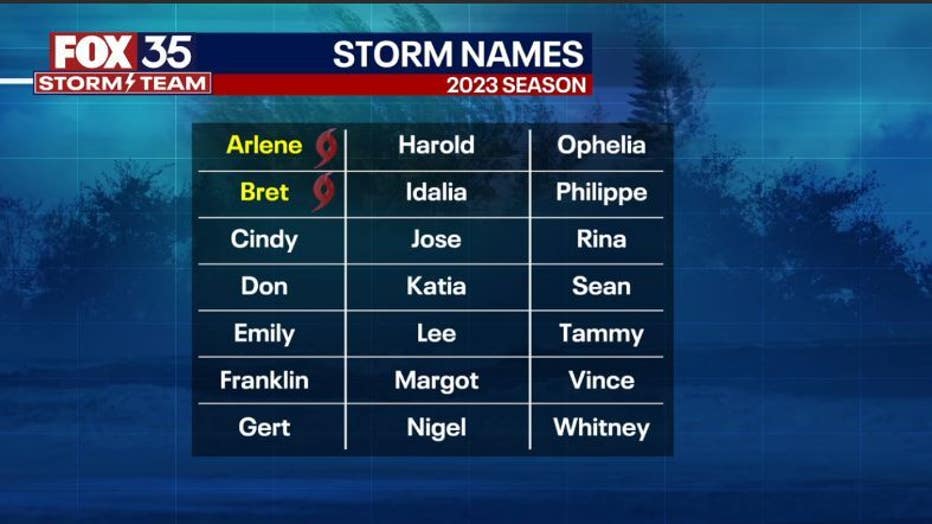 Arlene (Pronunciation: ar-LEEN)
Bret (Pronunciation: bret)
Cindy (Pronunciation: SIN-dee)
Don (Pronunciation: dahn)
Emily (Pronunciation: EH-mih-lee)
Franklin (Pronunciation: FRANK-lin)
Gert (Pronunciation: gert)
Harold (Pronunciation: HAIR-uld)
Idalia (Pronunciation: ee-DAL-ya)
Jose (Pronunciation: ho-ZAY)
Katia (Pronunciation: KAH-tyah)
Lee (Pronunciation: lee)
Margot (Pronunciation: MAR-go)
Nigel (Pronunciation: NY-juhl)
Ophelia (Pronunciation: o-FEEL-ya)
Philippe (Pronunciation: fee-LEEP)
Rina (Pronunciation: REE-nuh)
Sean (Pronunciation: shawn)
Tammy (Pronunciation: TAM-ee)
Vince (Pronunciation: vinss)
Whitney (Pronunciation: WHIT-nee)
 The last time there was a cyclone named Arlene, Bret and Cindy was back six years ago in 2017. The season also produced significant hurricanes such as Harvey, Irma, Maria and Nate. 
The World Meteorological Center retired these storms due to the deaths and destruction they caused and replaced the names with Harold, Idalia, Margot and Nigel.
How many named storms could we see this year?
Experts at Colorado State University are predicting 13 named storms. Of those, six could become hurricanes, and at least two could become major hurricanes.
The National Oceanic and Atmospheric Administration, however, expects a range of 12 to 17 total named storms. Of those, five to nine could become hurricanes, which includes one to four major hurricanes. 
FOX Weather contributed to this report.