Severe storms move out with calmer skies, low rain chances ahead
ORANGE COUNTY, Fla. - A Severe Thunderstorm Watch that had been issued for much of Central Florida on Wednesday expired at 8 p.m.
Most of the heavier showers had moved off the Florida Peninsula and over the Atlantic Ocean by mid-evening.  Earlier, strong thunderstorms developed across the area in the afternoon, bringing with it large, destructive hail.  The worst of the weather had settled over the Interstate 4 corridor around the evening rush hour commute. 
The storms impacted traffic on Interstate 4 near the attractions. Blinding rain made it difficult to drive along State Road 28 near Orlando International Airport.  A strong storm cell also produced heavy rain, hail, and wind around Lake Apopka, near Zellwood, Winter Garden, and Oakland.  At the Killarney Mobile Home Park, we talked to a family who took shelter as the storm was approaching. 
"I found it quite unnerving," Helen Starkovich said. 
Her daughter-in-law, Joan, had everyone take cover.
"We went to the downstairs guest bathroom which has no outside doors or windows… we took the dogs but not the goats or chickens. Seriously, there wasn't room!"
Residents there were relieved to see that everything was ok after the storm passed, especially since they are right next to the lake.
FOX 35 Meteorologist Brooks Garner said the threat of severe weather has now passed, but fog could now be a concern due to all the rain. 
"The storm threat for the day, and indeed this week, has now come to a conclusion," said FOX 35 Meteorologist Brooks Garner.  "We look ahead to the next possible hazard, as far as weather goes, and that would be the possibility of some fog developing by daybreak."
WATCH: Orlando hail: Second day of severe storms in Central Florida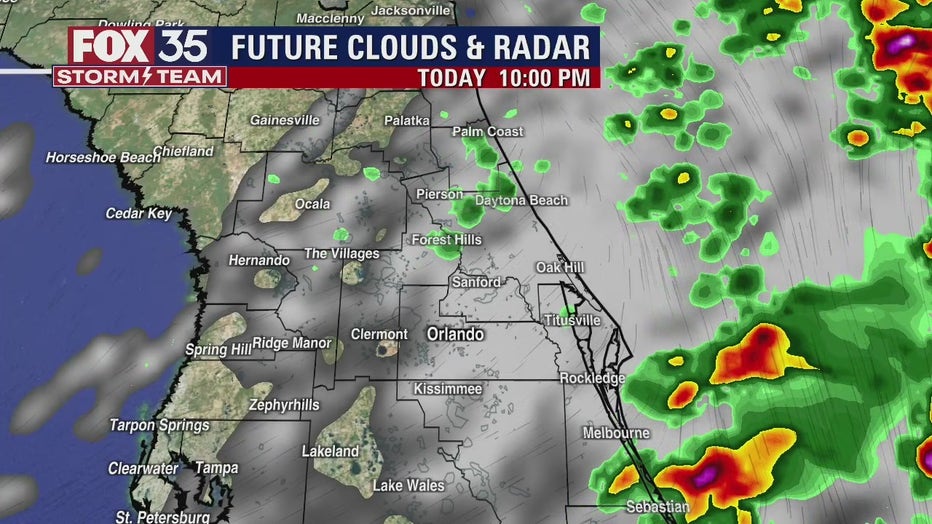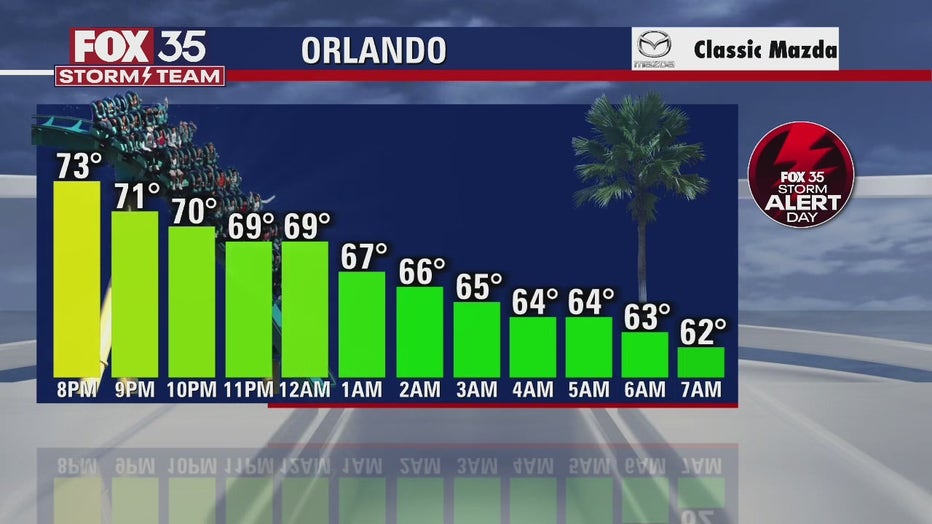 Temperatures across most of the region are expected to drop into the low 60s by Thursday morning.  The next three days will be much calmer with very low chances for precipitation and high temperatures reaching into the low-to-mid 80s.
RELATED: 7 things to know about hail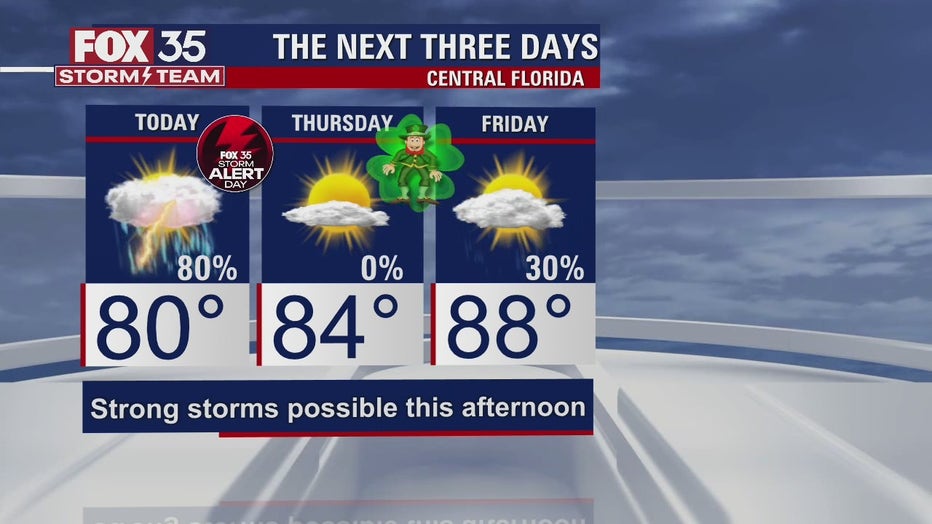 RELATED: Storms bring rain, tornado warnings to Central Florida
We want to make sure everyone is staying safe and weather aware. Make sure to download the FOX 35 Storm Team weather app to get the latest weather alerts sent directly to your phone. 
DOWNLOAD: FOX 35 NEWS APP | FOX 35 STORM TEAM WEATHER APP
You can also track the live radar in the palm of your hand. Depend on the FOX 35 Storm Team when it matters most. 
Get the most up-to-date forecast, sign up for weather alerts, and view live interactive radar for Orlando and Central Florida.
Watch FOX 35 News for the latest updates.