Former President Barack Obama says Republicans sowed divisions in US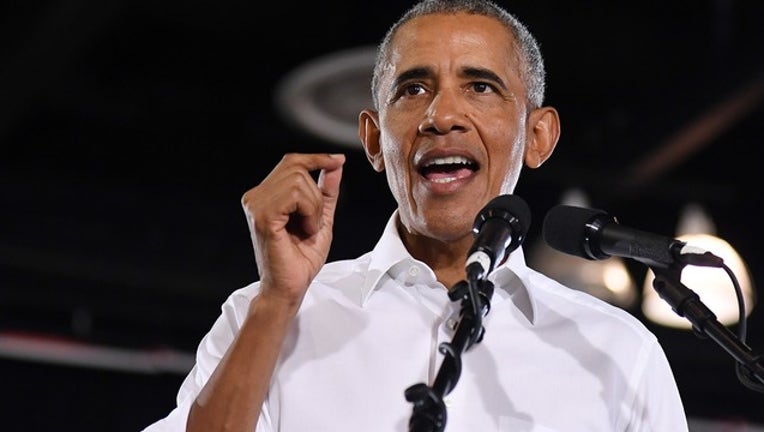 article
LAS VEGAS (AP) - Former President Barack Obama delivered a biting critique of Republicans in Washington and President Donald Trump without mentioning his successor by name.
Obama said Monday at rally for Democrats in Las Vegas that Republicans were promising to "fight for the little guy" but instead helped corporations and sowed divisions in America.
The former president says Republicans in Congress bend over backward instead of being "a check or balance on this kind of corrupt politics."
Obama railed against the GOP tax law, efforts to repeal his health care law, Trump's attacks on the media, political pressure that the president put on U.S. Attorney General Jeff Sessions and the separation of immigrant families at the U.S.-Mexico border.
Obama called this year's election more important than any in his lifetime, including 2008 and 2012 when he was on the ballot.
Watch more from his speech below.
---
PREVIOUS UPDATE (11:55 a.m.): Former President Barack Obama is set to rally in Las Vegas with Democratic candidate for Senate Jacky Rosen and other Nevada Democrats.
Monday's rally at a University of Nevada, Las Vegas arena comes as Democrats are trying to build enthusiasm among young people and minority voters and avoid a repeat of the 2014 midterms when Democratic turnout faltered.
Obama won the state during his 2008 and 2012 presidential campaigns. Democrat Hillary Clinton carried Nevada in 2016, but Republicans currently hold all statewide offices and could sweep the state again this year.
Rosen is a first-term congresswoman from the Las Vegas area who is taking on incumbent Republican Dean Heller.
Obama's visit to the battleground state follows visits over the weekend by his former Vice President Joe Biden and a rally by President Donald Trump.