Florida drivers beware: Illegally passing a school bus could cost you under new law
ORLANDO, Fla. - Summer is here, but that doesn't mean you can forget about school buses on the road! Gov. Ron DeSantis signed a bill last week that allows Florida school districts to crack down on drivers that illegally pass school buses, according to a news release. It goes into effect July 1. 
The "Enforcement of School Bus Passing Infractions" bill (SB 766) will allow school districts to install exterior cameras on buses to "document drivers illegally passing the bus" when displaying a stop sign, according to a news release. Drivers caught on camera could be fined $255. Districts will be required to place a sign that reads "CAMERA ENFORCED" on every bus if they install an exterior camera. They'll also need to participate in a 30-day campaign to let the public know what's going on. 
How the new bill will be enforced
School districts are required to work with a local law enforcement agency to enforce these violations by "submit specific information" about each infraction, including a copy of the recorded image, the license plate number and date, time and place of the alleged violation, according to the bill. 
As far as the penalty goes, drivers found in violation of SB 766 will be required to pay $200 to the school district where the violation occurred — which must be used "to install or maintain school bus infraction detection systems, for the administration and costs associated with enforcement of the violations, or for any other technology that increases the safety of the transportation of students" — and $25 that will be distributed to the Department of Health's Emergency Medical Services Trust Fund for payment to trauma centers, according to the bill. 
Traffic violations on the rise
The School District of Osceola County already has buses with exterior cameras, but they were used to keep an eye on traffic conditions and children getting on and off the bus. Now, the district can use these cameras to nab drivers in accordance with the new bill. 
In Osceola County, a survey of school bus drivers showed a 42% increase from last year in how many drivers passed their bus while students were getting on and off. This resulted in 754 violations, the highest number of violations in district history, according to Transportation Services Director Arby Creach. 
"It demonstrates that illegal passing of stopped school buses are at an epidemic level and continue to climb, placing our students in a very dangerous situation," Creach said. 
School bus safety in Florida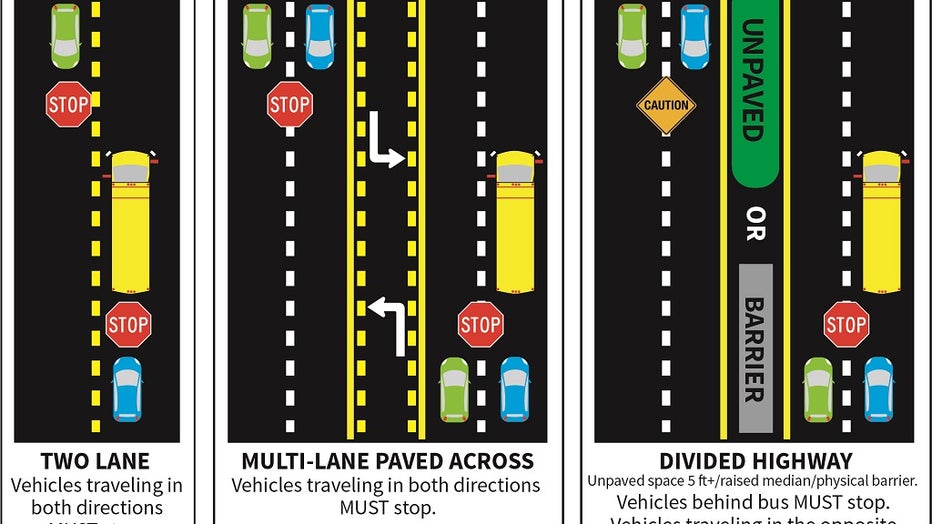 To refresh your memory on school bus laws in Florida, take a look at these safety tips from the Florida Highway Safety and Motor Vehicles: 
TWO-LANE: All drivers moving in either direction on a two-way street must stop for a school bus displaying a stop signal, and must remain stopped until the road is clear of children AND the school bus stop arm is withdrawn.
MULTI-LANE: On a highway divided by a paved median, all drivers moving in either direction must stop for a school bus displaying a stop signal, and must remain stopped until the road is clear of children AND the school bus stop arm is withdrawn.
DIVIDED HIGHWAY: The only time traffic approaching an oncoming school bus does not need to stop, is if there is a raised barrier such as a concrete divider or at least five feet of unpaved space separating the lanes of traffic. On a highway divided by a raised barrier or an unpaved median at least 5 feet wide, drivers moving in the opposite direction do not have to stop for the bus (painted lines or pavement markings are not considered barriers). However, these motorists should slow down and watch for students loading or unloading from the bus.
As of January 1, 2021, drivers who fail to stop for a school bus could face a penalty of $200.