FL high school students crash car in parking lot ∙ FL mother & daughter killed ∙ FL man kills girlfriend
Lake Mary high school students were caught on camera crashing into a car in the school's parking lot, and Orlando family speaks out after a mother and daughter were killed in a deadly shooting, a Florida man claims self defense after shooting his girlfriend in the back — who later died, an Orlando first-grade teacher is accused of sexual battery of a teen, and a man was arrested for stealing a hearse from a Florida funeral home: Here's FOX 35's Week in Review. 
Man steals hearse from Florida funeral home, then crashes it: police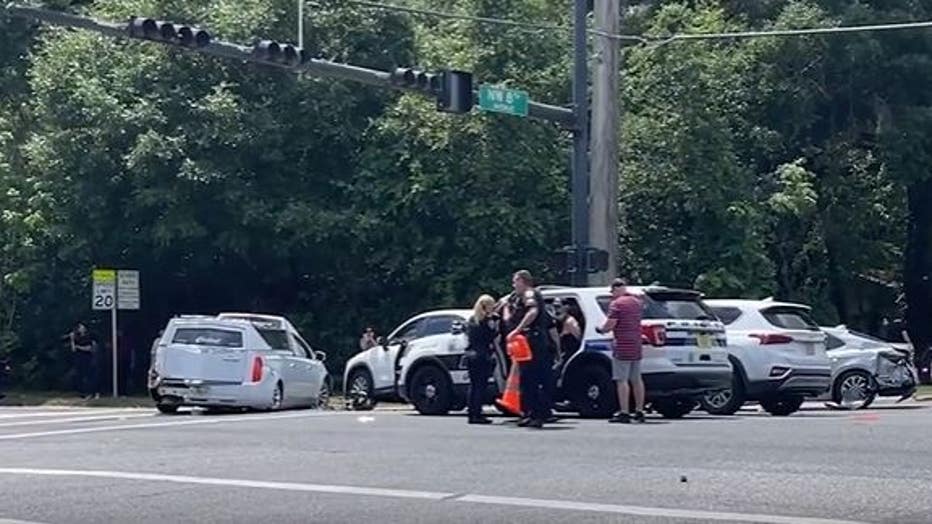 (Photo via Gainesville Police Department)
A man who reportedly stole a hearse and then crashed it in Gainesville Sunday afternoon has been arrested, police said in a tweet. The 54-year-old suspect, who was not immediately identified by Gainesville police, is facing a charge of GTA/criminal mischief after officers said he stole a Cadillac hearse from a Chestnut Funeral Home. Shortly after 1:30 p.m., police said the suspect crashed the hearse at 18 NW 8th Ave and 34th Street in Gainesville. Officials said multiple vehicles were involved in the crash, but there were no reported injuries. 
Florida first-grade teacher accused of sexual battery of teen
A Central Florida teacher has been accused of sexual battery on a 15-year-old boy. Joel Velasco Tapil, 36, is a first-grade teacher at Deerwood Elementary School in Orlando. Deputies with the Osceola County Sheriff's Office Special Crimes Unit arrested Tapil following an investigation into allegations he met the teenager on the dating app Grindr. Osceola County Sheriff Marcos Lopez said the father of the teen notified authorities on April 14 that he suspected his son may have been the victim of sexually battery while inside the teacher's home. Investigators then met with the teen to question him about the allegation.
Florida man kills girlfriend after shooting her in back, claims self-defense: affidavit | 'Had to fire shots'
An Orlando man was arrested early Sunday after he shot and killed his girlfriend of eight years in the back in what he claimed was self-defense, according to an arrest affidavit. Richard Raciak, 48, was booked into jail on a charge of first-degree murder with a firearm, the Orange County Sheriff's Office confirmed in a statement Monday. Officials said Raciak shot his girlfriend, later identified as 46-year-old Allison Sheehan, while her back was turned to him, and later texted a photo of her body to his father and brother, an affidavit stated.
'This has hit everyone to the core': Orlando family speaks after mother, daughter killed in deadly shooting
The family of a mother and daughter who were shot and killed in Orange County are speaking out. Deputies say 20-year-old Tanga Owens and her mother 39-year-old Tanishia Starr were found shot earlier this week at Lake Sherwood Apartments off of Apopka-Vineland Road. They were transported to a hospital but were later pronounced deceased. The family said the man who shot them is the father of Owens's child.
Watch: Florida students crash in school parking lot during 'incredibly reckless' stunt
A couple of Central Florida teens are facing disciplinary actions after they drove into a parked car on their high school campus during a reckless stunt. The video captures a group of teens gathered in the Lake Mary High School parking lot recording what appears to show an Infiniti car speeding through the parking lot. Tire marks can be seen on the ground, but school officials have not confirmed that the destruction came from this incident. The car, which is initially parked on the grass, takes off into the parking lot with one teen driving and another student sitting on the roof of the car. As the car picks up speed and rounds the corner of the school's parking lot, the teen makes a wide turn and ends up crashing into a parked SUV.  The impact of the collision causes the student sitting on the roof to slide down the front of the car who then runs away from the crash.