'Eat ---- fascists': Entrance to Florida GOP office vandalized
CASSELBERRY, Fla. - A local GOP office in Central Florida was vandalized over the weekend with someone referring to members as fascists in spray paint on a front window.
The words "Eat s— fascists" was spray-painted on the entrance to the office of the Republican Party of Seminole County, located in a suburb of Orlando. Glue also was squirted into the front door lock, according to an incident report filed Monday by the Casselberry Police Department.
The police report said there was no surveillance video and the estimated damage to the window and door lock was $700.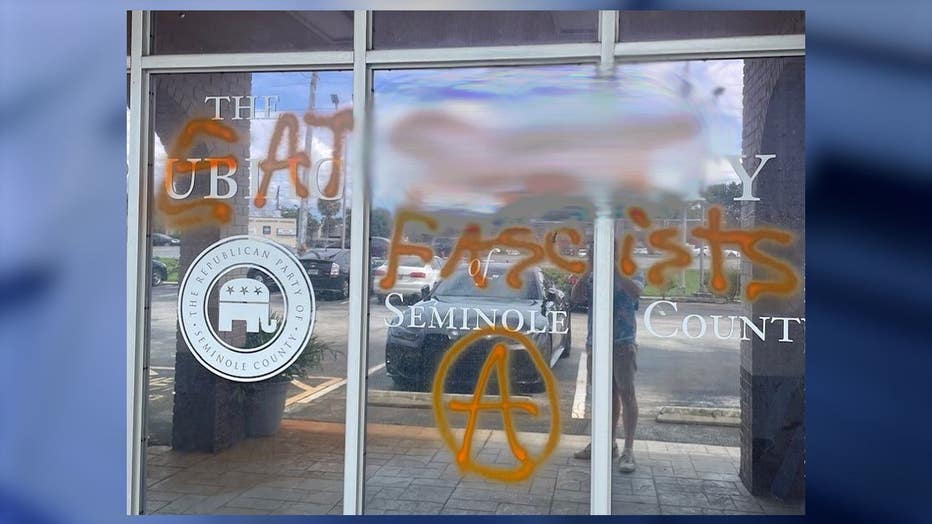 The Seminole County GOP wrote in a post on its Facebook page, "our answer to hate, clean up and move on." Though some are attempting to tie the vandalism directly to recent comments made by President Joe Biden referring to extreme MAGA Republican ideology as "semi-fascism."
The spray paint has since been cleaned up and volunteers also worked late trying to improve security, according to a party spokesperson.
MORE HEADLINES:
"It's a disgusting attack," said Florida RNC Communications Director Julia Friedland. "This is a scary event for volunteers, that like I said, are just out here in the community trying to get the vote out, spread our Republican message." 
Friedland said they want the vandals to be held responsible. "We filed a police report and hoping to get to the bottom of it. I think political discourse these days is definitely getting heated. People are getting very passionate, tensions are high."
The Seminole County Democratic Party Chair expressed shock and disappointment over the vandalism. "These are our neighbors," said Lynn Moira Dictor. "While we may be across the aisle, they live across the street. We would never in any way, shape, or form approve of violence or hateful behavior."
The front door lock has also been fixed. If anyone knows who did this, call the Casselberry Police Department at 407-262-7616.